The temperature here has been steadily below freezing, which means the ponds and are nice and solid. Ever since V learned how to skate last winter it's been her cold weather sport of choice. O, on the other hand, mostly followed me around the ice last winter whimpering and begging to go back inside, so I braced myself this year. And wouldn't you know it?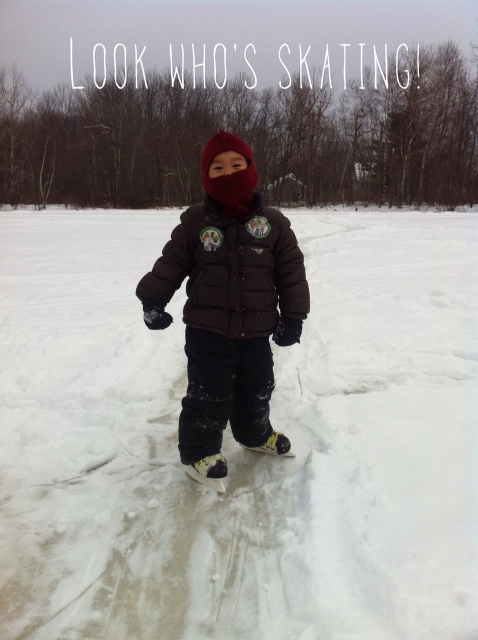 (Well, maybe I wouldn't call it skating, how about shuffling?) Turns out he likes it, in all his sweet, wobbly-arm-flailing glory. He had inherited V's hand-me-down skates and was eager to try them. The first few times he only shuffled around for a couple minutes before asking for his boots again. Today, I didn't bring a chair, but I did have some extra help in the form of snow. Apparently, having some fluffy snow takes down the skid factor and gave him something to shuffle through.

O skating in snow from Serena on Vimeo.
After that, he did a tiny bit of shuffling on ice.

O first skating from Serena on Vimeo.
V and O tried to play "ice skating hide and seek" which consists of us diving behind piles of snow while another person looks for us. The best part about playing a game is that O forgot he was on skates and would just go. And that momentum was what he needed to get past the hurdle.