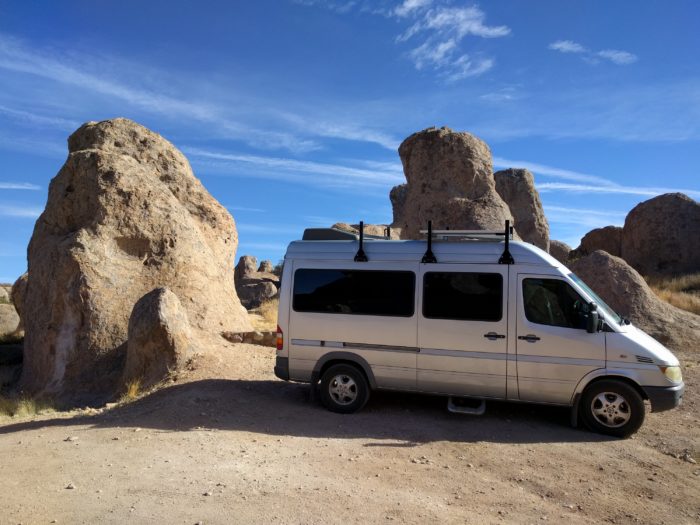 Our van, or Rewildie, as we sometimes call her, is a 2006 Dodge Sprinter, 140″ wheel base, passenger van. Tig wrote a detailed post about his search and selection criteria here. Although we bought the van back in 2015, it took us a couple of years before we got around to building it. This gave Tig time to carefully consider the design and patiently collect bargains. The result is, in my opinion, an adorable hobbit van that's still a work in progress, but perfect for our needs. Here's a little tour of the inside. (Note: there are no affiliate links in this post)
Looking aft
The back is where the kids sit. There are restraints seatbelts for the kids and a folding table with slots for water bottles and insulated mugs.
For all the cushions in the van, I bought one 3″ thick king-sized natural latex block from foamorder.com and Tig helped me cut it down with an electric turkey knife. I sewed all the cushion covers using leftover sunbrella fabric from our previous boat upholstery project.
The seat pulls out at night to become a slightly-larger-than-twin-sized bed for Tig and I (we like to snuggle). Behind the two-seater is a another bed.
There is floor to ceiling storage to the right, held in by netting. It holds clothing, linen and other supplies.
For meals, we put the table up and pull out two extra camp stools.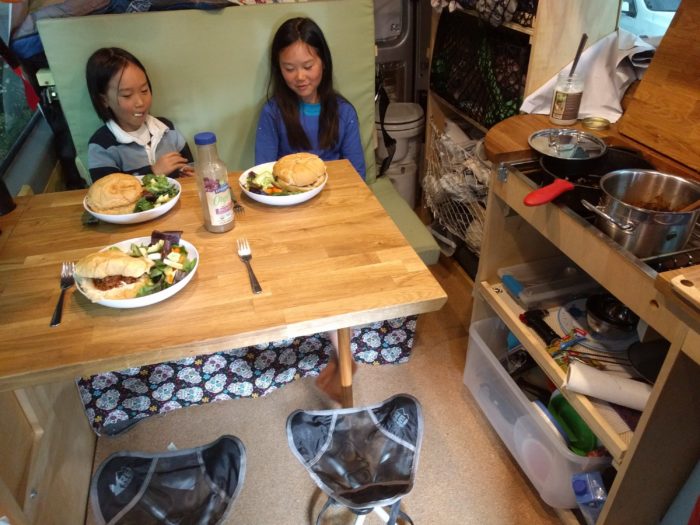 Or we go outside to eat in good weather.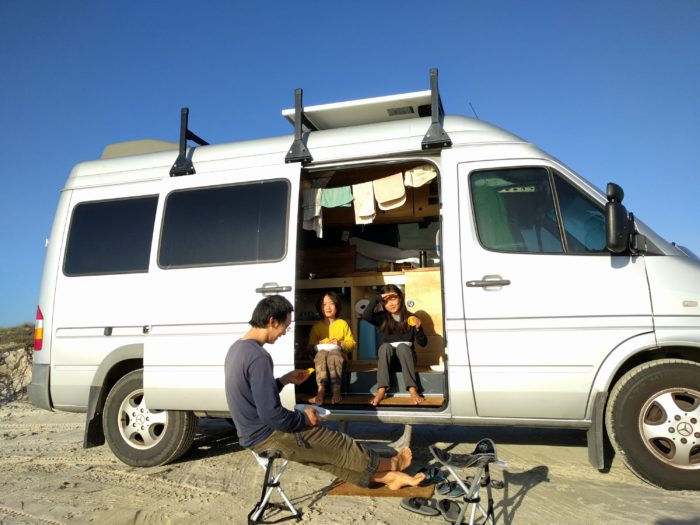 The back bed has a section that can lift up in order to access the composting toilet, which we re-used from our sailboat, Wildest Dream.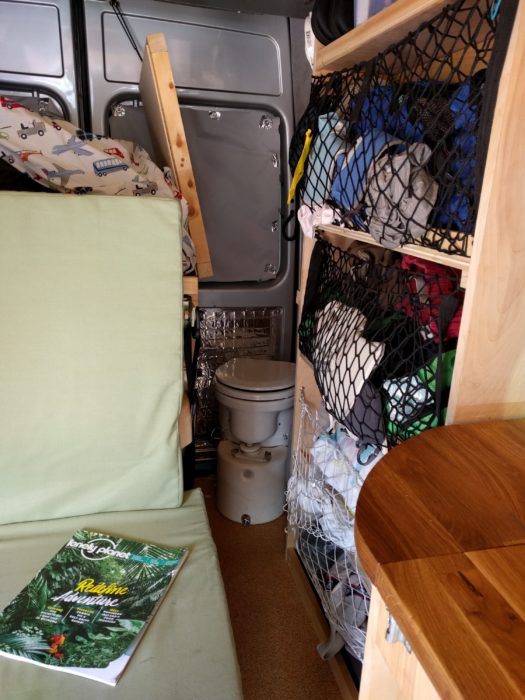 This particular brand is called the AirHead. Although it didn't quite work for us as the ONLY toilet on our boat (it's a long story), the Airhead works great in the campervan in that it's only used for emergencies.
To the left of the seats is some more storage.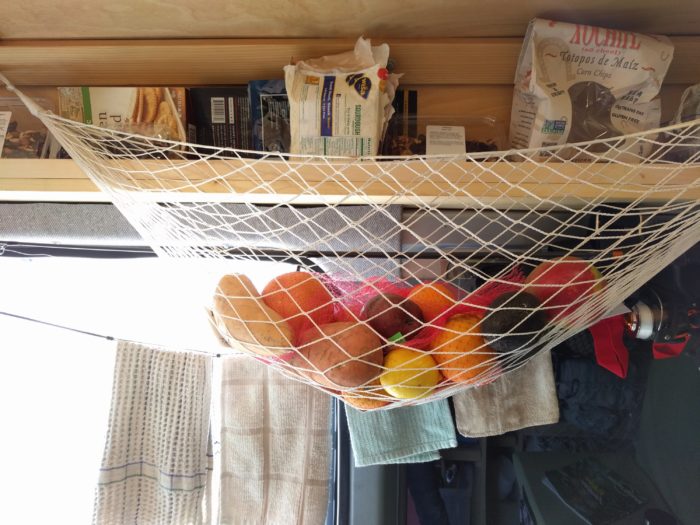 Tig rescued the hanging fruit hammock from a boat that was going to be trashed. We eat a lot of produce so this came in real handy.
There's a camp clothesline we bought from REI with beads that secure the hanging items.
Above is a ledge for more stuff, mainly food.
We squeezed in a fishing pole and a ukulele right below the wooden ledge. To be honest, all that might be too much. Sometimes the fruit hammock swings and bangs against the fishing rod, creating a ruckus.
The Galley
On the port side (left side of van) is our galley. It's still a work-in-progress (still needs cabinet doors), but I love how compact and efficient it is.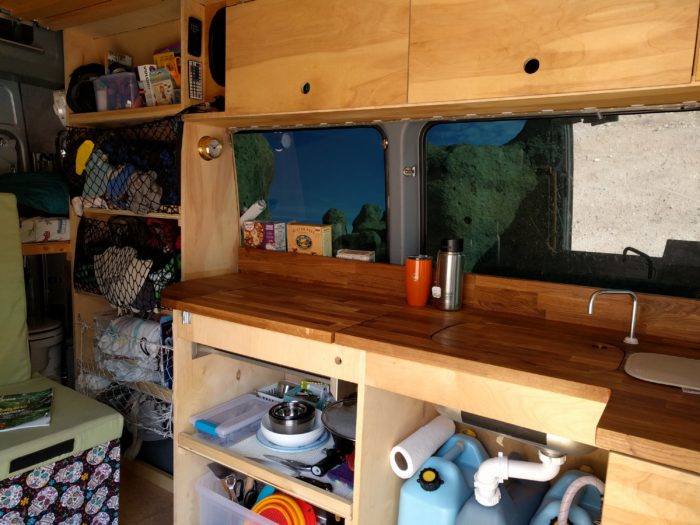 All the cabinets are made of formaldehyde-free birch plywood. There are two upper cabinets with doors that swing up.
The counters are oak butcher block from IKEA; the folding dining table is also made of the same butcher block.
We have a Force 10 marine propane stove top and a stainless steel under-mount sink, both rescued from a boat that was going to be scrapped. It was a nice boat. Too bad it sunk.
Tig cut out covers for the stove and sink so that they are flush to the counter. We cook 2-3 meals a day so it's nice to have a long stretch of work surface.
The lower cabinets are not done yet. We're currently using a tupperware bin in the bottom to hold loose contents, and sometimes things fall out when we're driving.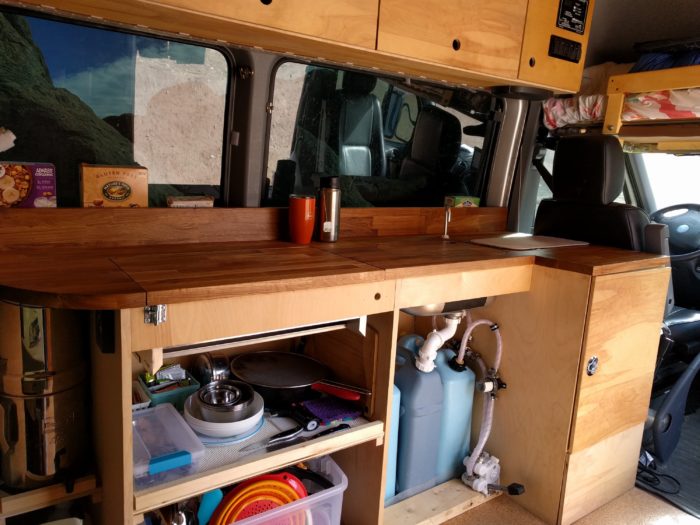 Our faucet is fed by the Whale Gusher Galley pump, the MK III model (bottom right) which gives good water pressure on both the down stroke and up.
The foot pump also pumps water to our Berkey water filter (left), which we use for potable water.
We have two five-gallon water jugs from the boat, and one five-gallon waste jug.
Our Engel fridge–also from the boat–pulls out from the cabinet on the right. Underneath it is a cabinet for the house batteries.
Looking Forward
In the front Tig installed swivel seats and also a drop down bed (in this picture it is in the dropped-down position).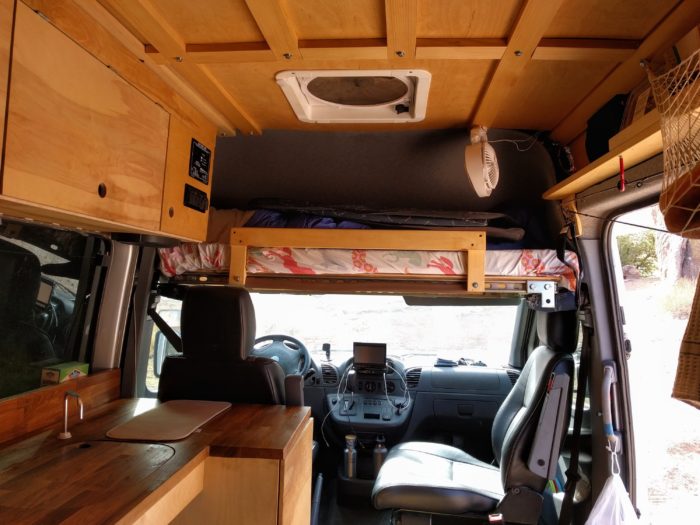 The drop-down bed was probably the most challenging part of the design. It's a little clunky and takes a lot of effort to put up and down daily. We'll have to think about this one a bit more.
The small fan next to the bed is a Caframo fan–also from our boat–for hot days.
The top vent fan is from MaxxAir, though we don't love the quality.
The upper cabinet that's closest to the drop-down bed houses the electrical panel and solar charge controller. We have two 85 watt solar panels, also from our boat. They charge the two house batteries.
Some finishing thoughts
It's a running joke that it's a hobbit van, built for halflings. Our van layout isn't for everyone; we squeezed in a lot for the small footprint. The average American male probably wouldn't be able to squeeze into the back toilet, or sleep comfortably on our bed with a partner. The kids berths are on the small side. As they get bigger, we will need to re-evaluate and adjust. However, the layout gives us a nice open space right when you open the sliding door, and that space is golden when you have four bodies to fit in.
On the build-out part, we have some thoughts. In our humble opinion, marine parts, fittings and appliances are much better quality than their RV counterparts. They are more durable, but also cost more. Because of that, we were very lucky to be able to use a lot of stuff from our boat, including the composting head, the Engel refrigerator, the solar panels and charger, the Caframo fans, and even a cute brass clock. That saved us some money, although it will lower the resale value of our boat.
We were also very lucky to get some good parts from a nice yacht that sank and was destined for the junkyard. The Force 10 marine cook top would have cost us several hundred dollars, but Tig put in some elbow grease and only spent $55 on a new burner for it (pretty good for a stove that's been submerged in oily saltwater).
Lastly, having a DIY homebuilt van is extremely satisfying. Our eyes light up when we come across another homebuilt Sprinter or other type of campervan on the road and often the feelings are reciprocated. We DIY'ers love to look at each others vans, to chat and compare notes. This is in stark contrast to seeing manufactured Sprinters campers on the road. There's a friendly wave and nod, but often not the same camaraderie and enthusiasm.
All in all, it's been a great experience and we hope to continue refining Rewildie over time.