The first time we were in Ubud, we only stayed a couple of days to scope it out. The second time around, we spent a week and dove right in.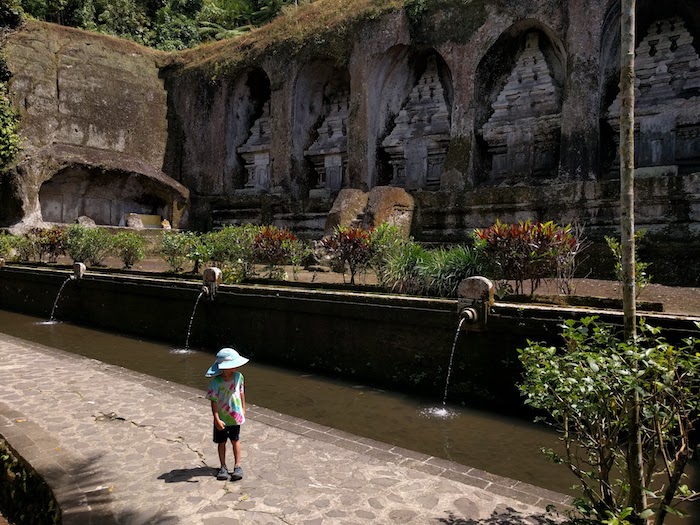 We rented a small two-bedroom apartment through Airbnb for a week. The place was far back from the main stretch, amongst the rice fields. It came with a small kitchen and a pool. The owner also rented us a scooter. Like many places in Bali Ubud has many narrow streets. Driving a car is not convenient, and parking is very limited. We were too far from Ubud center for walking, so…when in Bali…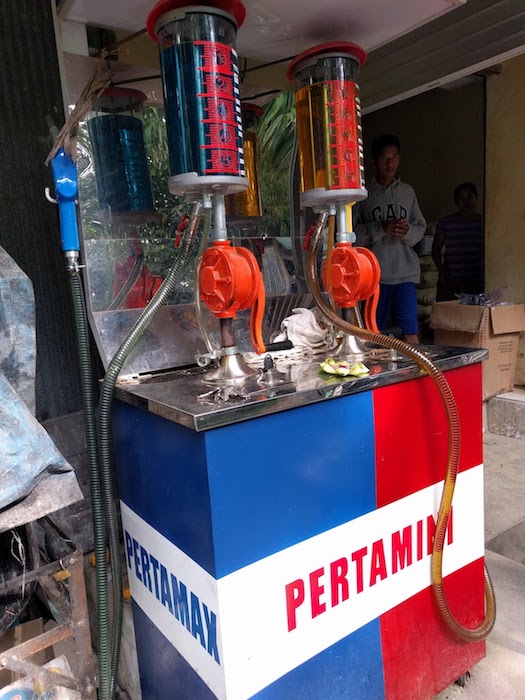 These mini-gas stations tickle me.
Ubud is family friendly place. There's a wide variety of eateries, plenty of shopping if you're into that. There are temples, dances and activities for kids to participate in. Here are some of the things we did:
Goa Gajah (elephant caves)
Goa Gajah is an archaeological site that dates back to the 9th century. The rock wall carvings, bathing pools and fountains took us back to another time and place (similar to our experience in Macchu Picchu).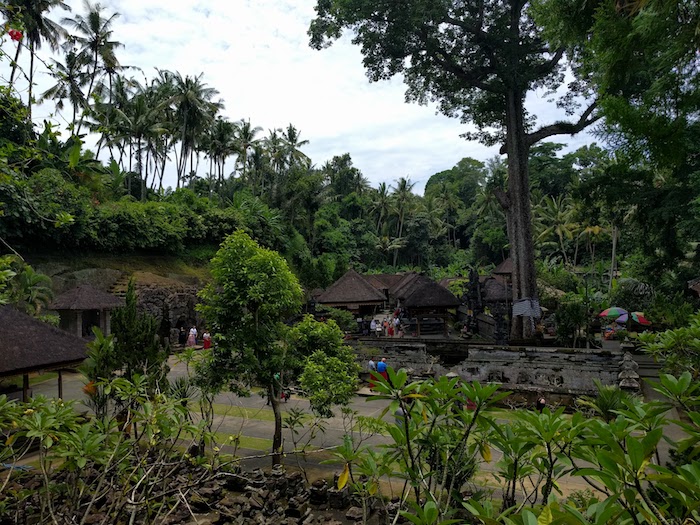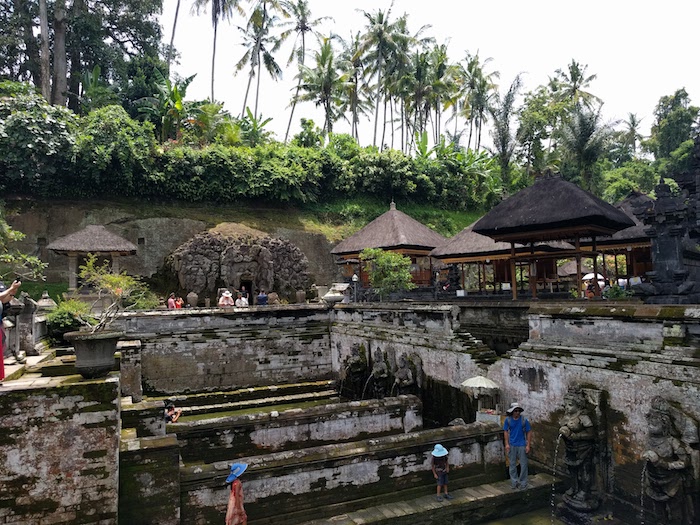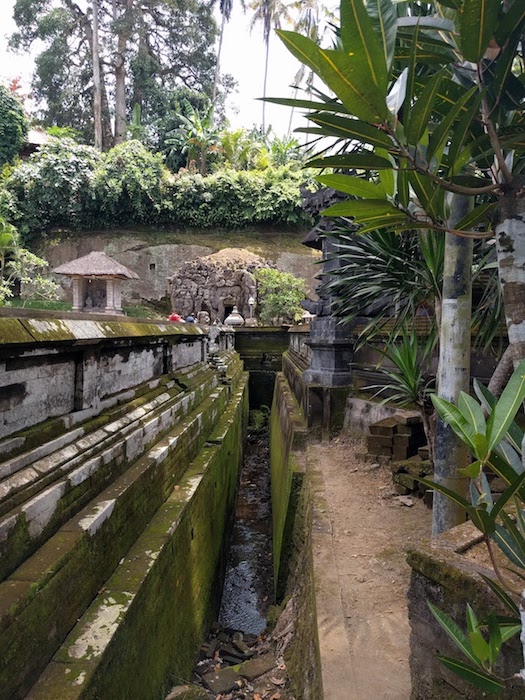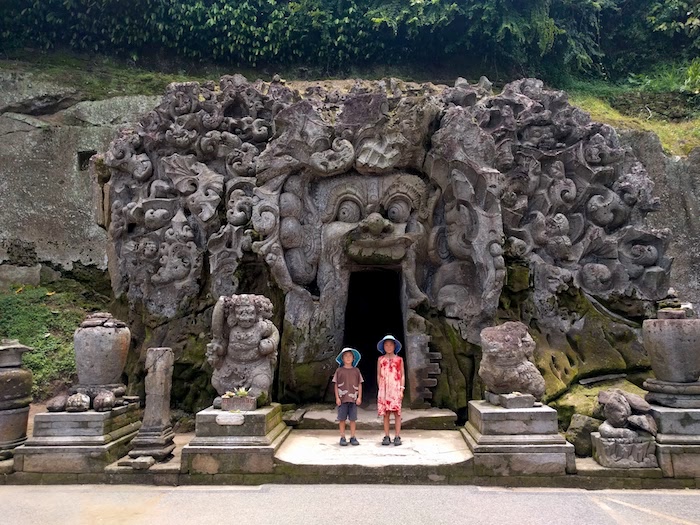 Hawkers outside Goa Gajah pushed us to buy sarongs, but as long as your legs are covered , purchasing a sarong isn't necessary. (The covering of the legs rule seems to apply mostly to men and women, our kids were allowed in as they were). The temple also has a basket of sarongs at the entrance which you can borrow. I'll confess, as amazing as the stone carvings were, my kids were most excited about the lizards and geckos in the temple area.
Big Tree Chocolate Factory Tour
We found the Big Tree chocolate factory tour while searching for things to do with kids in Bali. The factory is located 25 minutes south of Ubud so we hired a driver to get us to and from. You have to make a reservation with Big Tree ahead of time in order to take the tour.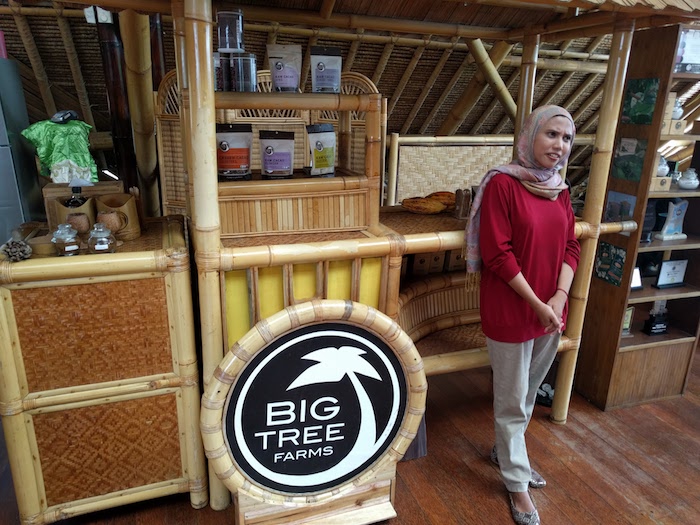 I liked that their tour began with a chocolate drink, coco mojo and, after a short presentation, some sampling of chocolate! I also liked that their products are organic and fair trade.
The building itself is made of bamboo, with some concrete and rebar reinforcement. Bamboo, we learned, is a renewable building material. It's fast growing and flexible enough to withstand shocks like earthquakes. Plus it's beautiful to look at. The tour lasted around 45 minutes, and we took a taxi back to Ubud.
Paradiso Ubud
If you're looking for some entertainment, our lovely host Rony recommended Paradiso Ubud to us when we were in Lovina. Paradiso boasts itself as the world's first vegetarian and vegan cinema. We're neither, but we had a good time anyways.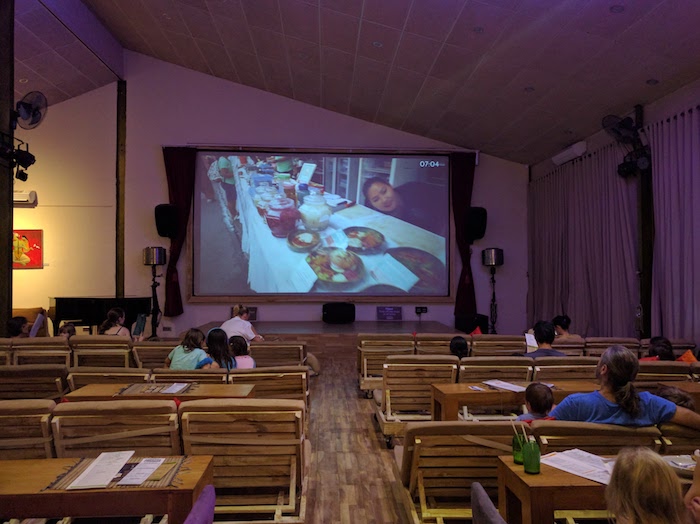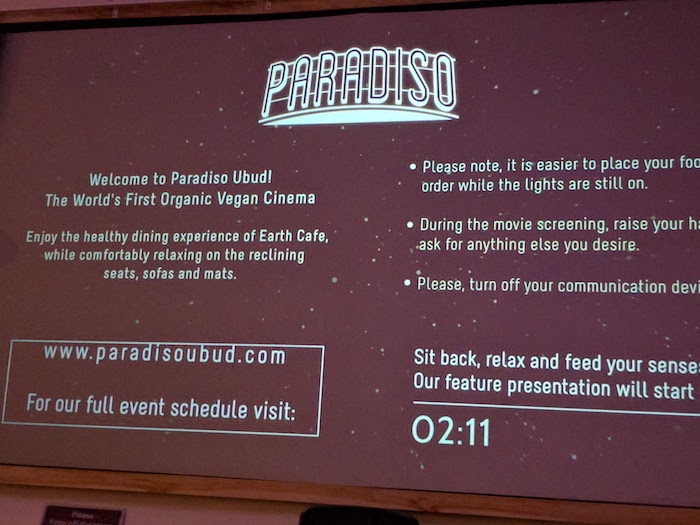 For about $15, our family got to see a sweet old kids' movie (Babe, 1995). In true Bali style, we took our shoes off before entering the theatre. Our tickets gave us vouchers for food (vegan and organic). We paid a little extra for taxes and service. Food was brought to our table while we enjoyed the movie. It was a fun night, so glad we did it!
Geo-caching
When we got tired of doing touristy stuff, we turned to geo-caching. It's a great way to get everyone outdoors and moving. Tig used C:Geo geocaching app for Android.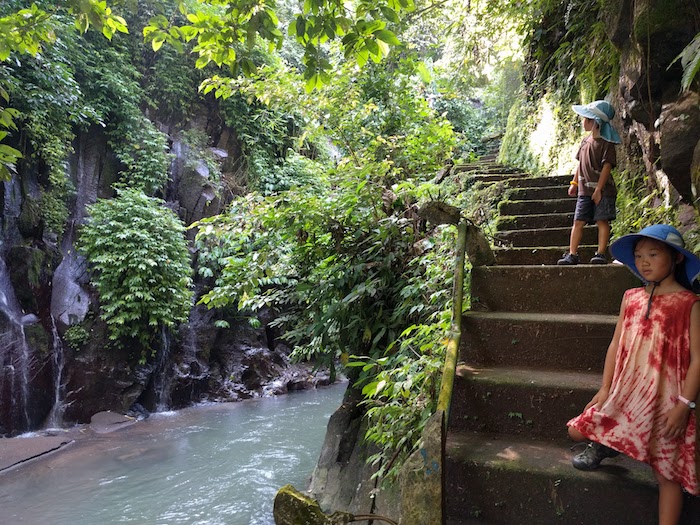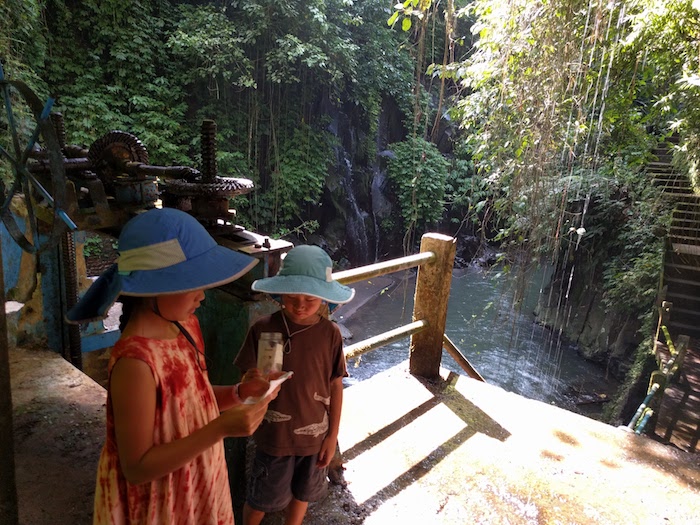 Kids will climb up and down hundreds of steps in order to write their name on a little piece of paper, and exchange a little trinket. We've learned long ago not to call it a "hike"…they seem allergic to that word.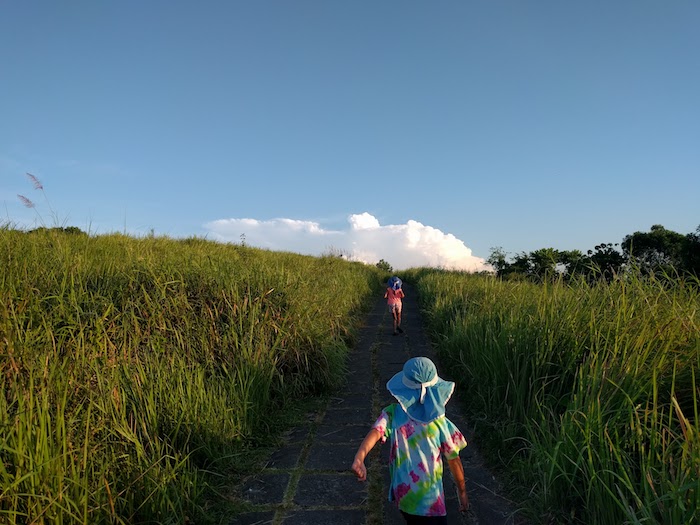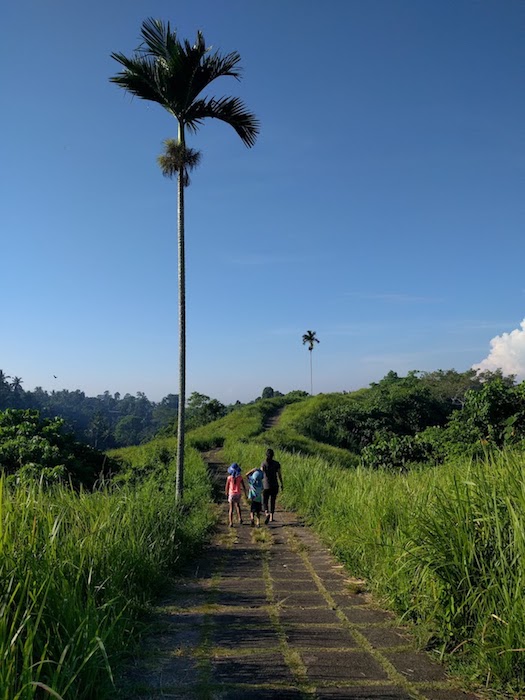 Nope, we're not on a hike, we're geo-caching.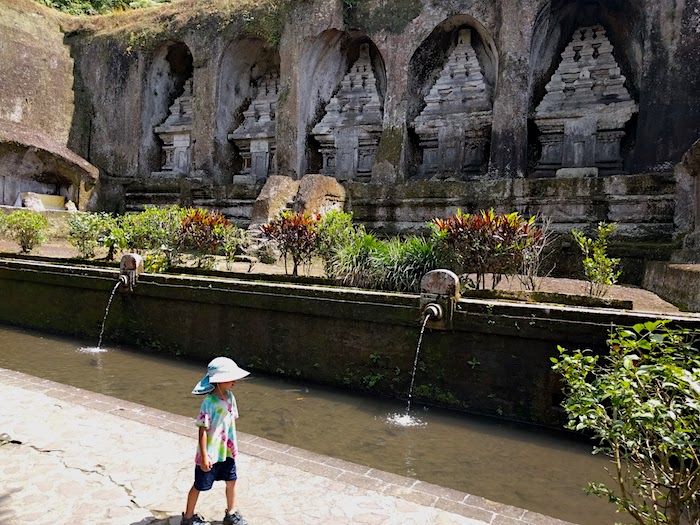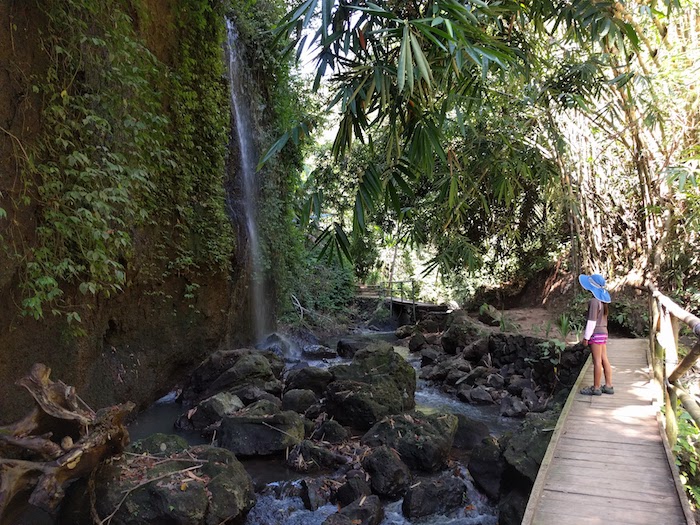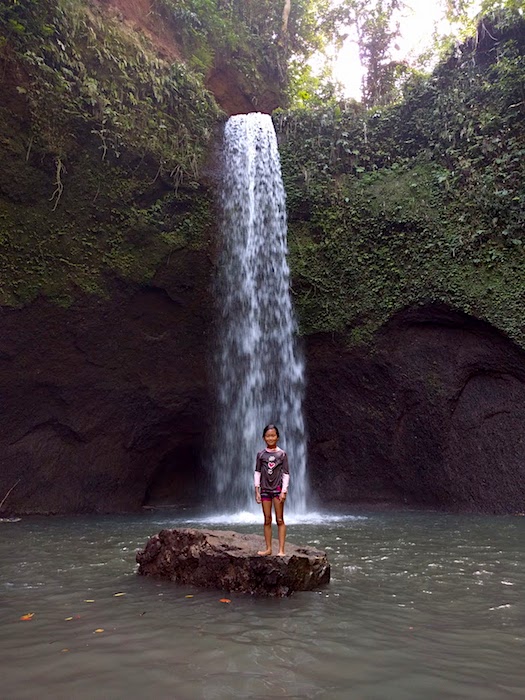 Exploring through eating
Food in Bali is fairly inexpensive, so we enjoyed eating out much of the time.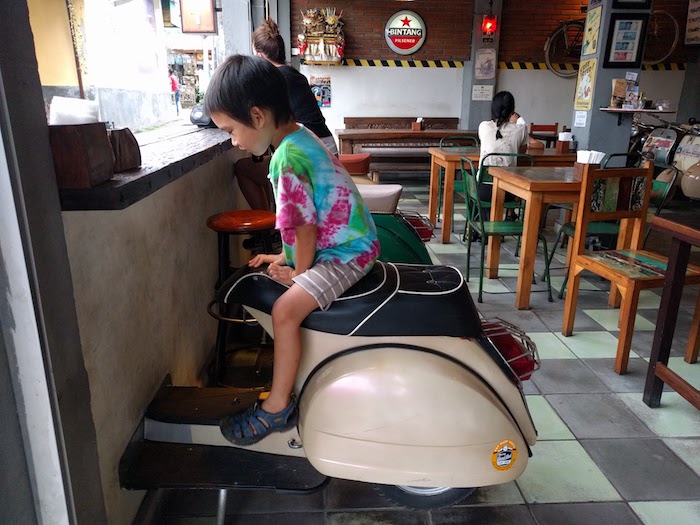 At warung Garasi, one of our favorites. Their ayam goreng (fried chicken with chili sauce) is a hit with our family.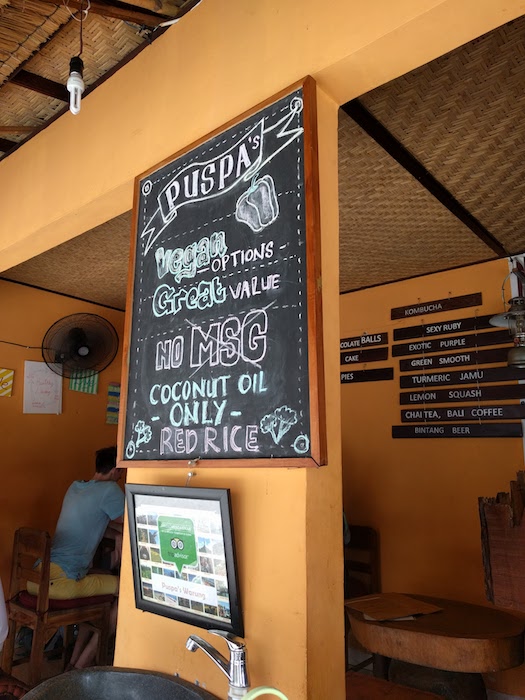 We also like warung Puspa's, because, no MSG and only coconut oil, yo.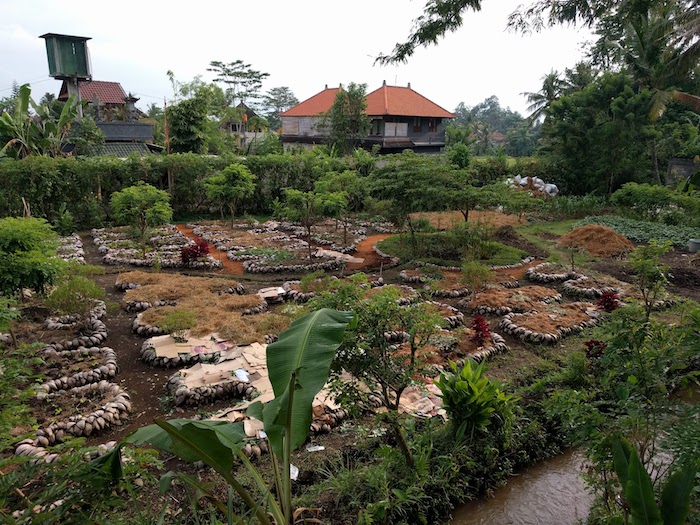 Moksa Ubud is a plant-based restaurant. The food was surprisingly good, and I was interested in their permaculture garden.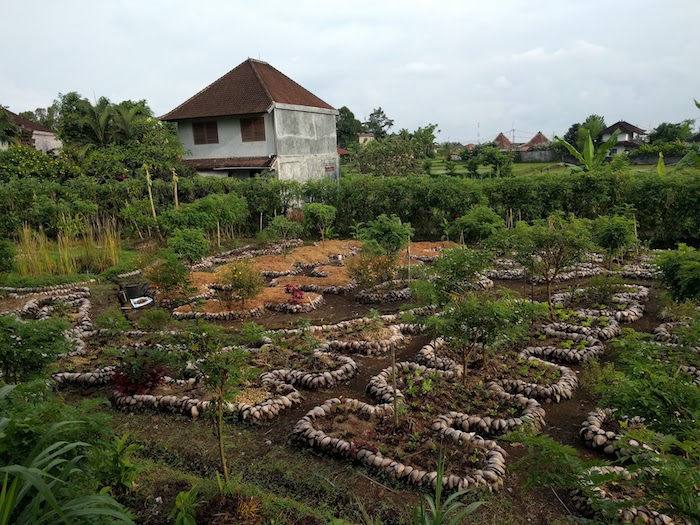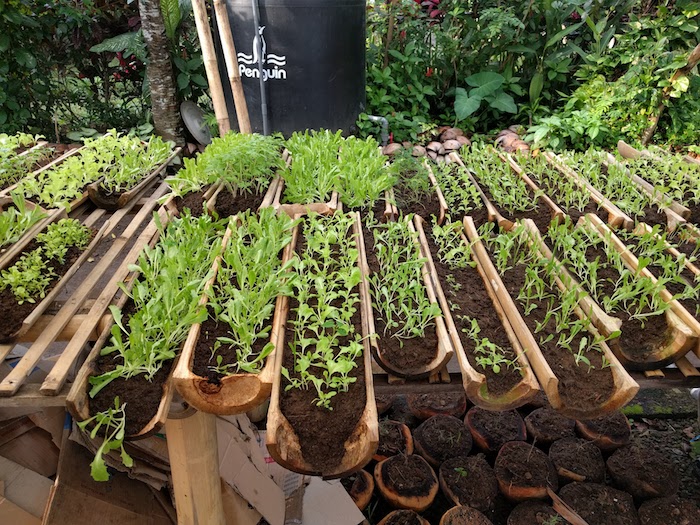 These bamboo seedling starter trays. It made me wistful for my garden back home.
Aside from exploring and eating, I managed to squeeze in two classes at the Ubud Yoga Centre. V took a silver jewelry-making class and made a necklace pendant. Our week felt very full.
I know that for many digital nomads and vagabonds, Bali is their paradise. The large expat population in Ubud is a testament to the magic here. And though I enjoyed visiting, my heart is still in our little community in Maine. Deep down inside, I prefer wide open spaces, sparsely populated areas, walkable towns, plenty of nature, a solid infrastructure for trash management, and clean drinking water. Bali is beautiful and complex, but after almost two months, we were looking forward to our next destination.
Save