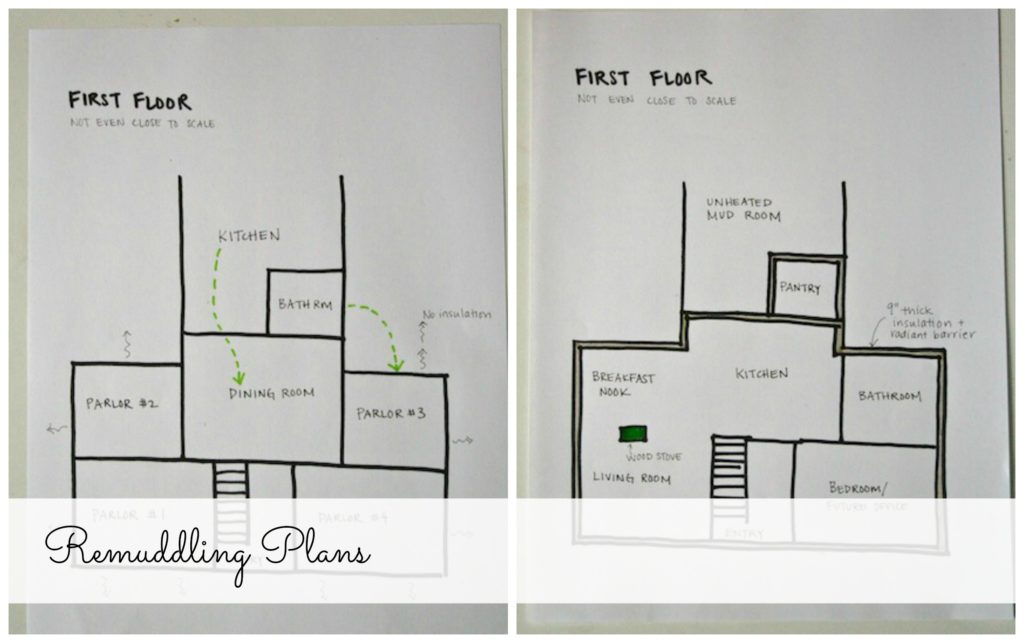 It's been a while since I posted about our remuddling efforts. I'm working on a our new bathroom reveal, but in the meantime I'm taking a step back to record our thoughts on the bigger picture.
When Tig and I were looking at houses in town, we noticed a distinct pattern to them. Many of these houses were built in the 1850s. They often had a nice main house, an ell coming off the back that included a kitchen and outhouse, and then a barn. (In fact, there's a book called Big House, Little House, Back House, Barn with all the historical detail should stuff like that fascinate you. It's not an affiliate link.)  Often, we'd drive by what appeared to be a cute little house, and as we looked around the corner, we'd see that it kept going and going and going…And all the living seems to happen in the ell, where the kitchen is.
After a while, it was pretty obvious that we weren't going to find a cute little bungalow in town within our scrappy budget. Whatever we found would have to be a big compromise, and we'd have to put in a lot of work. So we did find that house. It came with a lot of carpet and wallpaper, mismatched trim, a sagging beam and a dead squirrel (or rat) in the ceiling, complete with copious poop.
The layout itself was also challenging. Here's my drawing of our first floor.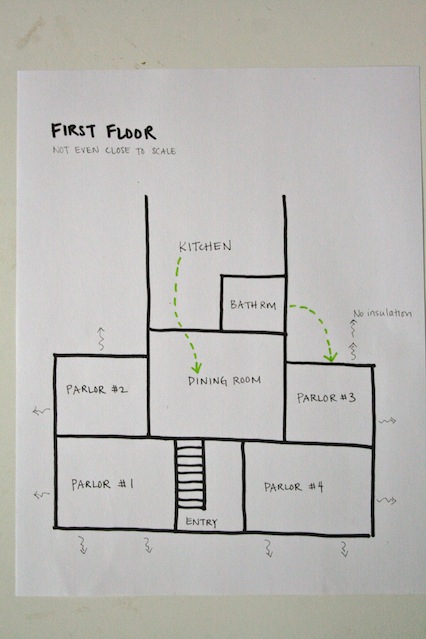 A couple of notes on the layout:
The main house consisted of four rooms which we affectionately called "the parlors" and a dining room. Because of all the little parlors, there were 8 doors leading to that dining room, making it look like a fun house.
The little rooms made sense in a time where rooms were individually heated and closed off, but it doesn't work for our family life now. I imagined myself wandering from parlor to parlor looking for my kids.
The kitchen off the back also made little sense for our family. As a homeschooling mom, I'm making food three or four times a day (plus cleaning and washing up dishes). I don't want to be in the back of the house, cut off from what everyone else is doing. And anyone who's ever had young children knows that chaos ensues when your back is turned.
Also, the ell was poorly built compared to the main house. It would take a lot of time and money to get it up to speed.
The entire house was uninsulated, with only 4 inch wall cavities. That felt woefully inadequate in Maine, where it's winter half the year.
With that in mind, here's our vision for the first floor of the house.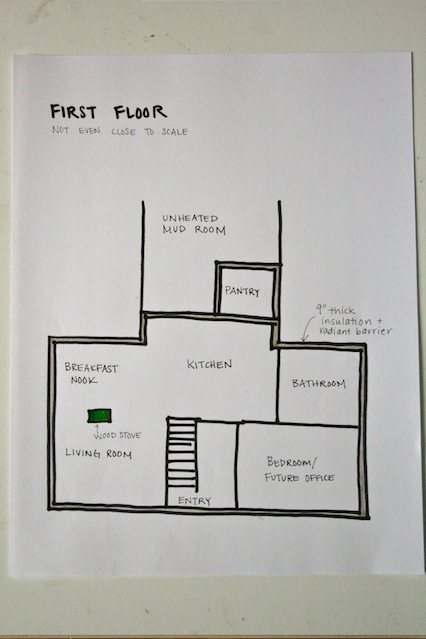 It was an insane idea to do such a large renovation, but here are some of our thoughts behind it:
The wall cavity in the main house was increased from 4 inches to 8-9 inches and then insulated. Ideally, we'd insulate the whole house, but that would be cost prohibitive.
We added a wood stove last year, and that has been a total game-changer. More on that later.
Our living space would be smaller. I've haven't seen a home renovation where the living space was reduced. What do you call that? Downsizing? Refootprinting? Renoducing?
The bathroom and kitchen would be relocated to the main house. It made sense to have water pipes within the insulated portion. Also every bit of heat from the kitchen would go into our living space instead of radiating out the back of our (uninsulated) ell. Summers in Maine are only about 2-3 months long, and it doesn't get hot enough to have a summer kitchen.
By relocating these two rooms, I would have an existing bathroom and kitchen while Tig built the new ones. Anyone who's done home renovations while living in it knows that is huge.
The ell would be no longer be heated. It would be converted into a large mudroom, which is essential in Maine–think of all the winter gear, muddy boots, hats, scarves and mittens!  We might also use it for wood storage, which would be nice.
Now here's a high-tech and blurry side-by-side of the floor plans.
Now the painful part:
:: We'll probably get some flak for reducing the livable space. It might affect the value of the house in this bigger-is-better society. But we've never gone along with traditional ideas of success and we're not about to now. Honestly, the house is still quite large for our needs. There's a whole second floor which we haven't even touched. And bigger doesn't necessarily work.
:: We'd do most of the work ourselves. We don't have the budget to hire a big crew and bust it out.  Since Tig is the more handy person between the two of us, that means Tig would do much of the work.
:: We'd design all of it ourselves. That means lots of talking and negotiating. And talking. In circles.
:: It's painfully slow. Patience is not my strong point.
On the upside, the living space–and our new bathroom–is so much better now. More open and integrated. It's still rough, but it works for us.
And our wood stove. What did we do before having a wood stove?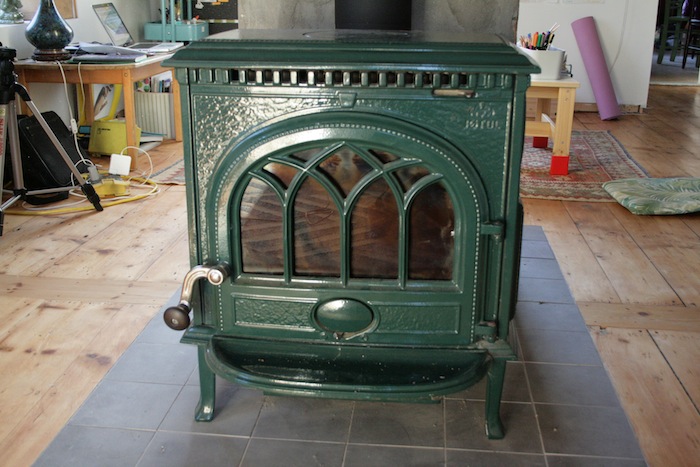 Tig found this beautiful Jotul F3 on Craigslist last summer. Then he built a hearth pad out of some porcelain tile we found at our local Habitat ReStore. I like how he made it flush to the ground.
I can never go back now. .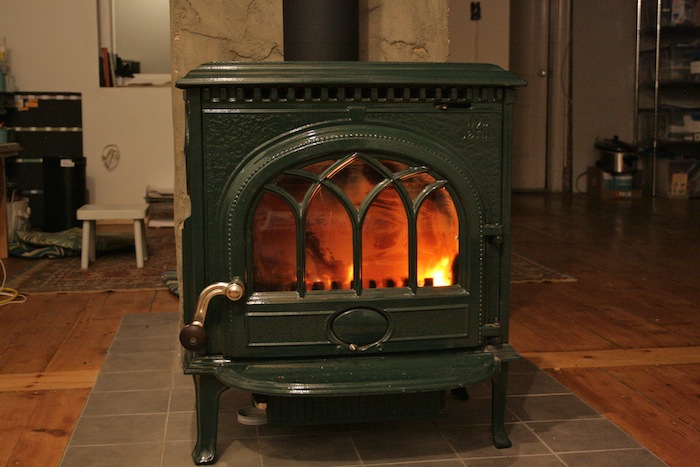 Ahh, sitting next to a furnace vent never felt as nice as this.
This winter we'll sit by the fire with cups of hot cocoa and make plans for the next stage of our never-ending home renovations.
Save
Save
Save