Our first raft-up on the Wye River with sv Majestic (Cindy and family), sv Heron and sv Demeter. The first half of the morning was a brisk downwind sail in 15-20 knots of wind with a slew of racing boats heading for Oxford. Most of these boats had spinnakers up or sailing wing on wing or 2 poled out jibs.
We were comfortably cruising at 5 – 6.5 knots with a jib & jigger (foresail & aft mizzen sail – no big main sail). As we turned to the Eastern Bay at Bloody Point bar, we sailed close hauled for a couple hours. This is where the first mate envies catamarans. Luckily, the kids napped while we were heeled over 15+ degrees. until we were able to turn to a broad reach past Tilghman Point to the mouth of the Wye River.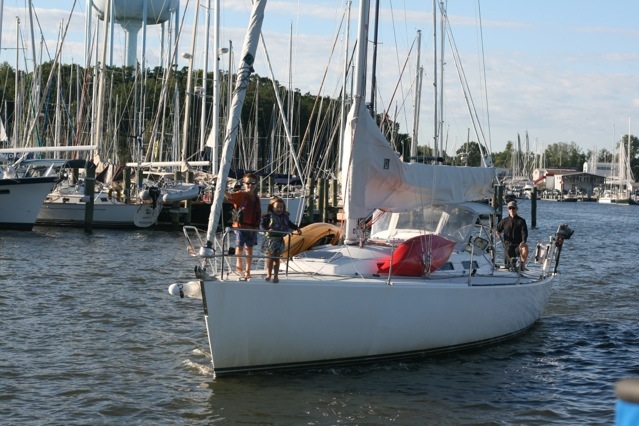 Heron going out early in the morning…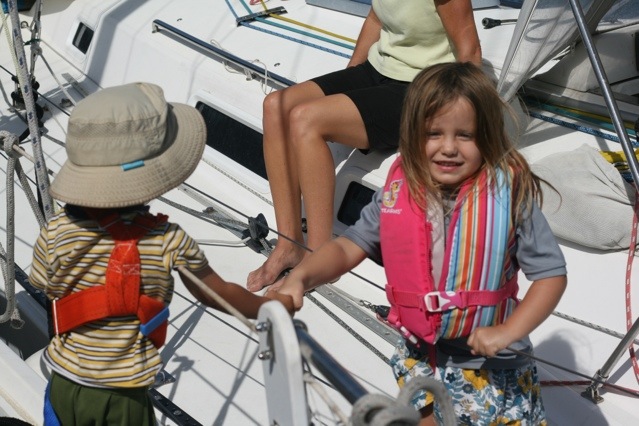 After arriving at anchorage, we rafted up for the first time. O and A shake hands.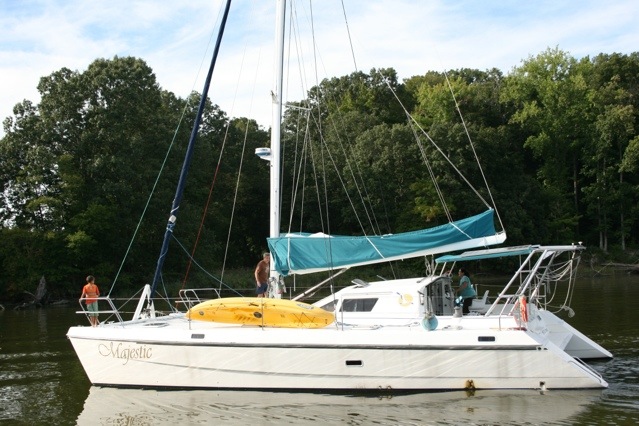 Majestic arrives. H was so excited to meet Z, he and Greg went out as the welcoming party.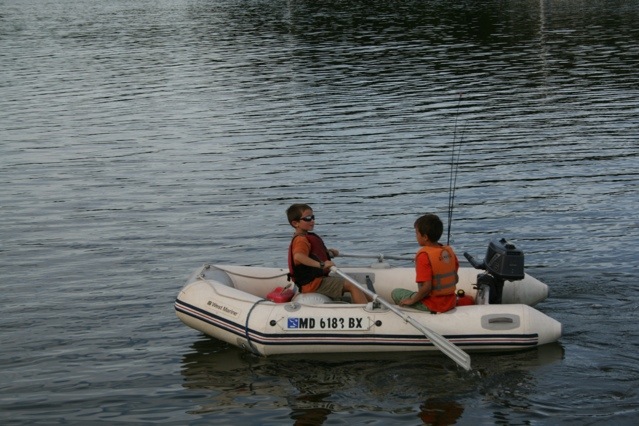 The two boys hit it off immediately. And off they go. Sv Demeter shows up shortly after.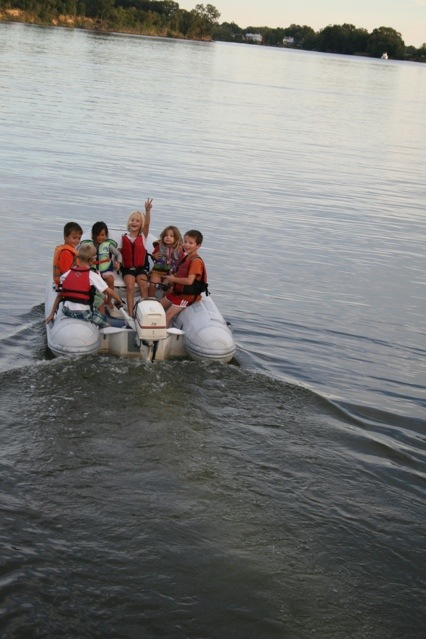 Proof of parental neglect! The kids go on a joy ride and live out Lord of the Flies for an hour. Actually, H has his license, the kids have a handheld VHF, and they didn't leave our sight.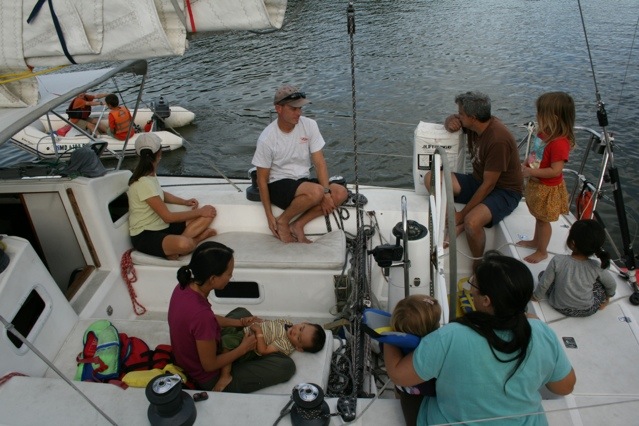 The party in full swing. Best quote overheard over a ginormous bowl of popcorn that night: "You can't sleepover at my boat because there are two girls. And my dad's on the girls' side. He does what they want." (Name withheld to protect the source)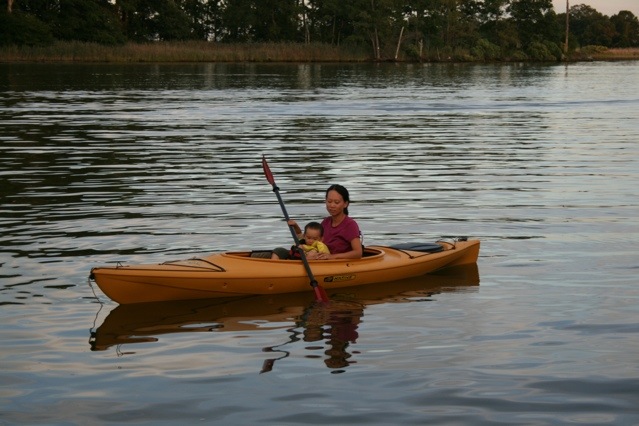 Serena lets O kayak.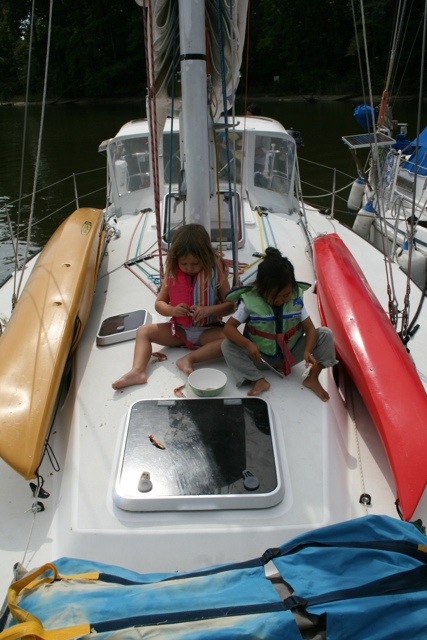 V and Miss A attempted a sleepover in which they got to experience the best parts of sleeping over (giggling, telling "spooky stories", and making trips to the bathroom) before pulling the plug and collapsing into their respective boats at 11pm. Needless to say, the next morning was a bit rough. They took out their crankiness on some crab claws.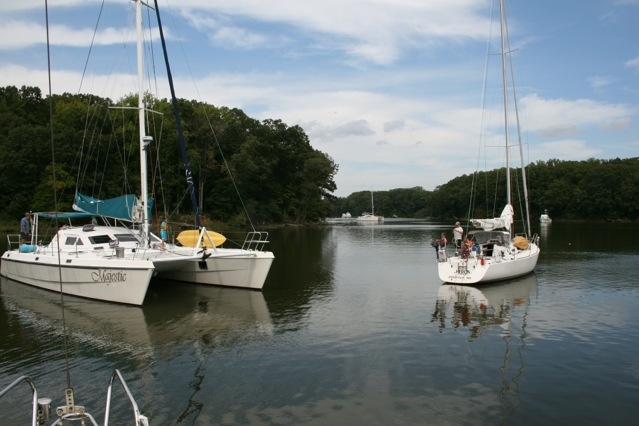 We were sad to say goodbye to our friends. It's been such a wonderful stop on the way South. I had been following Cindy's blog for years and I'm so pleased to be able to call her a friend. Goodbye Doug, goodbye sweet Z. You are every bit as amazing as I had imagined from reading the blog. Goodbye N, cutie pie. I will miss you. Goodbye Greg and Tracy, H and A. We are so glad you found us!
Alone at anchorage, we noticed a chill in the air, and a few colorful leaves floating on the water. Autumn is here. Time to move south again.