Sunday night. We lug our dinner fixings from our boat, past the docks and to the grills by the pool. Our stuff is usually sprawled across a large table as Tig grills our dinner. Then the magic starts to happen.
Steve stops by to chat about his plans for the winter. He's thinking of quitting his job and sailing down to the Bahamas this winter. Ellen and the girls from Rubicon come to cook their dinner. Their usual spot is taken, so they share our table. V is always thrilled to see S and R. Steve and Ellen talk a little bit about sailing down to Florida.
Bill comes over to show the girls his "grilled ice cubes." S looks at the contents of his cup and shouts, "Those are potatoes!" V grins and says, "Silly!" Bill, who insists that his grilled ice cubes are legit, makes a drink for Ellen and John and checks on his beer-can chicken.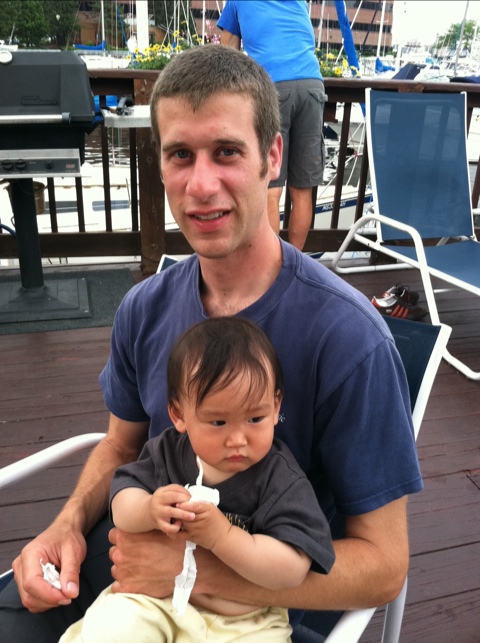 Steve heads back to his O'Day to walk his dog. Dan, our next door neighbor, shows up later to grill his hamburger and sits with us. He tells us about his camping trip over the weekend. And so on. Long after we left, the table ebbed and flowed with people.
So often we live in bubbles of our houses and cars. When we lived in our house, dinner with other people often had to be planned–and we lived on a fairly social and neighborly street! Unless you're a hermit or a misanthrope, I think the serendipitous exchanges with our neighbors fulfills a deep human need for contact.
I like that the kiddos get to see so many people of different ages and learn to interact with them. V seems to thrive on the buzz of conversations and characters.
Wednesday evening. We took my colleague out for a sail. I had O strapped on my back and was trying to back into our slip. Half a dozen people came out of the woodwork to help guide the boat in safely. Bruce gives me a thumbs up. Even though the docking was a bit hairy, I feel a moment of satisfaction.
Save