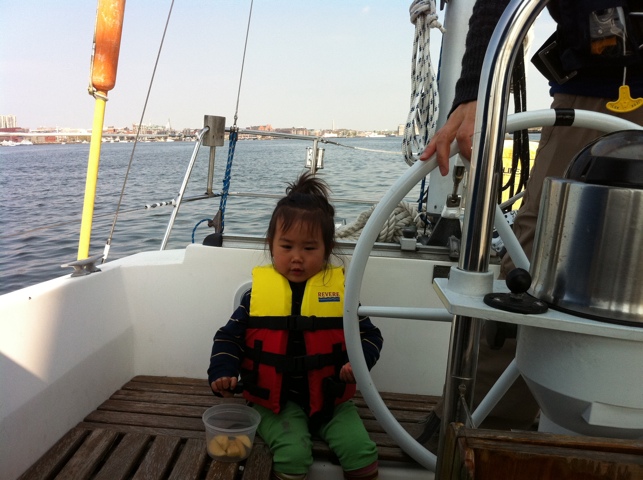 V and O had their first sail today. It was also Serena's first time in almost a decade. Dick and his wife Judy graciously accompanied us on this day. It was hard finding a good spot for the kids. O was either strapped to his car seat under the dodger or carried in the Becco by me. Coincidentally, O had his first puke while on the boat (like father, like son), mostly because I stuffed some apples in his mouth to keep him from whining, not from the motion.  V was mostly fine as long as she had her snack and a view from the cockpit. Although she did have to use the head while underway.
Conditions were sunny and warm, with little winds. Serena carefully guided the boat out of our new slip under power (by doing a 5 point turn). Once out into the harbor, we put up all three sails. First the main, then the mizzen, and finally the jib. We turned off the engine and only managed about 2-4 knots of speed.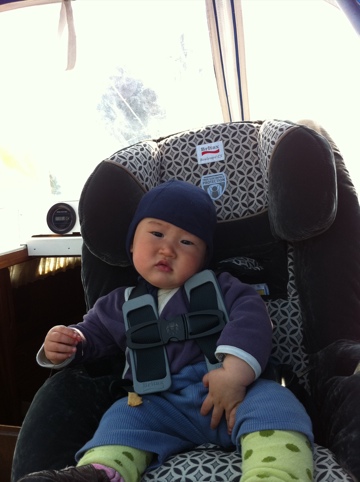 The highlight for V was sailing past the airport where she got to see many "BIG" airplanes. Under such light winds, we did not manage to sail to Spectacle Island in time (wanted to get the kids back to have a proper nap), but we did put up the cockpit table and enjoyed some bagels brought over by Dick & Judy in the middle of the shipping channel. We then headed back to the marina under power where Serena masterfully guided the boat into her slip. Next time, we'll try to make it to Spectacle Island and the kids can nap on the boat.