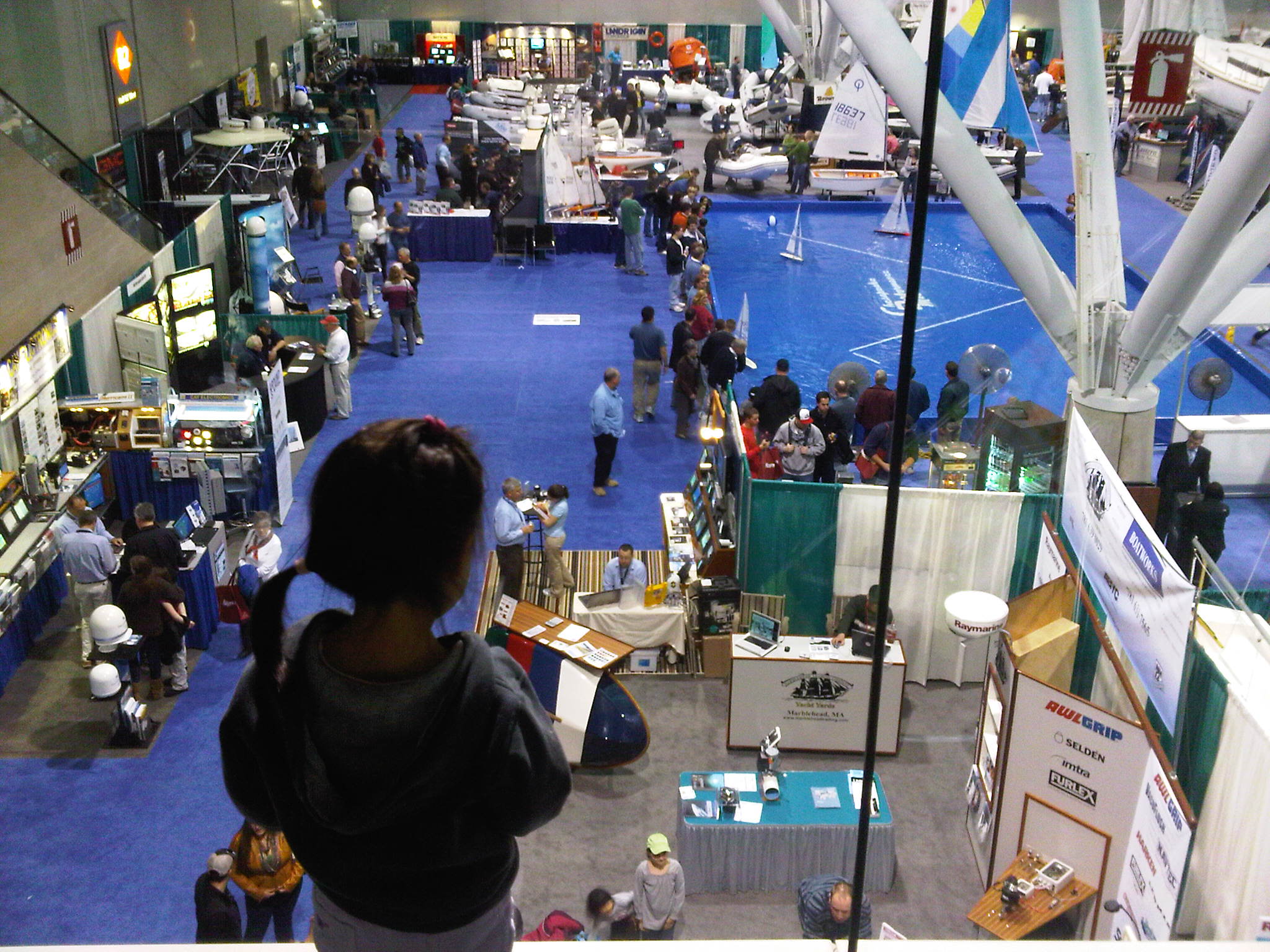 We've been busy attending our first boat show this past week. As a family we went to the exhibition hall two days out of the week. Before kids, we'd probably just power through the show floor in one day hitting everything we wanted, but that's nearly  impossible with kids. The best view of the show is from the walkway above the show floor (see above). Most of the boat show is geared for power boaters (roughly 3/4 of the show floor). But there were some brand spanking new sailboats for us to climb in and check out including:
Island Packet Estero
Catalina 355
Hunter 33, 36
Beneteau (40′)
Nothing too exciting in the boats. We were just looking for amenities/features that we could possibly build into our yet to be determined 30 year old boat. Serena liked the fancy head with a glass bowl sink in the Catalina, but she's a sucker for pretty things.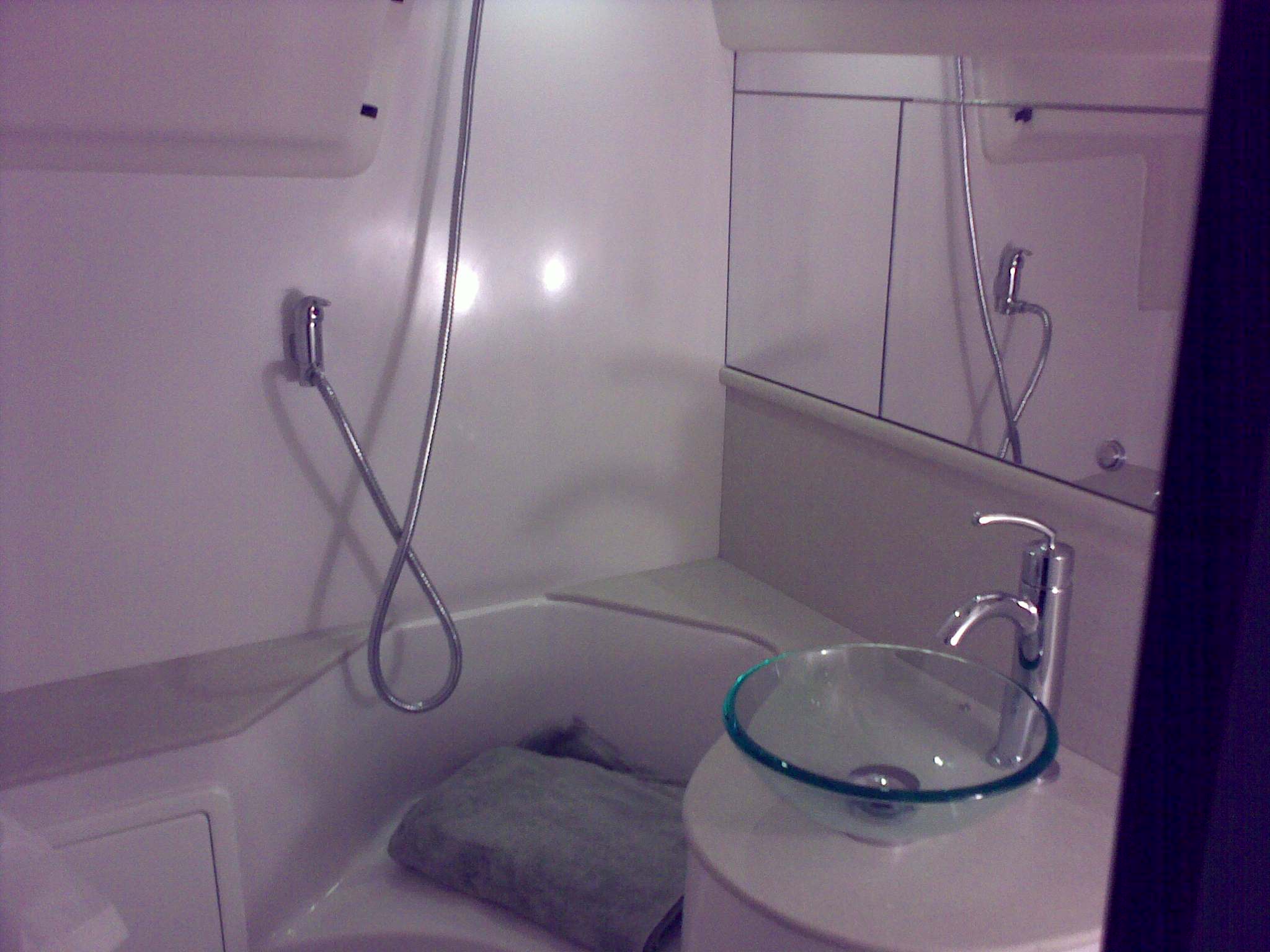 V had a good time walking around the huge convention center: along the walkway above the show floor, the outside windows, drinking from the water fountain, riding in the golf cart around the building (thanks to the convention center staff). She took an instant liking to the bright red Poseidon military watercraft.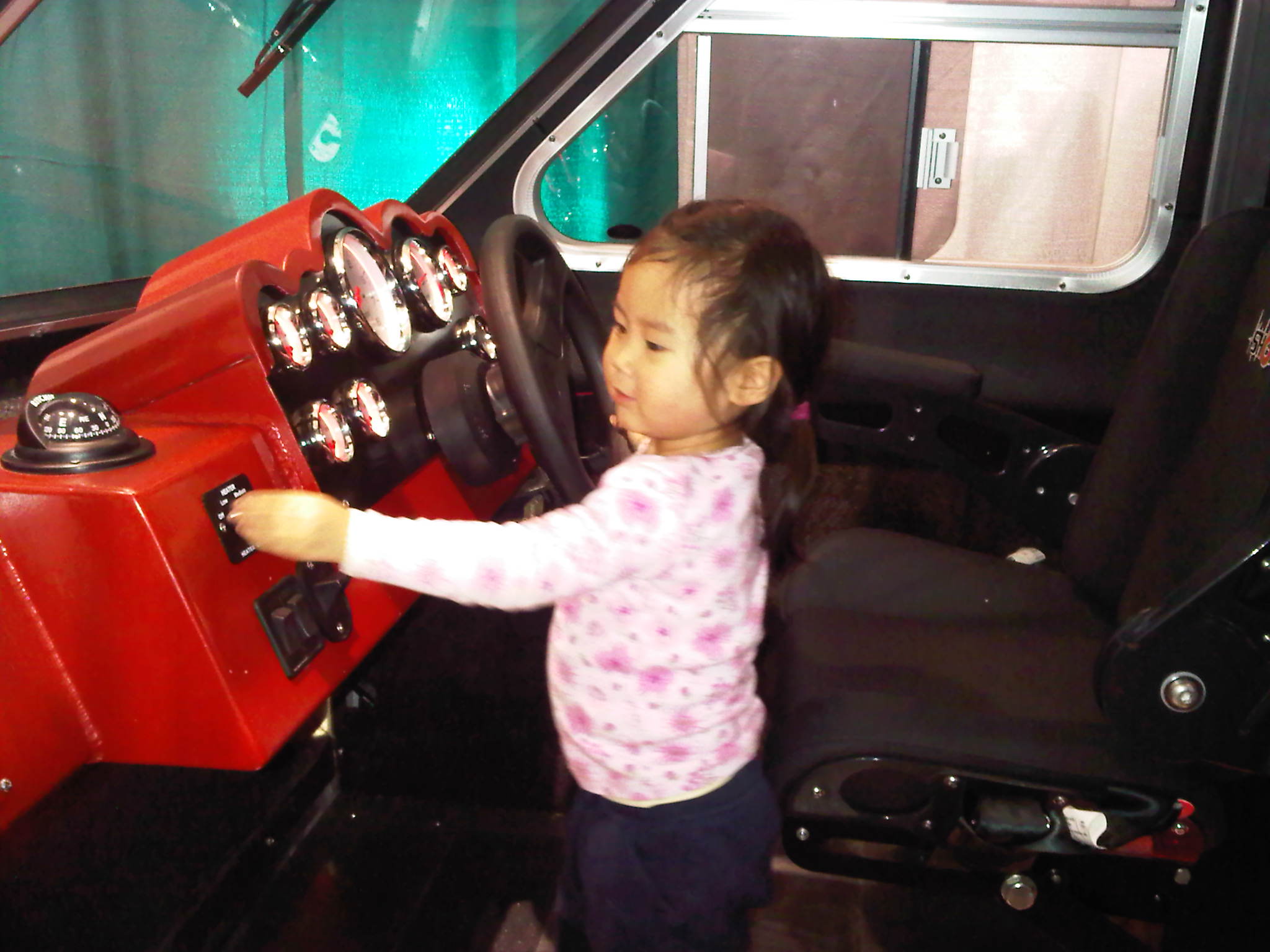 She also liked the small radio controlled sailboats sailing around in the indoor pool. We heard from someone working the floor, that earlier in the week, a little leaned in too far and fell into the pool.
[vimeo http://www.vimeo.com/20812950 w=400&h=300]
Radio controlled sailboats at the 2011 New England Boat Show
We talked to various vendors*.
Northeast Rigging seems to be the place to get your rig. We also got a "thumbs up" on our possible boat from Kevin at Northeast Rigging. He's seen lots of boats and although has not seen the boat we're considering, said good things about construction quality and reliability from the company. I was actually talking to a surveyor about the boat, and Kevin was also in the booth, and Kevin ended up answering my question.
We had an exciting dialogue with a representative of NuTeak, a PVC based "faux" teak product. Porta-bote seems to be a very good and portable dinghy solution.
Interlux Paints told us to use a hard bottom paint (when we repaint the bottom) for use as a liveaboard boat.
Got an insurance quote from BoatUS and got some other insurance agents' contact info.
Being newbies, we wanted to get as much out of the boat show as possible, so Serena and I attended a bunch of seminars. An interesting note, you did not have to buy show tickets to attend any of the seminars. They were all free (except the classes that had separate tuition). So we each went to a few separate seminars without the kids that we spread out over the week. Here's what we took:
Navigation Equipment — Charplotters and GPS Overview
Docking and Maneuvering in Close Quarters
Marine Weather Forecasting for Safe Boating
How to use your VHF
Preparing Your Boat for the ICW
Marine Diesel Engine Maintenance
The most interesting class was the weather forecasting. It was a primer on how to read weather charts. It went quick and a lot went over my head. I should have brushed up on my eight grade Earth Science material beforehand.
The other class I found really useful was the Diesel Engine Maintenance seminar. Here's a few things I learned (or had reinforced) from the that seminar. Remember I'm a newbie, so if you have more experience than me, you can just skip this.
ALWAYS CHECK ENGINE OIL before heading out. Unlike a car, this should be an almost daily task.
DON'T BUY CHEAP REPLACEMENT PARTS. Especially don't buy automotive belts, etc. Just follow what the manufacturer recommends.
DON'T USE OIL ADDITIVES, unless recommended by manufacturer
Do not motorsail and heel past 6 degrees. When heeled over, it can affect splash lubrication of engine which in turn can cause hydrostatic lock and lots of broken pieces in engine.
The engine can not charge the batteries running at idle. The engine must be running at least 1600 rpm's to get enough amps to the battery. And diesel engines are not meant to be idled. So once in a while, run the engine like you're a power boater. This also has the effect of "self cleaning" since running the engine up to temperature will evaporate the moisture in the oil and the water can then get exhausted out.
Don't get sold on a new prop from a prop salesman. They may decrease drag, but also may not let engine rev up to correct rpm. There's a long diatribe about this that I won't get into.
Buy fuel from a trusted source. If you're in new area, before anchoring or settling in at night, buy a pint or less of fuel and put it in a glass mason jar to let things settle. If in the morning, there is water at the bottom, obviously do not use this fuel.
Use only 1  30 micron Racor filter. Adding more may stress the fuel pump and it may not be able pump enough fuel to engine. Of course, have plenty of spares.
Fuel polishing is not worth it. Recommends just pumping out the bad fuel and get new stuff.
Someday if I have the time and/or inclination, I'll write up my notes on the weather forecasting seminar.
*Note, we have no experience with these vendors beyond our brief conversation, and are not endorsing them.