This fall, facing the prospect of an unfinished mudroom and pantry, I asked–actually I begged–our friend L for some help. Having built her own cabin and worked at her family's construction company, she had the right sets of skills and talents to assist Tig. Lucky for us, she agreed and was able to work a few days.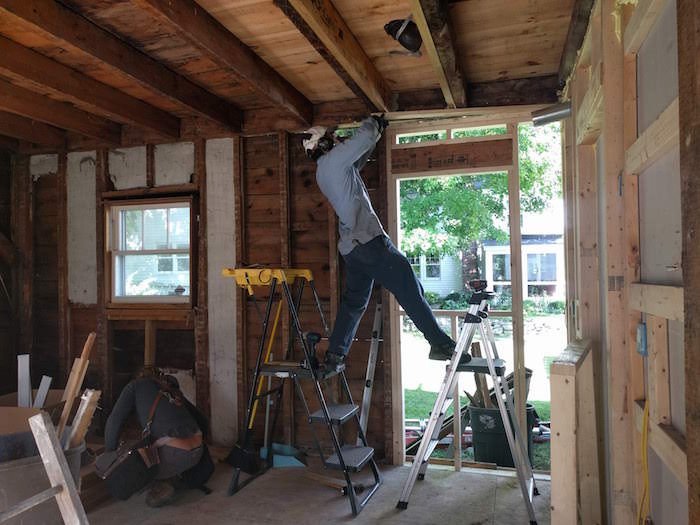 They managed to replace a whole section of rotted wall, board it up, wrap it, and put clapboards back on. They also put in a new window in that section. She helped build out a second layer of studs and insulate with Rockwool between the studs.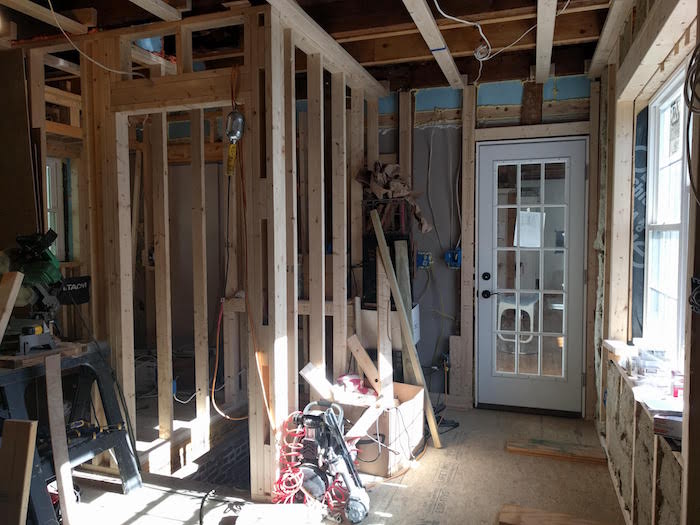 I helped Tig put up the interior walls that would define the new staircase to the basement (see picture above), the alcove for coats and boots to the right, and a pantry to the left.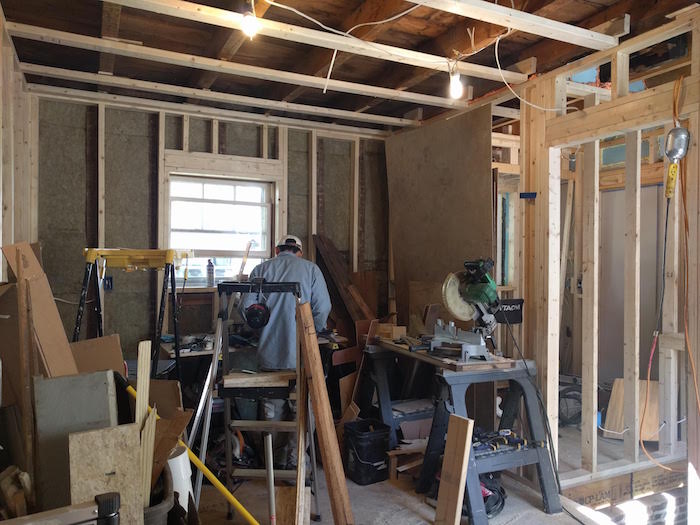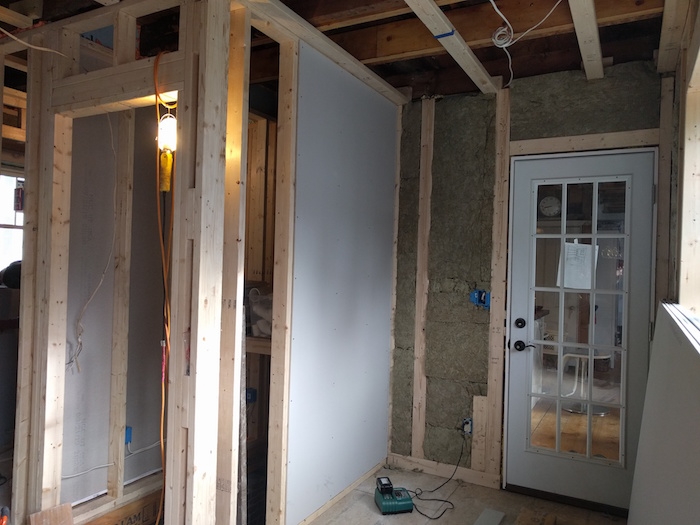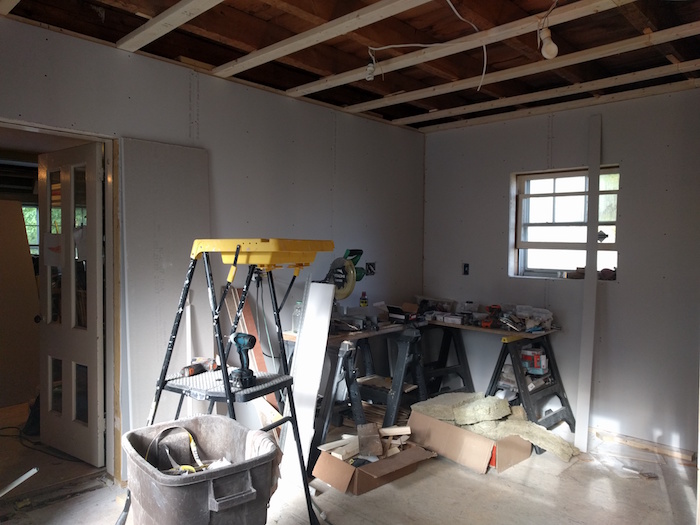 L also helped put up drywall and do a little mudding and taping. All-in-all, we only had three days of her help, but–like the masons who tore out our chimney–it propelled us forward by weeks. I'm so grateful to for her time and friendship!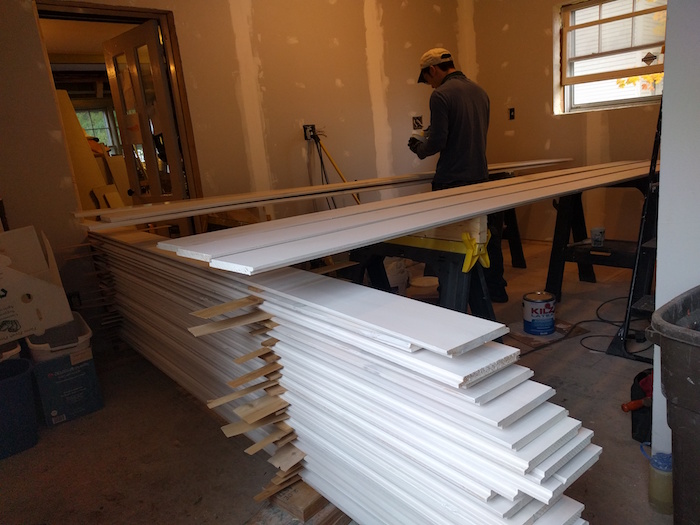 With the basic shell of our mudroom complete, our next project was to tackle was the ceiling. We chose and ordered pine shiplap, in 16 foot and 12 foot lengths. The 16 foot lengths posed a bit of a problem with storage, they stretched from the mudroom to the workshop. And it was a pain for Tig to shuffle in and out to get them painted and dried outside.
I helped Tig paint a bunch of them. Each one had two coats of BIN primer, and one coat of Sherwin Williams Pure White. It took quite a few days to get it done.
Then, at long last, it was time to put the ceiling up. The picture below illustrates one of the reasons why I think Tig is amazing. Without a crew of people to help him, he manages to figure out ways to do things singlehandedly.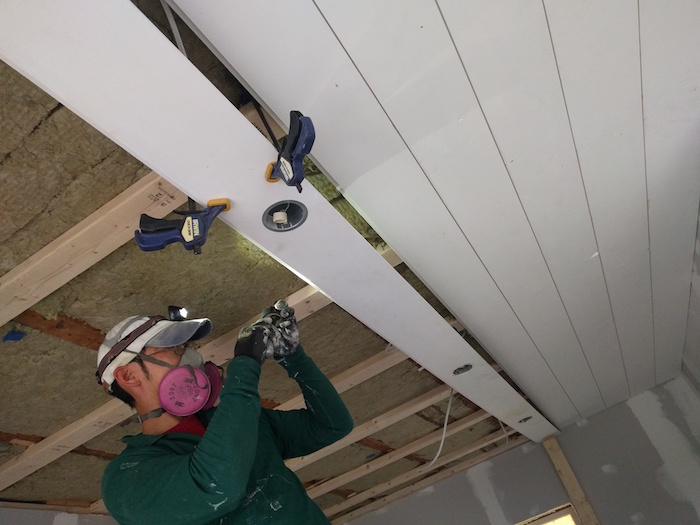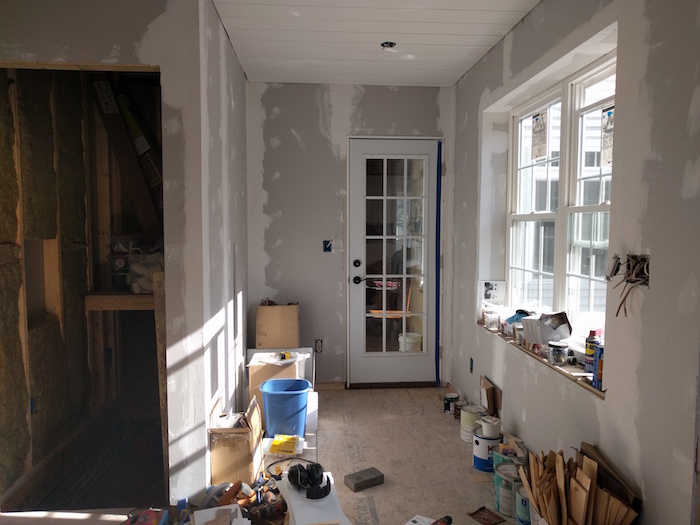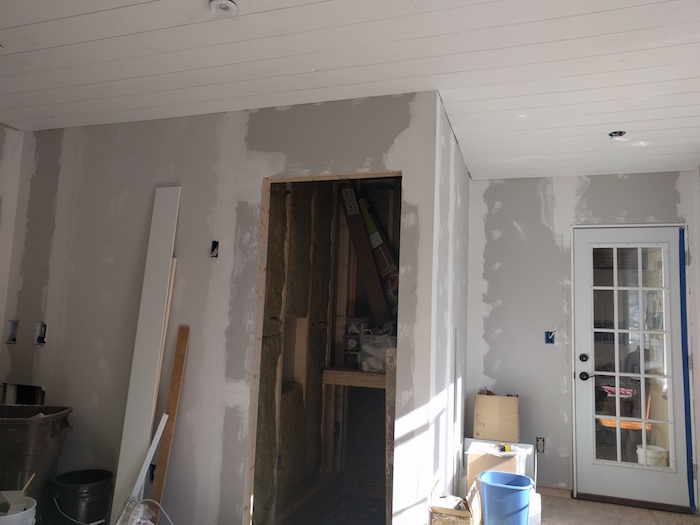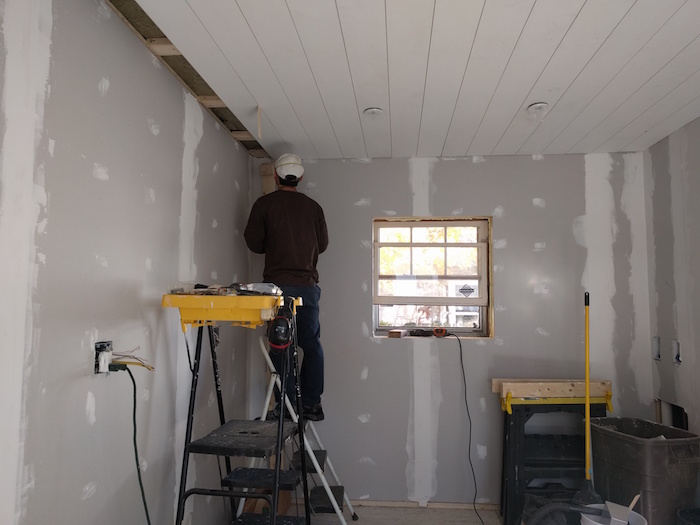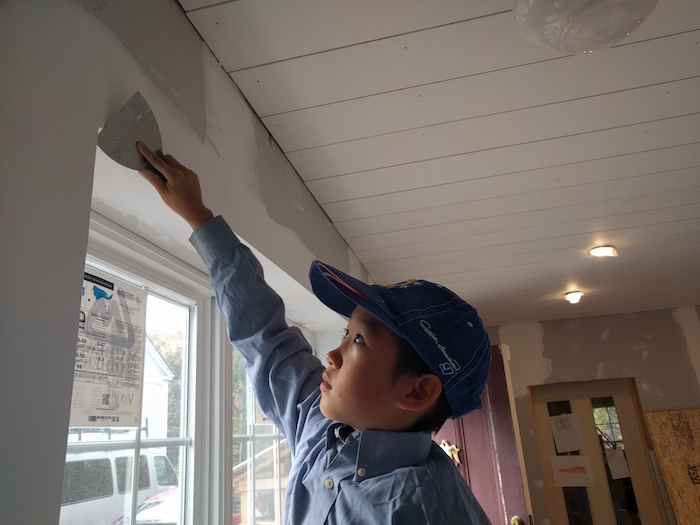 I love how crisp and white the ceiling looks. After the overhead lights went in, we were on to painting. I'll pick up there next post.
The Furnace
But in the meantime, we also had our furnace replaced this fall. Our old furnace, a 1950's vintage ThermoPride, had a cracked exchanger which was discovered last fall. That left us without central heat last fall and this spring. We used our wood stove in the meantime. This September, we replaced it with a Conforto KLR-100.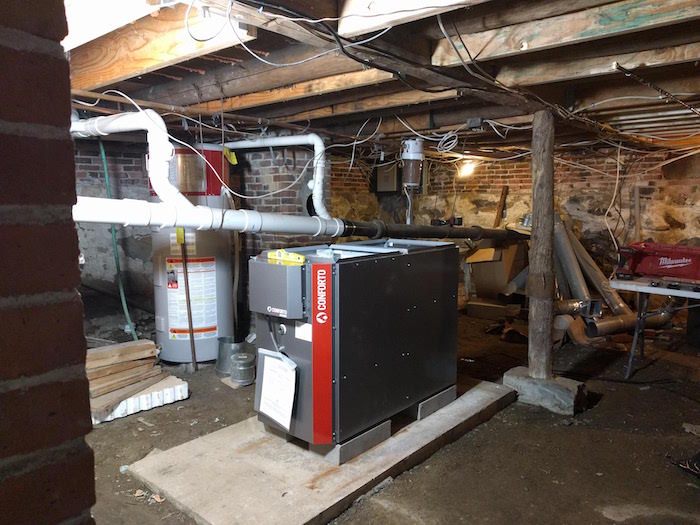 It's beautiful, shiny and efficient.
Incidentally, the furnace guys saw all the work that Tig had done to shore up the structure from the basement. One guy said that they've been inside to a lot of basements in town, and that many of the homes look beautiful on the outside, but the joists underneath were…questionable. He then complimented Tig on his diligence in making the house structurally sound.
And on that positive note, I'll wrap this post up. More to come!