It's been a long few weeks to get to south Texas and the border of Mexico. We got slapped in the face on our intended departure date of 12/29 by a bitter cold spell that started after Christmas and lasted over a week. With high temperatures around 5F & lows around -20F, the diesel van was unable to start. And just like sailing, we started watching the weather for an opportune window to escape. It wasn't until the afternoon of January 2nd that the van begrudgingly started up. We scrambled for the next few hours, quickly packed the van and shut the house down for winter & left that evening (with the van running for hours while getting ready).
Temperatures were around -10F that night as we drove southbound. We made it to a cousin's house in New Jersey by morning and rested some. But we knew we had to keep moving because a snow storm was forecasted for the Northeast starting later that night.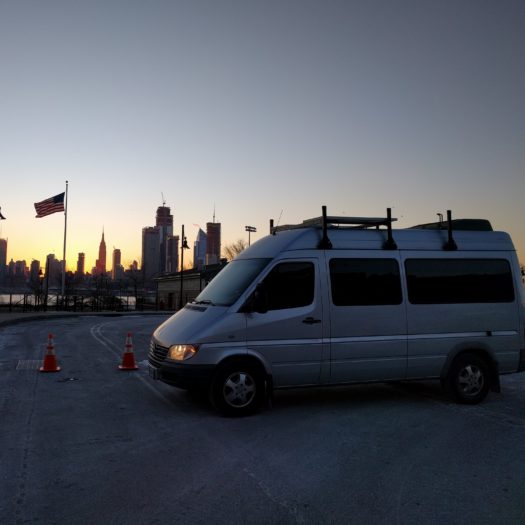 Van selfie against the New York skyline.
When we made it to Virginia, the threat of snow was over, but temperatures were still freezing. We slowed down taking a few nights rest at hotels along the road. We finally parked at a friend's house in Tennessee for almost a week (thanks Nick and Stacy).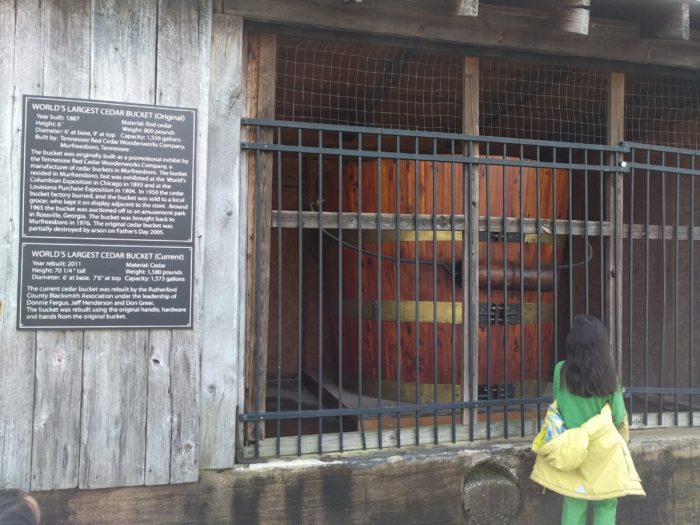 The world's largest cedar bucket.
During that time I worked on some van projects like putting in AC power to run an electric heater, setting up my running water system, oil & fuel filter changes while the kids played with their old cruising friend.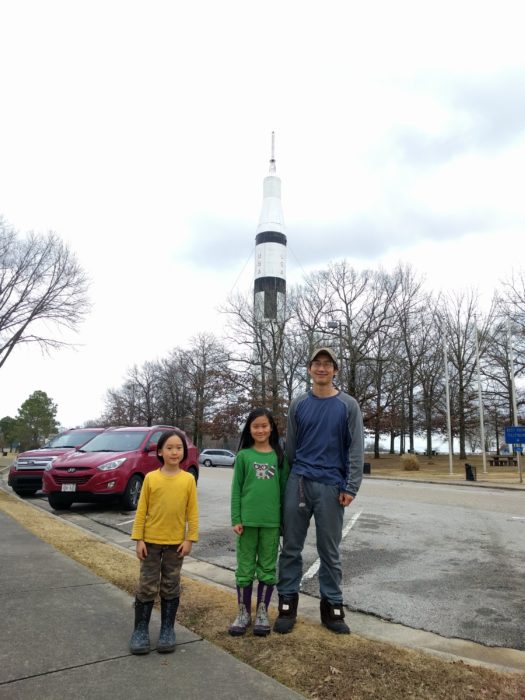 We left Tennessee just before another cold front with snow came barreling through. We outran the snow, but not the cold as we made it to the gulf coast at New Orleans. We spent a day exploring The Big Easy with another cousin. The kids even got some beads.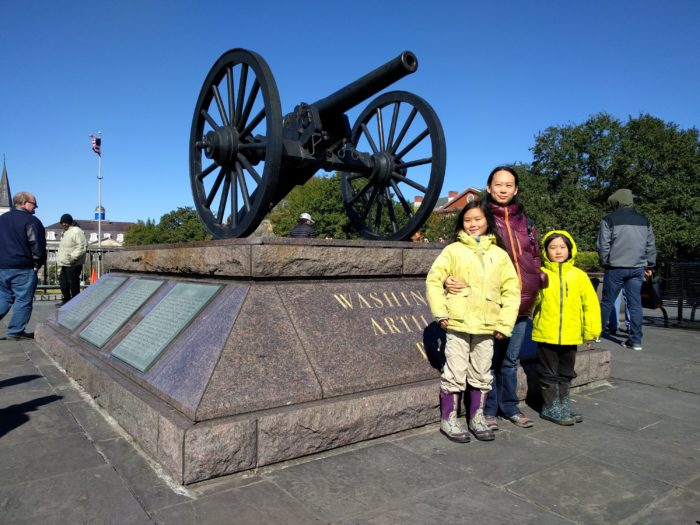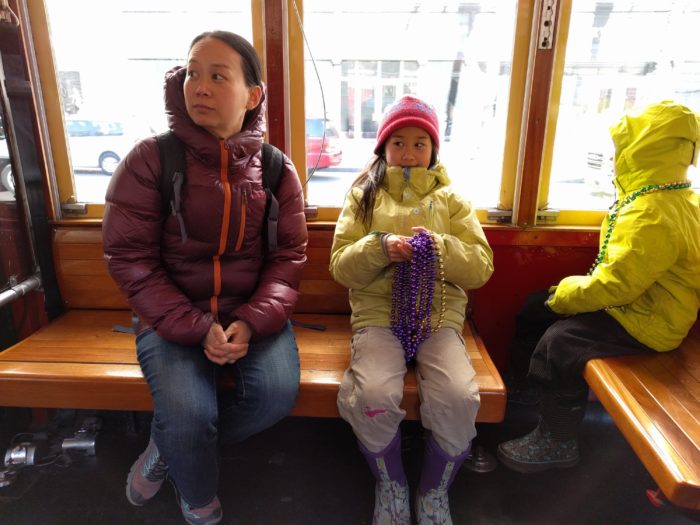 Beads were readily thrown at the kids.
As you can tell by the winter jackets, we hadn't quite run away from winter yet and with subzero night time temperatures, we sought refuge (heat, or electricity so we can use our heater) for 2 nights at Bayou Segnette state park, 10 minutes from the French Quarter.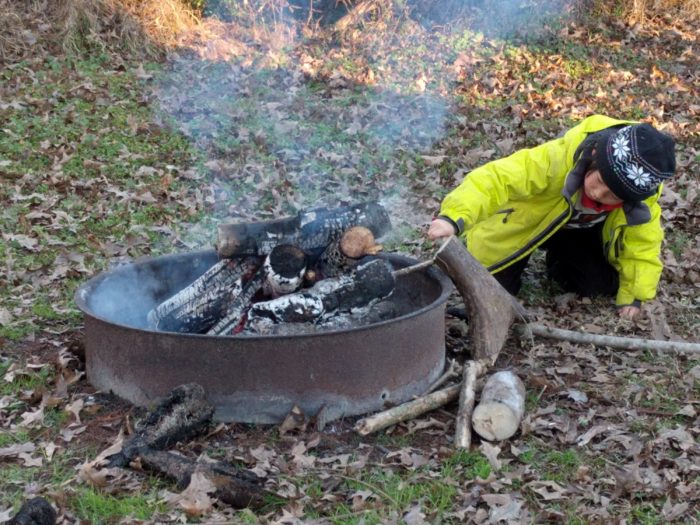 Playing with fire.
We had one night of relative warmth (40s) and found a great beach for camping on the southern shores of Louisiana, called Rutherford Beach.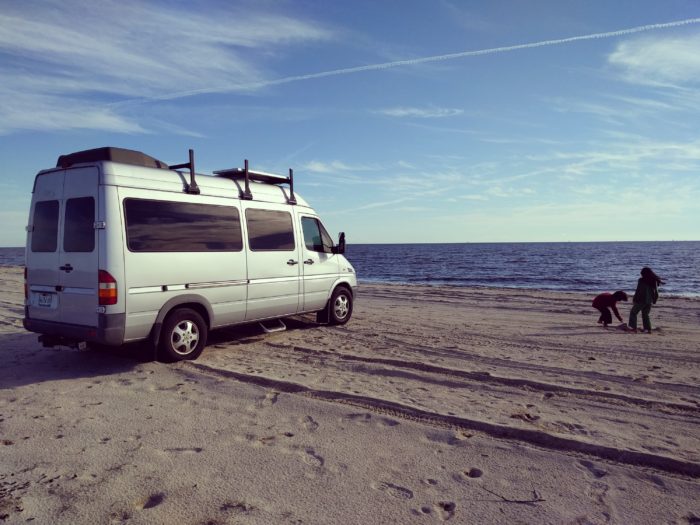 Former boat kids in their natural habitat.
Our ferry to Texas was thwarted by the weather (this time wind and rain) and we eventually stopped at Spring Creek Park, in the suburbs of Houston to take care of errands.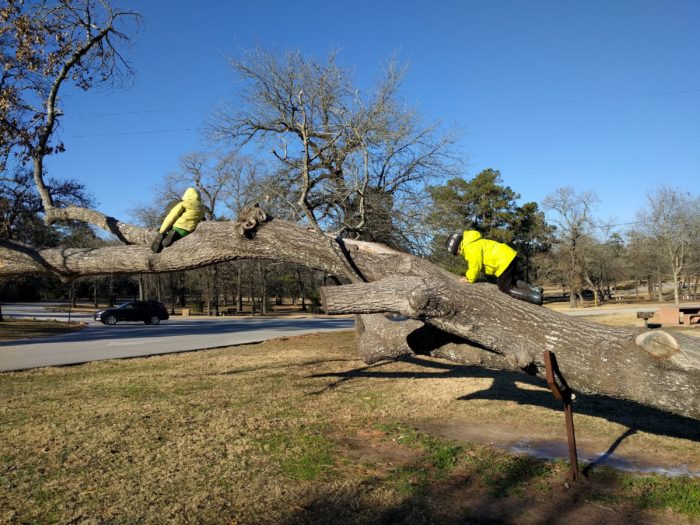 The park is a gem because it is clean, has 2 playgrounds (1 with the tallest public play structure I've seen), archery range, trails, geocaching, and best of all: restrooms with free hot showers. And oh yeah, they offer 8 level sites with full RV hookups (electric, water, sewer) – 7 day max stay. Unfortunately the first night we were there, the water & pipes had frozen, but at least we had heat.
Next stop Magnolia Beach where for one day we got to wear shorts, but promptly had to put jackets back on because of the wind.

Magnolia beach
With a quick pit stop in Corpus Christi, we at last arrived in Brownsville, at the southern tip of Texas & on the border of Mexico.