These are my thoughts from 2 months in Bali (January – March 2017). Please note that prices are either in US dollars ($) or Indonesian Rupiah (IDR). At that time 10,000 IDR was about $0.75. Yeah, it's weird taking out 2 million rupiah from the ATM.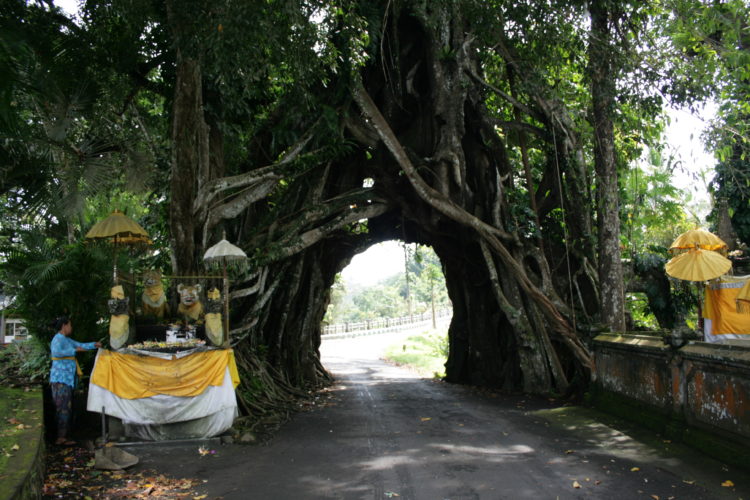 No problem if there's a tree in the middle of the road
Infrastructure and Transportation
On our first stint in Bali, we rented a car and saw a good chunk of the island. An automatic transmission rental car cost us around 200,000 IDR/day. The interior of Bali contains mountains and tropical forests while the outer rim is scattered with beaches and cliffs.
We mostly stayed on the coast, but did venture up and through the mountains once (we tried coming back a different route through the mountains, but was stymied by weather and road conditions).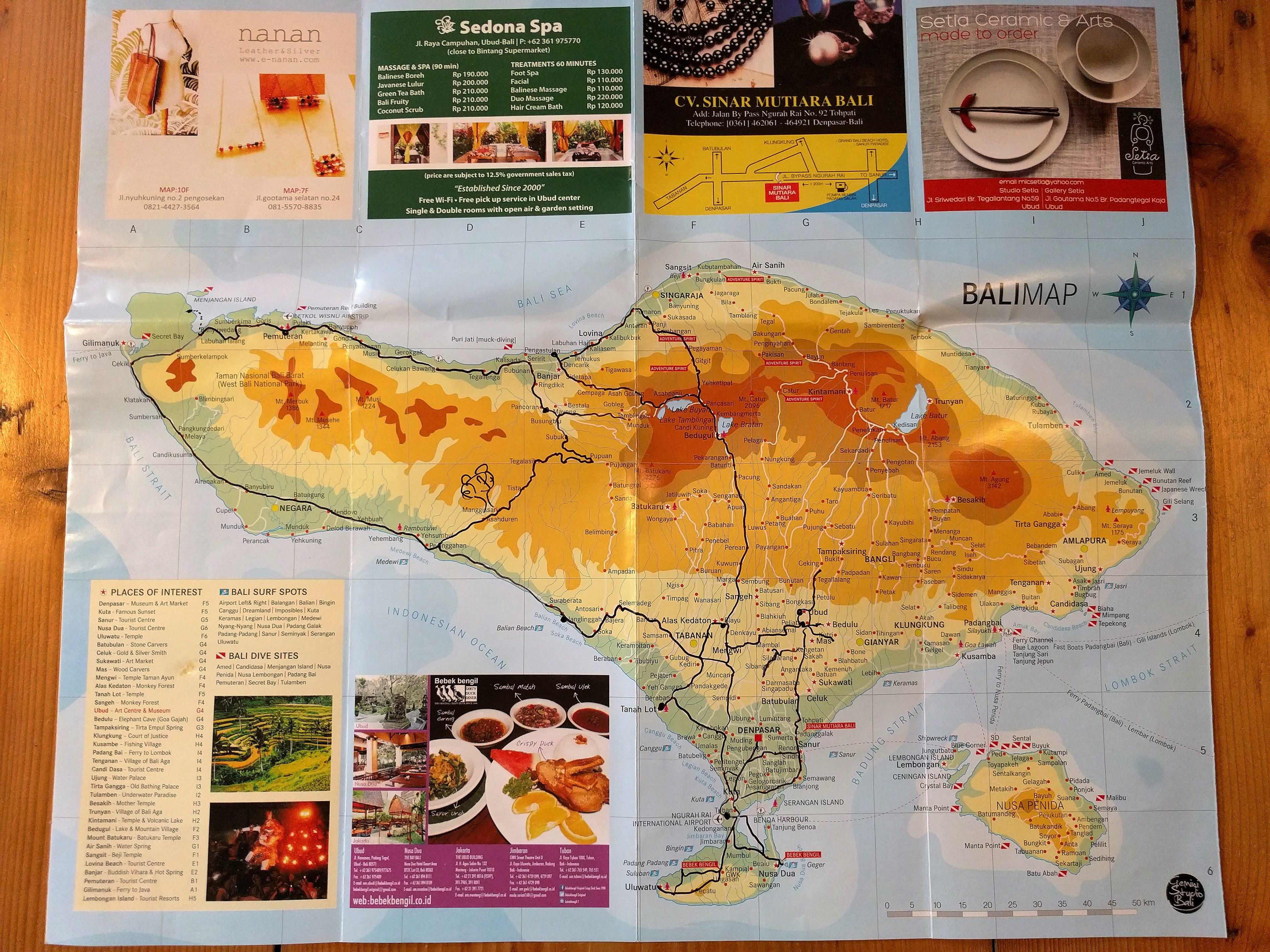 Topographic map of Bali and our route
The bulk of the island is built around tourism. Infrastructure, with some exceptions, is pretty poor (i.e. clean drinking water and trash management). Roads conditions were inconsistent, often with lots of potholes. We visited during rainy season which meant there was often rain every other day. Storms were generally fast moving and many times early morning rains were followed by sunshine in the afternoon. One time, we had a few days of nonstop rain and mountain passes would flood with debris and trees limbs, blocking the roads.
Beaches in touristy places are good (Kuta, Seminyak, Lovina, Nusa Dua) because they get cleaned. Once off the main track many beaches can get filthy from trash–some of it from land, the rest from the ocean itself. Storms often wash land-trash down to the ocean, but the surge brings the trash right back past the tide line.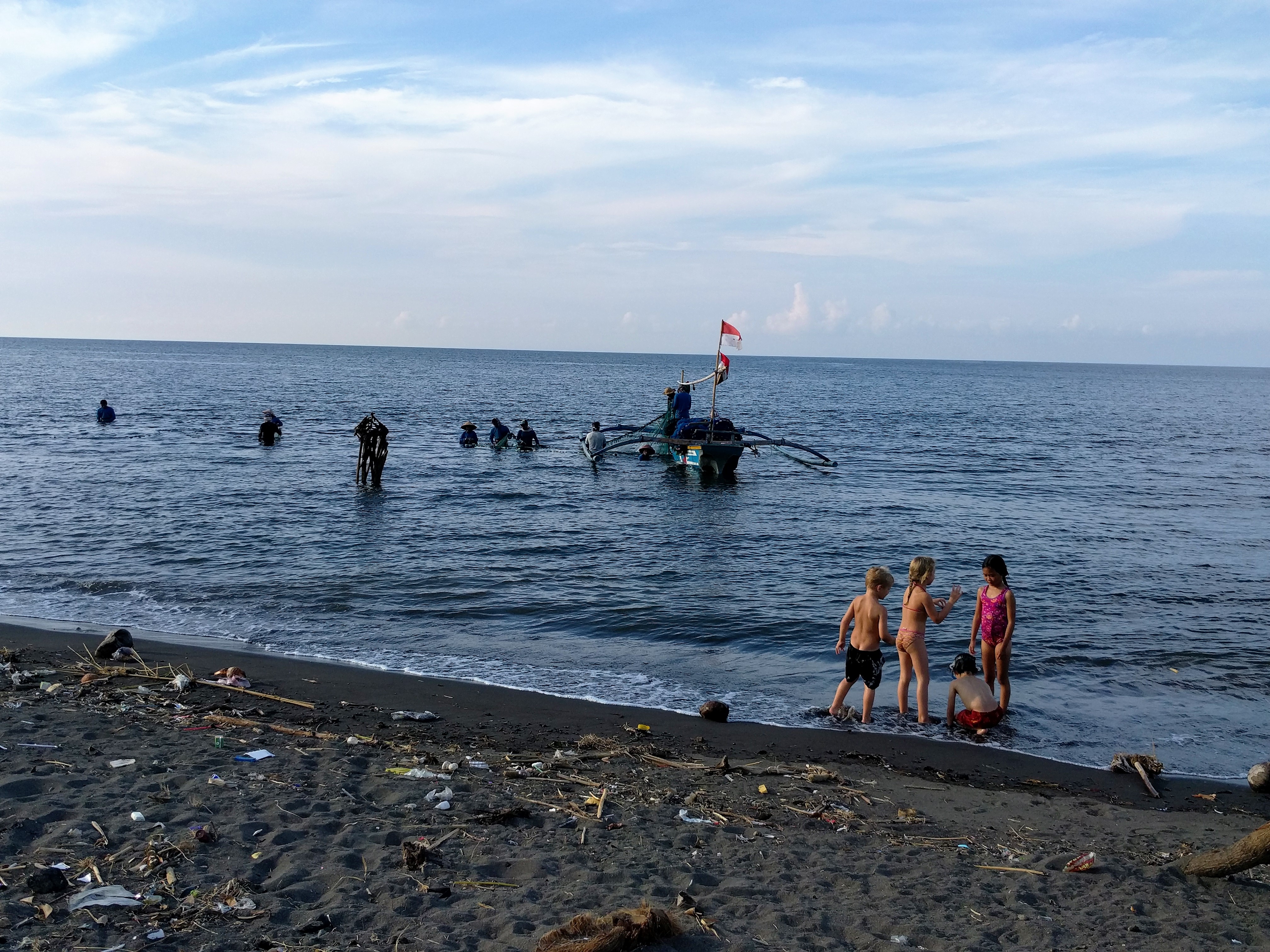 Local beach in Banjar near Lovina
Snorkeling was good but limited. We did manage to get to West Bali National Park and stay at the only hotel there. We did not get to Menjangen Island (although we could have swam there) and the best snorkeling was under the dock at the hotel. We are a little spoiled by the quiet beaches, crystal clear waters and great snorkeling while sailing through the Bahamas last winter.
Driving around Bali
Driving is on the left side of the road, and the median line is just a suggestion. There are lots of scooters. Might is right, watch out for the huge tourist buses coming to/from Java. Road rage does not exist in Bali, so don't take anything personally. Large traffic circles work the way you think they do. For small traffic circles, you usually take the straightest path, even if it seems counter-intuitive. If you don't know what to do, just slow down a little and follow the locals. Often times there is traffic. And then you will see scooters getting creative (i.e. driving on sidewalk, etc). Indonesians are extremely resourceful with what they can fit onto a scooter; you will be amazed.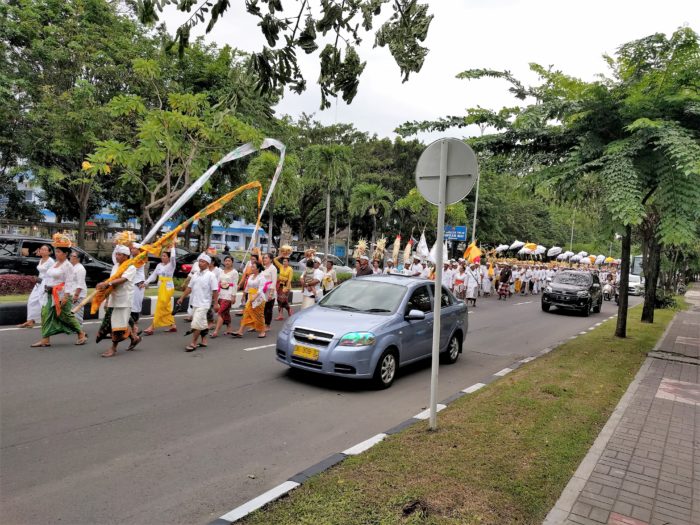 Traffic for a local ceremonial procession
You have to pay for parking almost everywhere (on a car or scooter). It's usually only 20 cents or less (2,000 IDR), but it can get annoying. Sometimes people collect right when you park, other times they collect as you are leaving. Go figure.
Technically you will need an international driving permit to drive a car or scooter in Indonesia. I picked one up at local AAA office for $20. None of the people I rented from asked for it, though. One place required a deposit. Driving a scooter is relatively easy and costs less than $5/day. I did pay a little more (60,000 IDR/day) to get scooter rental with small helmets that would fit the kids. If you want to blend in more, wear long pants and/or long sleeve shirt/jacket while driving the scooter. Even in 80+ degree Fahrenheit weather, most of the locals are quite covered up on their scooters. The guys in shorts are almost always tourists. I'm not quite sure how insurance (if any) works. Best to drive slow and carefully.
Ride Hailing
I'm a fan of economic transparency and I do like the Uber business model (not so much the management and culture). As touched upon earlier, ride hailing is frowned upon in most places in Bali, Denpasar being the notable exception. However, it appeared that many people in Bali and Indonesia routinely skirt the local taxi drivers and still use ride hailing.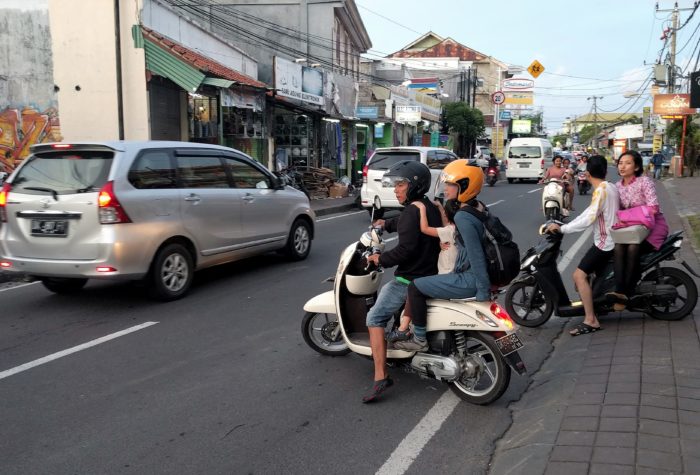 The three main ride-hailing services in Bali (and Indonesia) are Uber, Grab, and Go-Jek. Uber is based in the USA and offers rides in cars or scooters/motorbikes and even has full-day hires (5-hour minimum for 60,000 IDR or about $5 USD/hour). Go-Jek is an Indonesian-based company that offers rides and delivery service via scooter/motorcycles. I tried using the app, but had a hard time with translating things and getting it set up properly. Grab is based in Singapore and offers rides in cars, motorbikes and full-day hires for about the same price as Uber. One main difference between Uber and Grab: Grab drivers know your destination before they accept your ride; Uber drivers don't get that information until they pick you up. Also Grab gives you the exact price and Uber gives you a price range.
In the beginning I used Uber because I had the app. I eventually used Grab toward the end and liked it better (the promo codes helped). Grab also does deliveries like Go-Jek. I was very tempted once to deliver a stool sample to the doctor's office via Go-Jek (not as a prank, but because I had a parasite). Rides on the scooter were 50 cents to $1. You typically don't want to travel too far on a scooter, for comfort and safety reasons. A 30 – 60 minute taxi ride from Tuban/Kuta to Denpasar cost around $4 – $5. Bluebird taxi (the reputable taxi group) has an app and their price estimate was almost double Uber's. In the end it's really not that expensive.
What we've found is that Uber/Grab drivers are just trying to make a living like the local taxi drivers. And they all offer full-day hires as well. The going rate was 60,000-100,000 IDR per hour of driving. It seemed to us that Uber/Grab was a way for drivers to meet tourists so they can get a driver-for-hire gig next time. I received about half a dozen business cards from Uber/Grab drivers. And I did end up using a couple of them again for some of our longer one-way trips (2-4 hours). If you're looking for a driver in Bali, I can recommend two, both of whom have young families:
Budi: +62 813-3701-6782 (WhatsApp) – His childhood village is in Banjar (near Lovina) so he knows routes to/from northern Bali through the mountain roads.
Nyoman: +62 857-3821-9123 (WhatsApp) – He worked on a cruise ship so his English is very good.
Communications
This trip, I've been grateful for smartphones, in particular my android phone. I used Google's Project Fi cell phone service. It is a practically seamless international cell phone plan. Upon landing and my phone acquiring a cell signal, the screen displayed this message: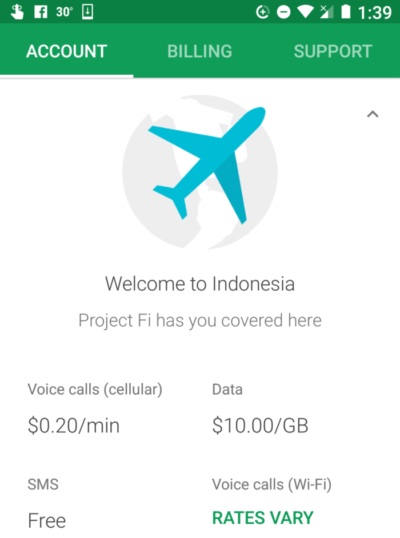 Data is the same rate, text messages are free, wi-fi calling is only $0.03-$0.10/minute to Indonesian numbers (and still free to US numbers). It's pretty awesome. If you want to try it, I have a referral code to get $20 off. (Disclosure: I get $20 off and you get $20 off). I do think it's a great deal for the price of $20/month + data. What makes it even more awesome are the free extra sim cards for data-only. The data is on a pay-what-you-use basis. However, the data-only sim card did not work in Indonesia for us probably because our phone did not have the proper radio frequency for the local cell carrier. In Malaysia and Taiwan, Serena used a data-only card and we messaged each other through WhatsApp. We used less than 0.5 GB/month while traveling for 2.5 months.
Here are some of my most used apps in Bali:
Google Maps – Duh! I downloaded offline maps for Bali before the trip, saving data while driving. GPS directions worked great. I even plugged in a headset and had my phone in my pocket while driving the scooter and getting audio directions from Google.
Google Translate – Also, downloaded offline language packs to translate without data. You do need data for Google to speak the word aloud.
Uber / Grab – ride-hailing apps
WhatsApp – the social messaging network all Indonesians use
Agoda / Booking – hotel booking app
HiltonHonors – hotel app for Hilton branded properties
Accommodations

We stayed at local hotels, an airBnB rental, an Indonesian resort, a facebook acquaintance's place, and 12 nights at the Hilton Garden Inn.


Pano from our bungalow at Nusa Bay Menjangan resort
Booking.com and Agoda.com are great hotel search engines for Asia. I tried both apps, but I ended up liking Agoda better. Although I used the apps to search for rooms, I only used them once to book the Nusa Bay Menjangan resort. Why? It was slow season and all the hotels had vacancies. I would check prices with the app, then go to the hotel and ask if they could give me a better price than online. And all but one place I asked did. So no middle man. The price range of hotel room was $20 – $60 (for 3BR villa) with the exception of the Nusa Bay resort ($100+). And they all had awesome pools. I actually filter properties to see if they had a pool with the Agoda app (kids need to swim).
On a side note, we stayed once at a villa with no air conditioning; it had bug netting and fans. It looked beautiful and rustic and we thought it would be no problem for us. Unfortunately, hotel bug netting does not keep out all the tiny no-see-ums. O and I had many bug bites. At first I suspected bed bugs, but after stripping the beds and finding no evidence I concluded no-see-ums. Argh. Bugs are a part of life in any tropical paradise. Mosquitos, ants, spiders, spiders that look like ants, etc. We brought bug spray, bug bands, and even laced a set of clothes with permethrin. But the bugs will find a way. Lesson learned, we then searched for rooms with air conditioning.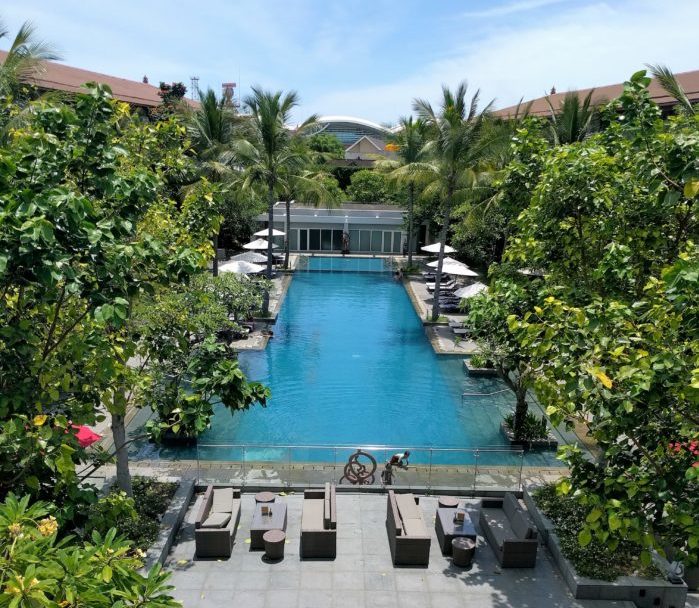 Did I mention how all the places we stayed at have awesome pools?
Nusa Bay Menjangan is the only hotel inside West Bali National Park and you need to take a boat to get there. That means there's no other place to eat than at their expensive restaurant for breakfast (thankfully included), lunch and dinner. We stayed two nights and loved the nature and solitude; there was one other couple first night and we were only ones there on second night.
In Ubud, our two-bedroom AirBnB apartment with pool was about $40/day. And of course, the Hilton Garden Inn near the airport in Tuban/Kuta was free after using hotel loyalty points. Although the location is not central Kuta, it is close to the airport. The hotel offers free rides to/from airport and even offers free ride to Kuta beach (twice a day). And renting a scooter for less than $5/day is an easy way to get around.
Travel hacking
Okay, I admit to have done some travel hacking. Here's what I did for this trip and some tips if you're new to it:
Our 12 nights at the Hilton Garden Inn for me cost around 65,000 points. Most of the time it costs 5,000 points/night, which by all accounts is a bargain. (Note: you can get 12 nights at this property for as low as 50k points).
I accumulated Hilton Honors points by opening two American Express cards last fall. One was the no-fee Hilton Amex card which gave me 50k points after minimum spend. The second was the $75/year Hilton Amex Surpass which gave me 75k points after minimum spend and automatic Gold status at Hilton. Hilton Gold status is probably the best mid-tier hotel status level at any of the large hotel brands. That $75 annual credit card fee gave us free breakfast buffet at our Hilton stays–which was amazing–and free room upgrades.
Quick plug: those sign up bonuses from Amex have increased to 75k and 100k respectively and Amex only gives those bonuses once per person per card, so now is a good time to get them. But if you're new to travel hacking, you should do a little research to see if those are the best cards to get for you. Credit card sign-up bonuses are the easiest way to get started in travel hacking.
You might also consider a Chase Sapphire Preferred card to start. If you open more than five cards within a 24-month period they will not approve you, so you might want to consider getting that one earlier.
And if you want free Hilton Gold status along with other nice benefits (at least for one year), you could open Ameriprise Amex Platinum because the first-year annual fee of $450-$550 is waived.
Of course, I'm only sharing my personal experiences. Nothing shared in this post and on this site should be taken as financial advice or guidance.
Whew! I'm done geeking out about travel hacking.
Next up… FOOD.
Save
Save
Save
Save
Save
Save
Save
Save
Save
Save
Save