When I think of Kuala Lumpur, this picture comes to mind. A beautiful, multi-faceted city with the twin towers as its crown jewel.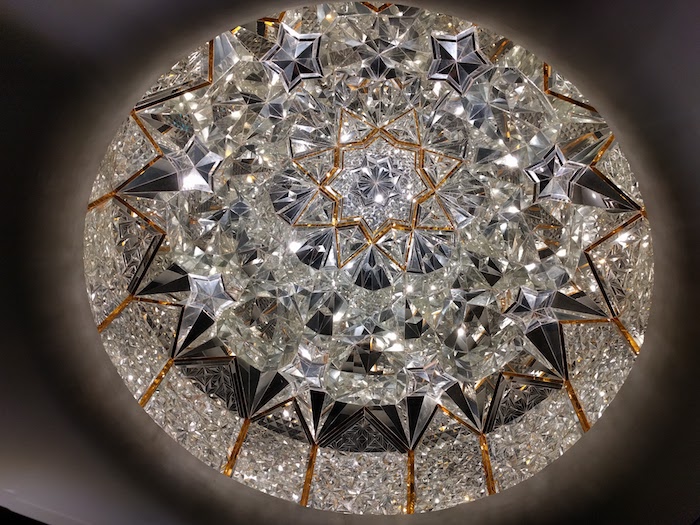 Malaysia was our visa run. We originally came to Indonesia with a free 30-day tourist visa. Due to a slight miscalculation, we realized that it would be more expensive to extend it to 60 days than if we were to fly to Kuala Lumpur and come back into Bali with a new free 30-day visa. Plus, it was an opportunity to visit another southeast asian country.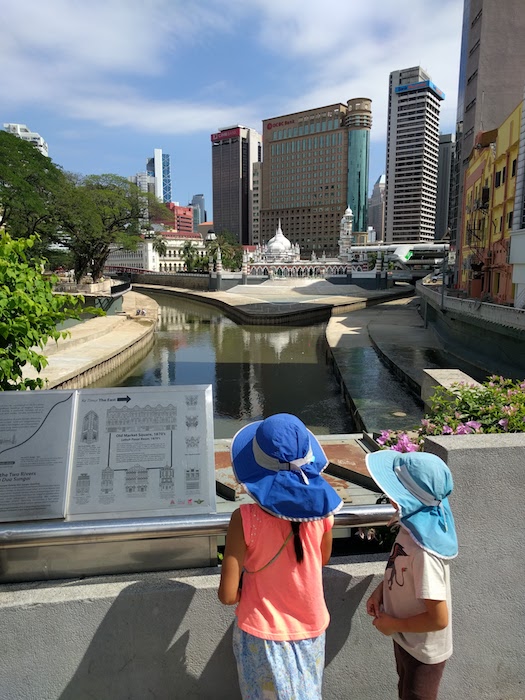 The "muddy confluence"
Once we stepped out of the KLIA (Kuala Lumpur International Airport), the difference was night and day from Jakarta's Soekarno-Hatta airport. It was eerily tranquil, with just a sprinkle of people and a few taxis. (And in Malaysian style, a shopping mall adjoining the airport) Our Uber driver was able to pull right into the pick up area. The drive to our hotel consisted of wide multi-laned highways.
Due to some judicious travel hacking, our stay in KL was surprisingly affordable. Tig financed our hotel stays with Hilton points, so accommodations were taken care of.
As for food, that was also quite affordable. As Hilton Honor Gold members, we had access to the breakfast buffet every morning. It was an amazing spread with Chinese, Western, and Indian foods (I'm under the impression that many of the western hotels in Southeast Asia provide substantial breakfast spreads for free for certain level members). As a family, we tried to fill up our daily calories from there. The kids loved the steamed buns with various fillings like red bean paste and lotus seed paste. Tig and I went for the noodle soups loaded with veggies and rice noodles. There were indian flatbreads and curries to taste, as well as omelettes made to order, waffles, hash browns, pastries, juices, almost anything you can think of… There was a suspicious absence of pork because of a majority Muslim country (although they tried to make up for it with beef brisket, beef bacon, Chinese steamed BBQ chicken buns, etc).
With the big meal of the day out of the way, we were able to explore and eat out for lunch. With three bouts of Bali belly under our belt, we opted for clean-but-cheap mall fare. And it's not your usual mall fare in the U.S., the food is really good! You can get a pan-Asian menu of items for 15-30 ringgits (RM)…40RM for more spendy foods. At the time, one US dollar was about 4.45RM. There were Malaysian laksas, Korean bento boxes, Chinese dim sum, tofu pots, noodle soups, sushi, and sizzling plates.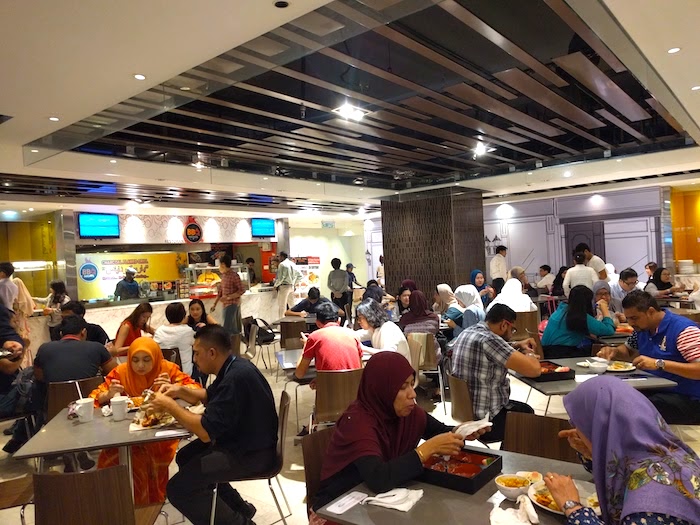 I love seeing the different asian cultures represented in this food court. Here, we are not the minority, we're all Asian!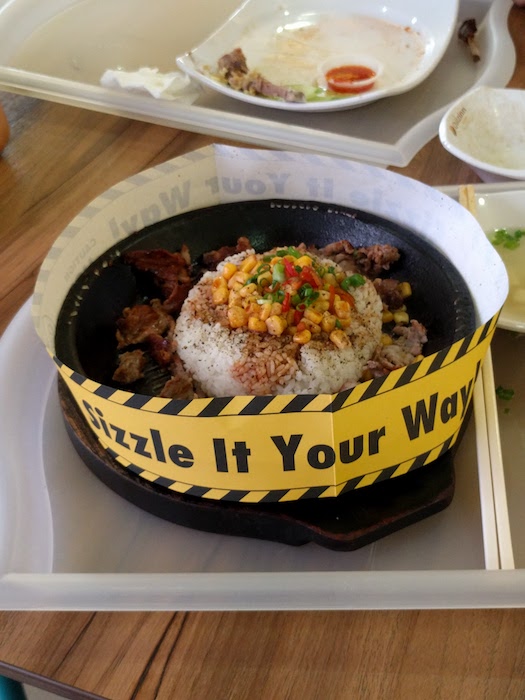 Tig saw people walking around with sizzling platters and yellow caution "tape" and he had to try it. It was every bit as tasty as we thought it would be. One time when we were out, Tig texted me, "I found Chinese food heaven!" It was the basement of another mall, filled with stalls of roast pork, roast duck, dim sum, etc. and even a wing for sushi and Japanese food. Yes, we ate well in Kuala Lumpur.
After a morning of exploring, we would come back to our hotel in the late afternoon with another trick up our sleeve. At check-in Tig always asked nicely for an upgrade to the Executive Lounge. From what I understand, upgrade is granted at the discretion of each locale. At any rate, we were able to go upstairs to the lounge for appetizers and drinks, which gave us a light snack. Afterwards, if we were still hungry, we could supplement for dinner. Tig, ever the engineer, is always looking at travel-hacking from a best value standpoint, instead of fancy luxuries like suite upgrades.
Petronas Twin Towers
A trip to Kuala Lumpur wouldn't be complete without going up to the Petronas Twin Towers. Even after 20 years, these iconic buildings still look contemporary, if not futuristic.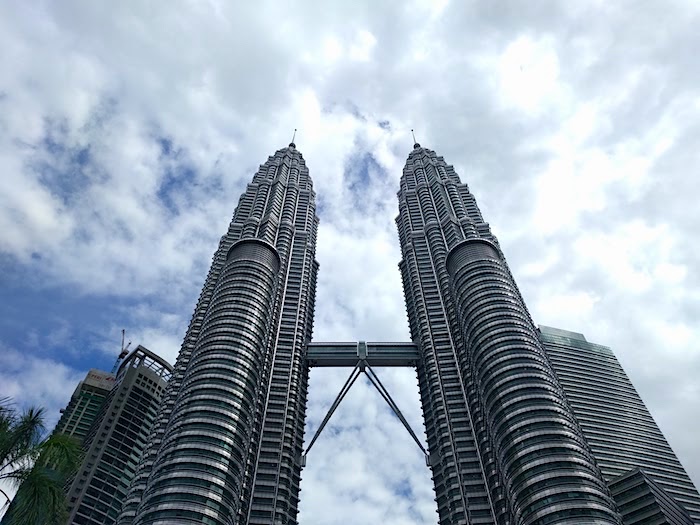 Getting tickets was fairly easy. In the morning we went down to the ticket counter in the basement and purchased tickets for the next available tour. First stop was the skybridge.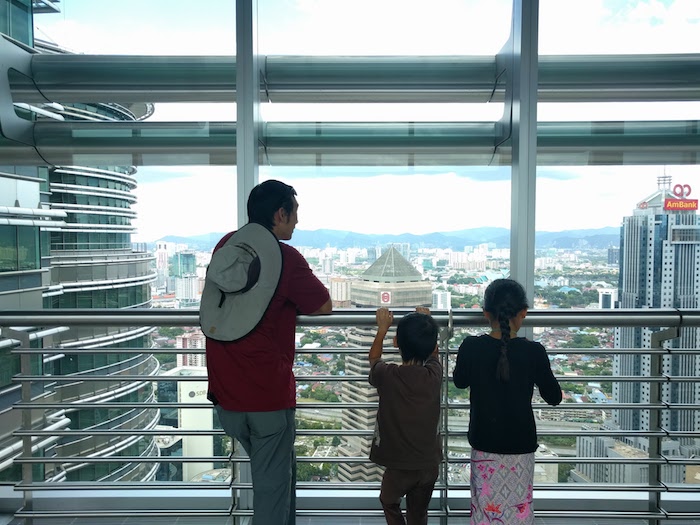 Looking down at the KLCC (Kuala Lumpur City Center) Park.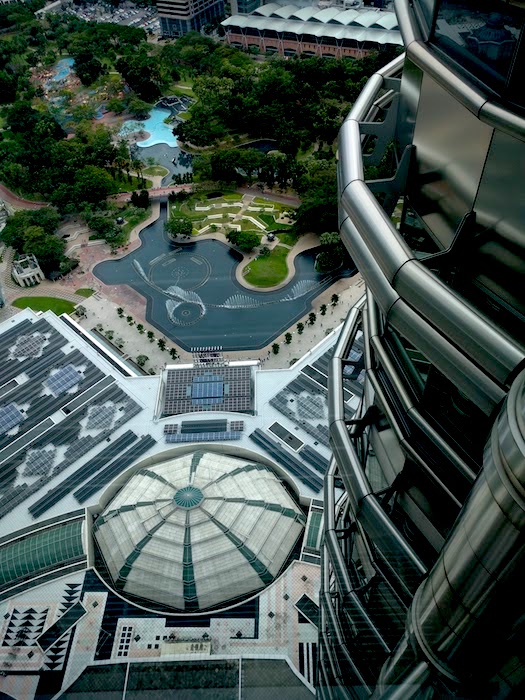 Next stop, the observation deck.

We also went up the KL tower and had afternoon tea at the Atmosphere 360 revolving restaurant and lounge.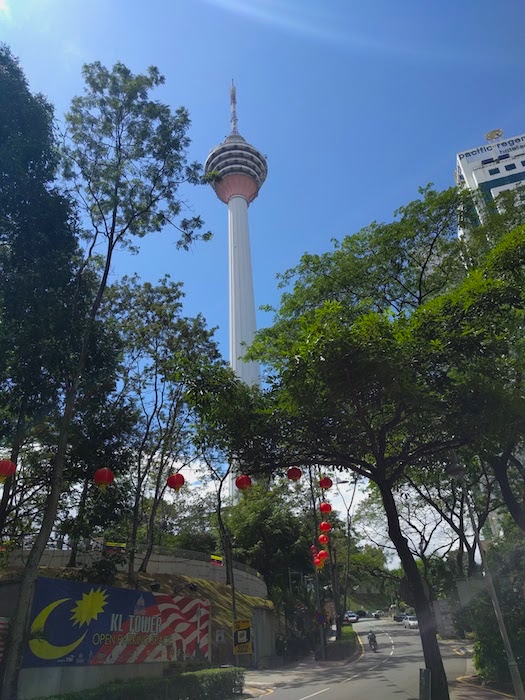 The tea was a buffet, with a choice of hot or cold drink. It was a decent value, but we later learned that you can get Groupon tickets, now Fave in Malaysia, for cheaper.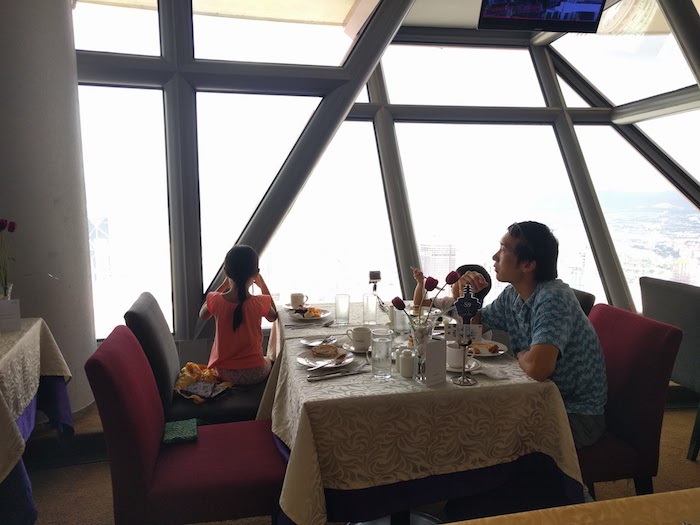 The restaurant completes a revolution once every hour and a half.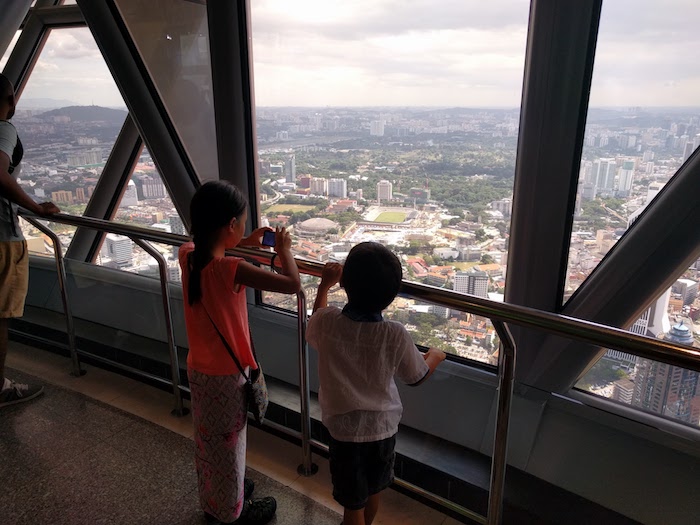 Afternoon tea desserts, carefully arranged by Tig.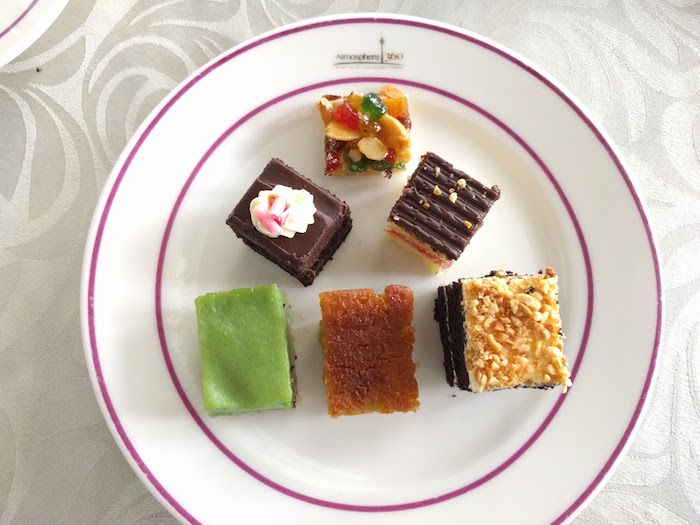 We also visited the National Textiles Museum and Chinatown.
All-in-all, KL is an efficient and Westerner-friendly city. Luckily, a few words translated well from Bahasa Indonesian to Bahasa Malaysian like selamat pagi, jalan, and makan. Many people speak some sort of English. There are free bus lines and a very efficient subway system. Uber and Grab are plentiful (and not plagued by "local mafia" like in Bali). There is also a high-speed train that goes to the airport, which was nice (Of course O wanted to ride it).
Subway tokens look like funny money.
For our last night in KL, Tig booked another Hilton, just for this: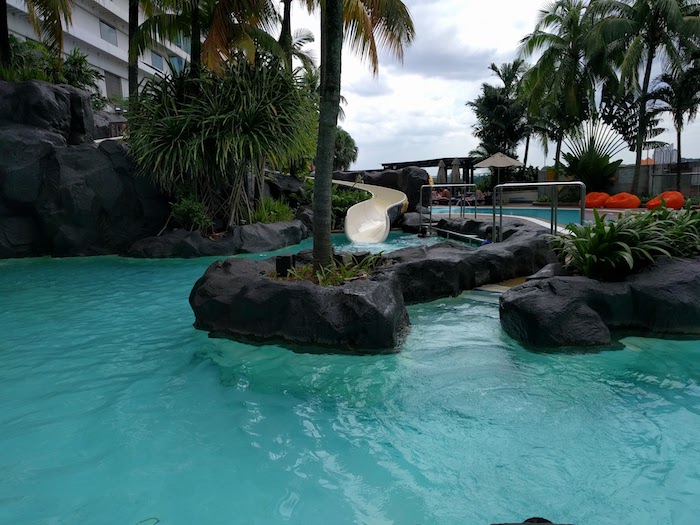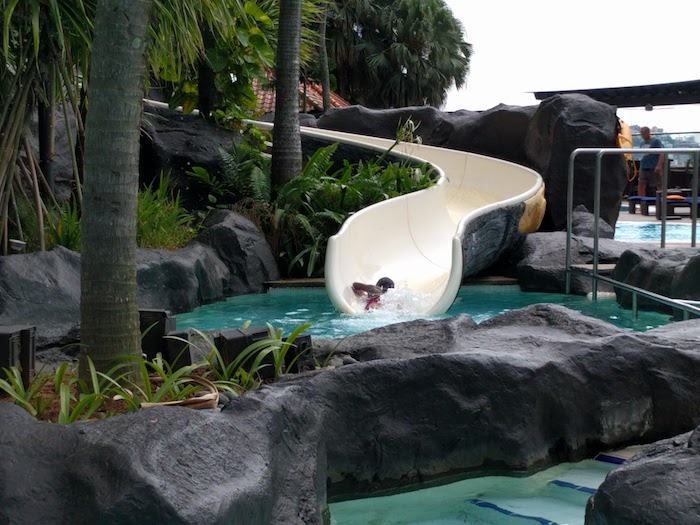 It was a short week, too short. We really enjoyed Kuala Lumpur, it's multiculturalism, it's acceptance of different religions, the delicious food and efficient public transportation. We hope to come back someday.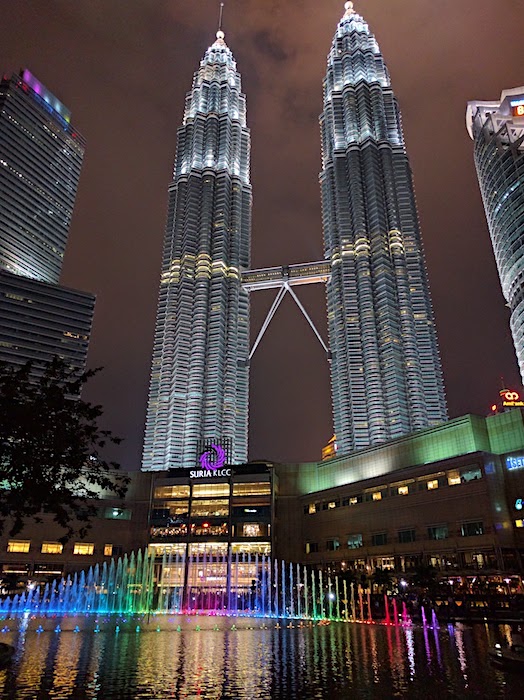 Save