Well we survived a two-week rental car in Bali. We started in Kuta and made a cut up the middle of the island, then circled around the west side, to Ubud, then back to Kuta. I hesitated to put it out there until we made it through alive and well. The experience of driving in Bali is too involved, it will need its own post someday.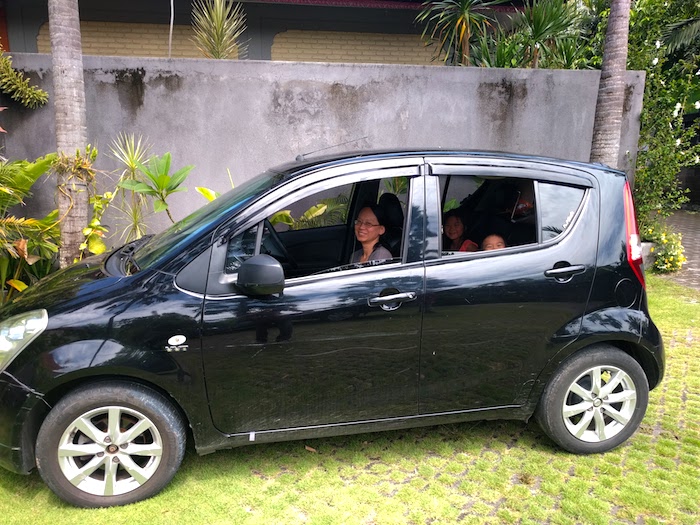 After our car tour, we hopped on a plane to visit my dear friends Jona and Matthew in Jakarta.
Leaving on a jet plane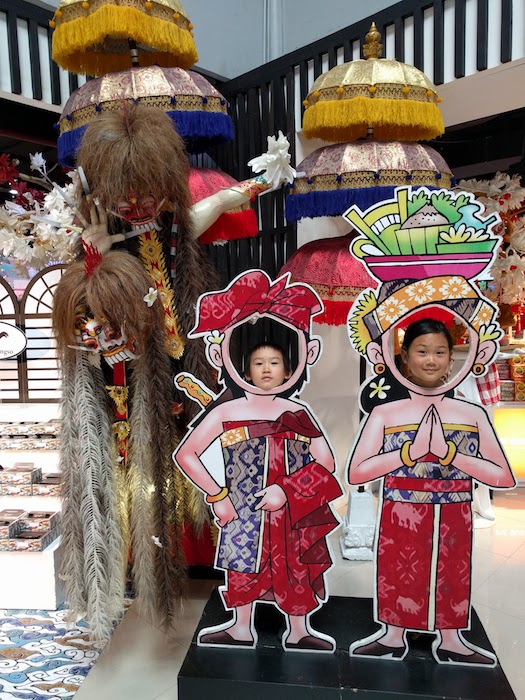 At the Bali airport. This was around the time of the Lunar New Year.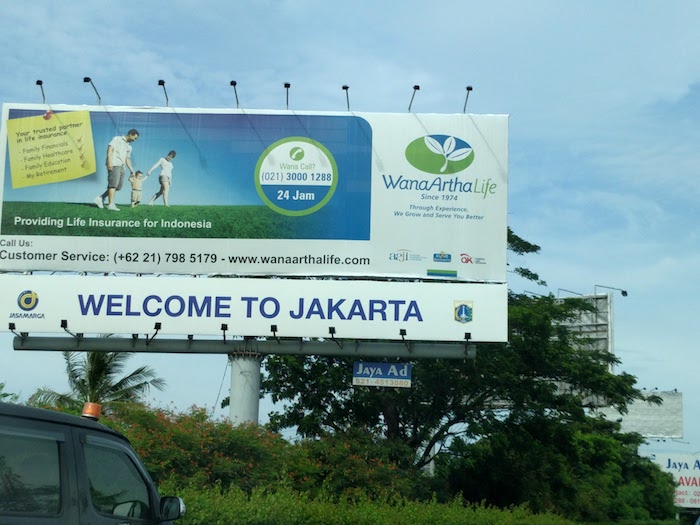 The experience of arriving in Jakarta's Soekarno airport was unreal.  As much as we have a foot each in two different cultures, most of our lives has been lived in the U.S. We're not used to hoards of people pushing and shoving and shouting at each other in a different language. But first we had to find our Uber driver amongst the chaos.
As we exited the airport, we headed for the parking lot where Uber drivers pick up (I was given this tip by an Indonesian acquaintance who lives in Jakarta). The kids and I thought Tig was joking when he announced that the license plate we were looking for was AB 1234 TIG (I made up the first handful of digits). But it really was serendipity that the last three digits really were TIG.
Once we arrived at our friends' apartment, we began to experience expat life. A lot of it revolved around malls. (Outdoor green spaces and playgrounds are limited, and even if they existed, traffic and road conditions made it difficult for kids to get there.) I jokingly called it leaving the Districts and playing around in the Capitol.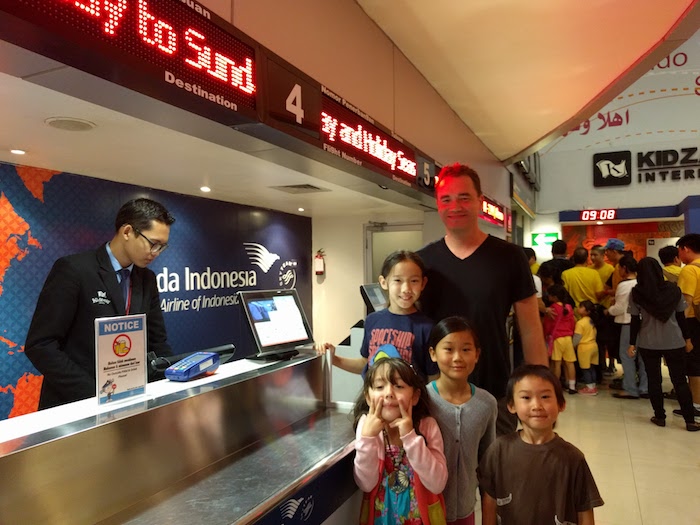 One of the places we visited was KidZania, a fictional world where kids get to perform jobs mimicking the "real world" and earn fictional money. You get there by going to the ticket counter, which resembles an airline ticketing station.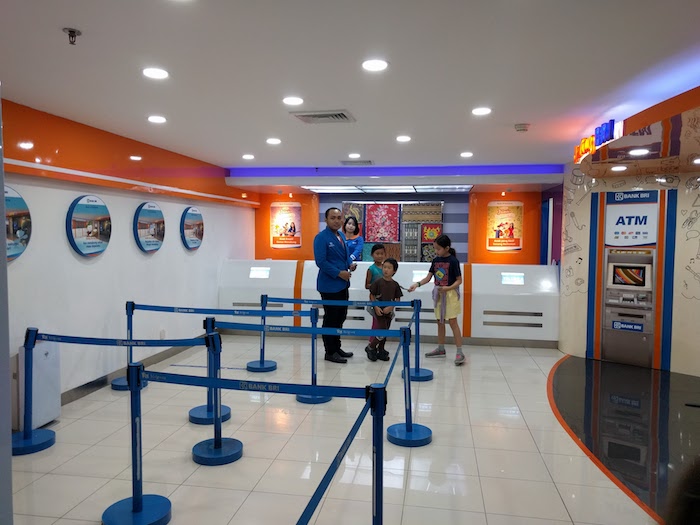 First stop is at the bank to get some money. Then you're dropped into a miniature city. It was certainly an interesting if not deafening experience. It would have been more enjoyable if there wasn't loud music, honking cars and a marching band all going at it simultaneously.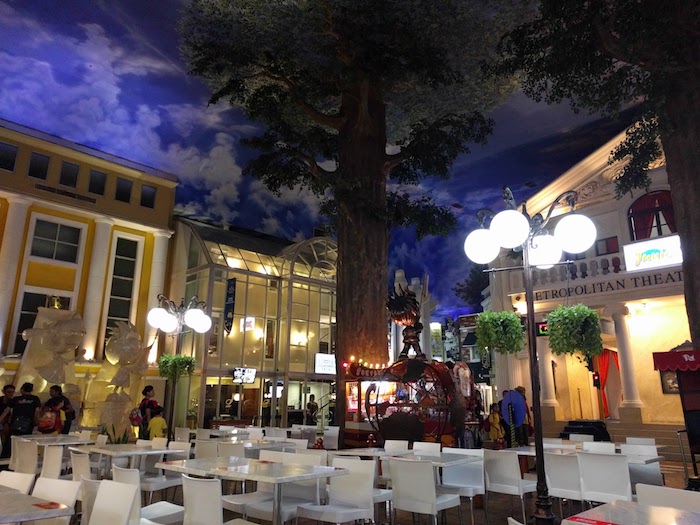 The kids got to fly an airplane, participate in secret agent training, and work at a car shop…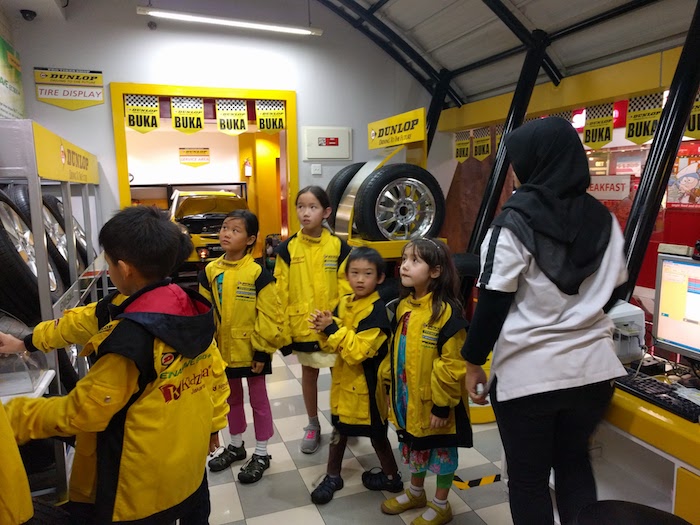 and climb buildings–is that a rescue mission?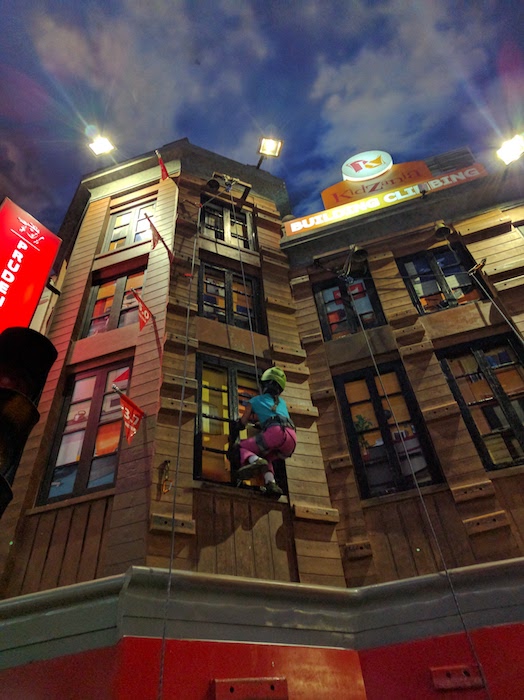 There's Houbii, the urban adventure park with a ninja-warrior-esque course.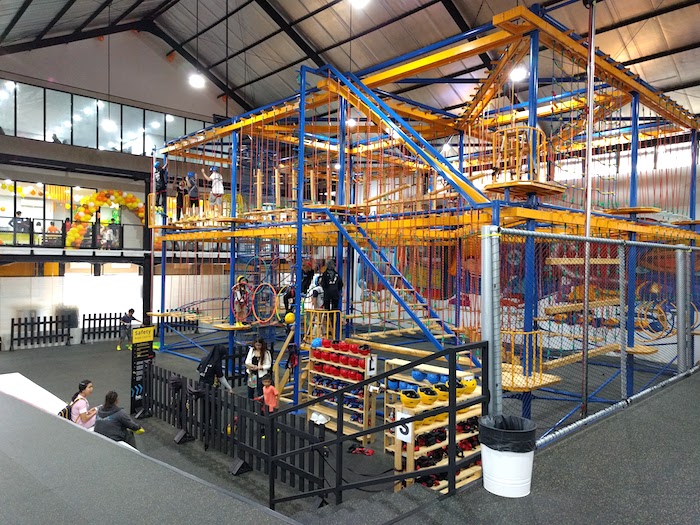 Some of the indoor spaces were a bit absurd, such as this garden installation in the mall. But, as it was explained to me, outdoor green spaces are rare in the city.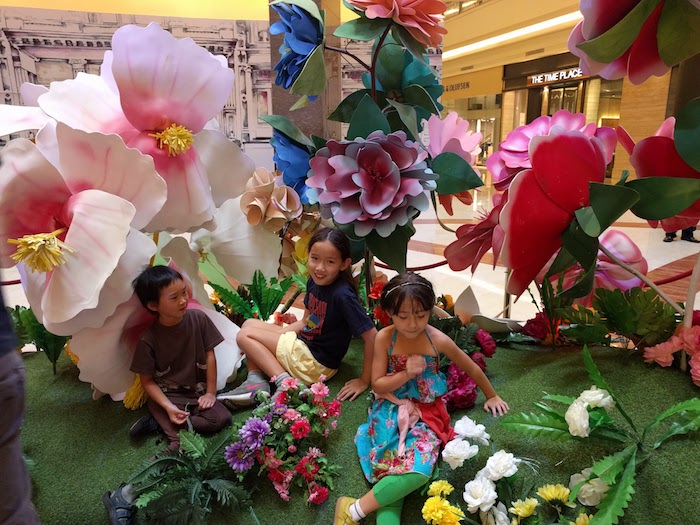 Because our main goal was to spend time with friends–and one of us was down a good portion of time with Bali belly– we didn't get to explore Kota Tua (Old City) Jakarta. We simply had a different agenda for this leg of the trip. Our kids had a great time socializing with the kids: Spoony, Dot and Kiwi (not their real names). We experienced a slice of what it was like to have a cook, driver and nanny. It's a far cry from our simple existence in Maine, but I didn't mind sampling the well-staffed life once.
First day of school
On a side note, since we arrived, Dot had been campaigning to have V and O come to school with her. Ever the little munchkin mayor, she even cleared it with her principal (and was confirmed by her dad). While we are happy with our homeschooling, both Tig and I wanted the kids to have an opportunity to try different things. Dot attended a very sweet and small Montessori school, so we gently encouraged them to give it a try. Both agreed, however, O developed a slight fever the night before, so only V ended up attending.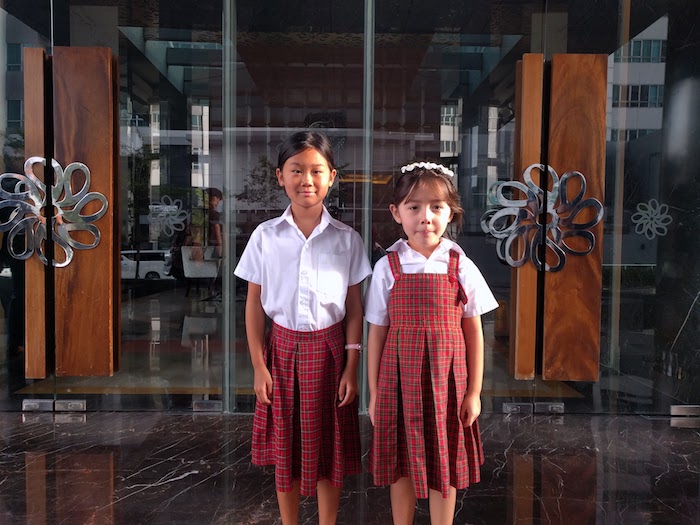 V and Dot, ready for the day.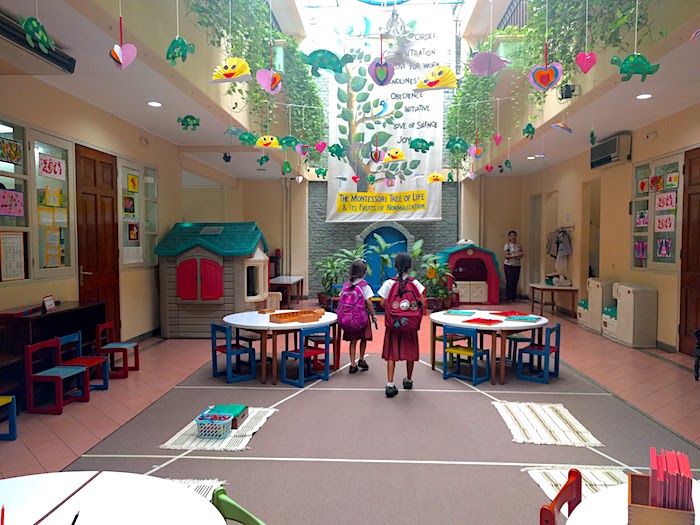 First day of school.
I asked V what she thought of school later. She shrugged and said it was okay, but there was a lot of sitting and she preferred homeschooling.
The last 10%
As for me, I got to spend some quality time with my old college friend J. We went to a spa for a massage, shopped for batik fabric, ate yummy food, and just talked and talked. Given that we've long graduated college and live on the opposite sides of the earth now, I'm deeply cognizant that this is probably the last 10% of our time together, which makes it all that much more precious.
Save