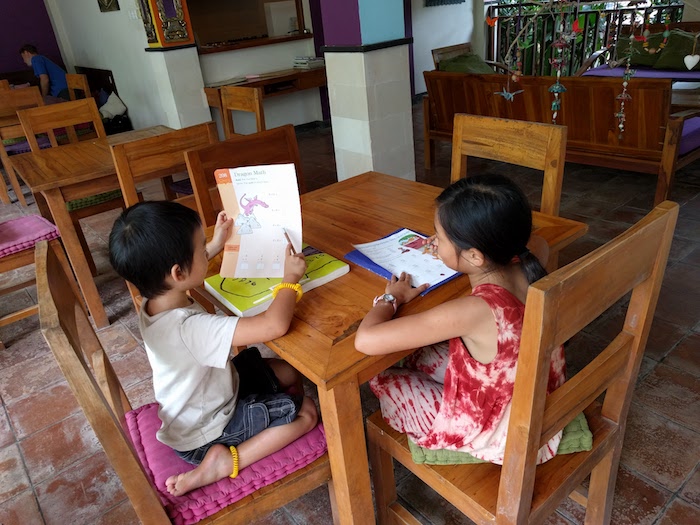 I was talking to a Taiwanese-Australian mom at the pool recently. When she heard how long we were in Bali, she asked what we did for school. The topic of homeschooling is far too weighty a topic to discuss casually—and I find it even more challenging to address the issues around being an Asian-American family that homeschools (try Googling it, the interwebs is very thin in that department). I'll save that for another day.
Every family is different
When we're traveling, homeschooling looks like ~80% life learning and ~20% structured learning. I know some families do more, and some others do less. After talking to many homeschool families, reading homeschool blogs and books, this is what I know:
There is no "right" way to homeschool
Every family need to figure out what works best for their children
It's important part that both partners are on the same page (in families where there are two caregivers)
The Epic Education Podcast is a wealth of resources, including interviews with many different families on how they deal with education while traveling, whether by boat, RV or backpacking. Behan Gifford at Sailing Totem recently put together a blogroll of cruisers and their boatschooling perspectives.
The 80/20
V and O are 8 and 6 respectively; that translates to Grades 2 and Kindergarten. At home we have a bit more structured homeschooling, but when we travel, it's mostly about the school of life. In fact, since we've had kids, Tig has had an unstoppable desire to show them the world. He is the driving force behind our travels and a big proponent of life learning.

Map work
Our 80% consists of learning about Bali geography, speaking a little bit of Bahasa Indonesian, tasting new foods, seeing animals and wildlife (monkeys, geckos, chickens, frogs, toads). We brought field guides for Southeast Asian birds and animals. We visit temples, learn about the culture, clothing, and offerings. They swim an awful lot. They watch us bargain. They study the currency and do some basic math adding things up. We look for geocaches. Together, we learn how to make decisions together as a family and try to meet each other's needs.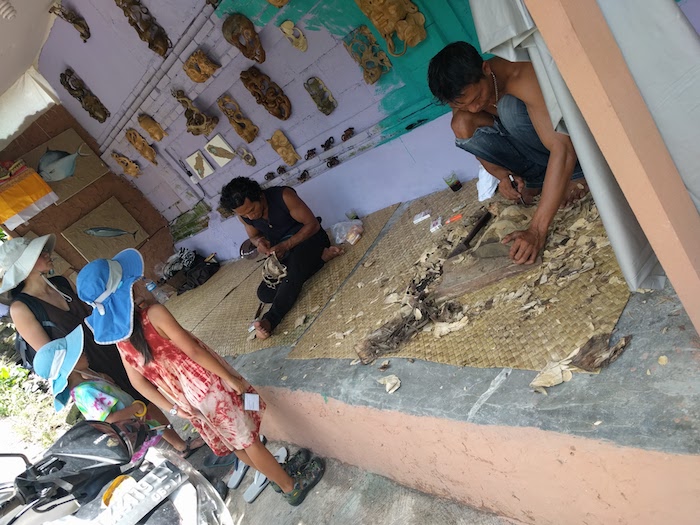 Watching woodcarvers.
Okay, so what do we do?
For the 20% structured learning, we use an eclectic, secular Charlotte-Mason inspired approach. Tig is allergic to labels, but that's the best way I would describe it. Here are some of the things we do:
Reading practice. V did a ton of work on reading before she left, so this trip, we've downloaded a bunch of e-books to our Kindle and let her choose when and where to read. V sometimes reads to O at bedtime.
A few math problems to keep their muscles warmed up. We use a math workbook that sv Serenade gave us in the Bahamas. It's called SchoolZone Addition and Subtraction Grades 1-2.  Prior to leaving for our trip, we (V and I) had worked through Life of Fred elementary books Apples, Butterflies, and Cats. For O we read through Level 1 of the MathStart picture books and half of the Level 2 books–mostly to introduce mathematical concepts. So we're mostly in maintenance mode for math.
We have a Sodoku app that the kids like, mostly to keep them playing with numbers. They also like to play chess on the iPad, and we have a set of tanagrams.
Story of the World Volume 1 Audio (Ancient History). I chose this resource because V is really interested in history and Jim Weiss does a wonderful job of storytelling. I supplement SOTW with Jim Weiss' audio stories like Egyptian Treasures and Greek Myths. I often ask the kids to narrate back what they've heard, which is a Charlotte Mason Method.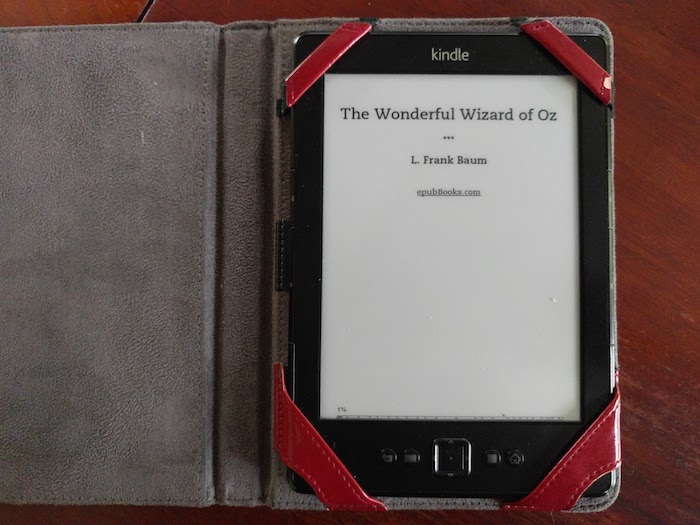 Read-alouds classics. I love children's literature, and homeschooling has given me the opportunity to re-visit old classics that I loved as a kid, and explore new ones I never got to read. We (I) usually read aloud during breakfast or at bedtime. So far we've read through the Wonderful Wizard of Oz and Alice in Wonderland. We're now finishing up The Lion, the Witch and the Wardrobe. We also have many audio stories on the iPad for long car rides and flights.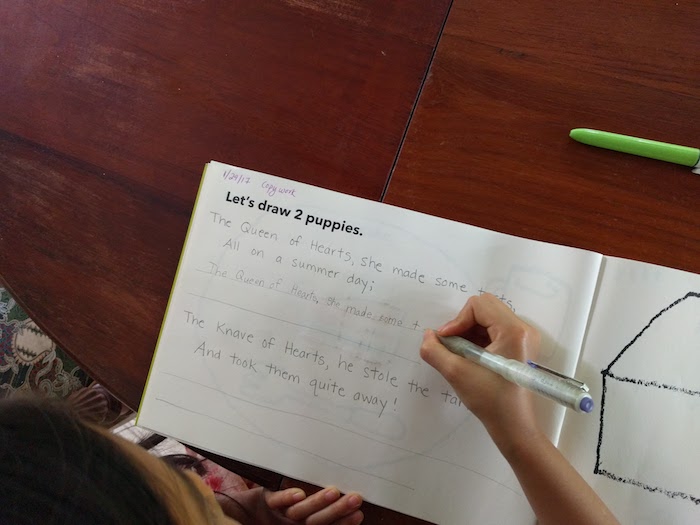 Copy work to work on writing skills, punctuation, and spelling. I usually pick a sentence from our read-alouds, something that delights her. V has expressed interest in learning cursive writing, so we'll be working on that, too.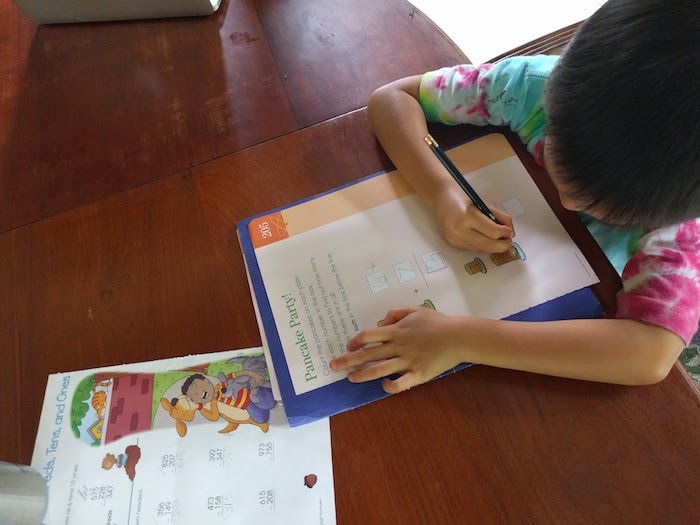 O doesn't really do much, he's only six, and we're firmly against the earlier! faster! more! tiger-mom-approach. I did bring some easy math worksheets from The BrainQuest Grade 1 workbook to keep him busy while V's working. He listens to the same audio and read-alouds and joins in the narration.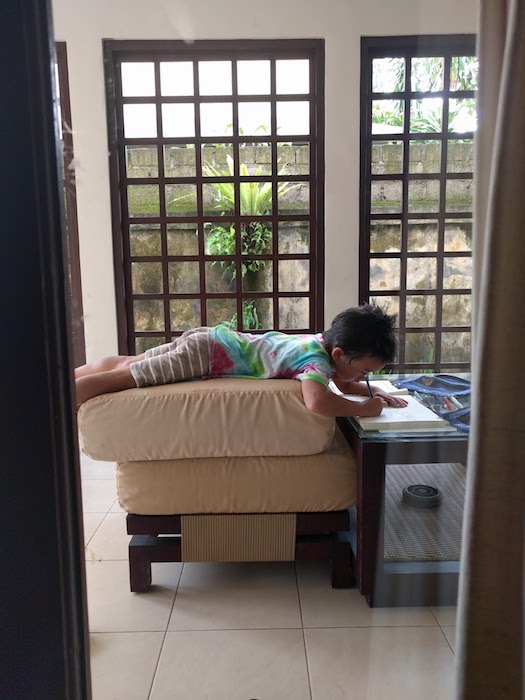 Doodling
That's it. If our trip were longer, I'd plan some more things to do. For now, I think the minimum effective dose works great for younger ages. As they grow older, we will probably add more to their structured learning. V so far enjoys her work, she's interested and engaged. That's all I could ask for.
Save