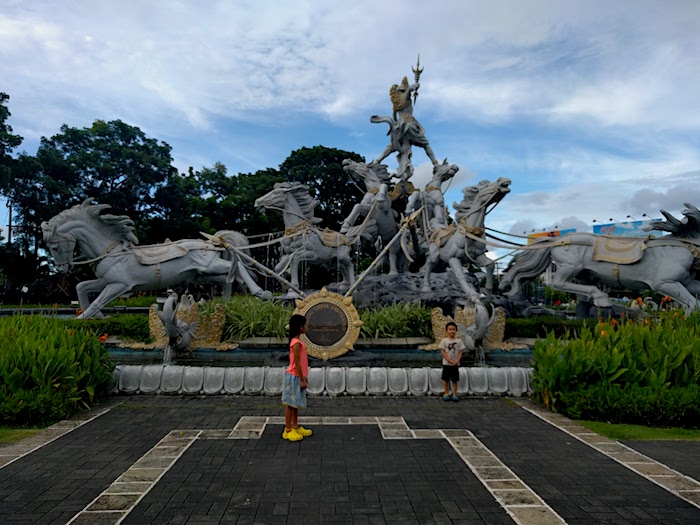 Kuta horse statues
Balinese people love to ask where you are from–they get so many visitors, it's an understandable question. And being Asian-Americans, we are often a peculiarity. Many think we're Japanese or Chinese, until they hear us speak English. Then they are puzzled. Maybe from Singapore?
After our first night at the hotel in Tuban, we wandered into the bustling back dining room for breakfast. Unbeknownst to us, it was a breakfast for a Taiwanese tour group. We checked in at the front table, but the hotel staff was quickly alerted by Tig's fluent English. He asked to see our key card and re-directed us to the buffet dining area (which, I must admit, had a nicer spread). I guess we weren't Taiwanese enough, haha.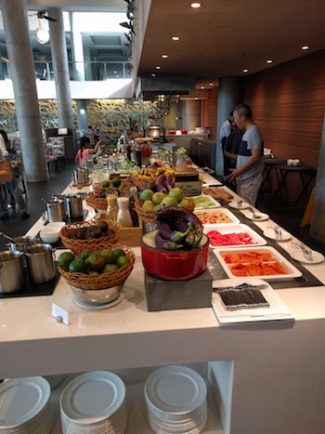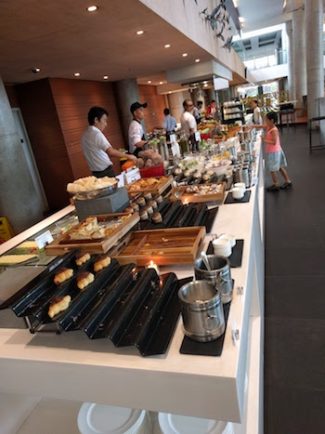 Check out this buffet spread.
Getting by
When out and about, we try to speak a few phrases of Bahasa Indonesian. Just knowing the basic greetings and thank you goes a long way, especially in the city. For language aids we downloaded the Google Translate app with offline language packs in Indonesian, Chinese, and Malay. When we have cell data or wifi, we can play the audio, which is helpful for getting the accent right.
I bought phrasebooks in Balinese and Indonesian, but we've found that Indonesian is much simpler and works well enough. I got the Tuttle Instant Indonesian, but I feel neutral about it. Luckily, Bahasa Indonesian uses the Roman alphabet, which is much easier than pictogram languages such as Chinese or Korean.
Getting Around
For transportation, we found these blog posts to be very helpful in giving an overview of Bali taxis:
http://www.escapingexpectations.com/the-first-timers-guide-to-bali-part-1/
http://goseasia.about.com/od/Bali_Transportation/a/How-To-Ride-A-Taxi-In-Bali-Indonesia.htm
I will only add a few comments, as those posts cover pretty much what you need to know as a visitor. So far, we've found Uber to be cheapest. Our Uber experiences have been generally good except for one. I don't want to go into it but I will only say that stopping at a gas station and texting while driving should have been warning signs. Almost every Uber driver has a side business (they hire out as driver for the day) and they communicate mostly through WhatsApp. There's even Uber services for scooter rides called Uber Motor. A driver will pick you up in a scooter and get your to your destination. Uber Trip is a car hire with driver services it's 60,000 rupiah per hour with a five-hour minimum. (Update: As of May 2018: Uber has sold their Southeast Asian operations to Grab, a Malaysian ride share app.)
After Uber, Bluebird is our next choice. They are a little bit more expensive, but the company is known for honest metering and fair prices. They are also ubiquitous in cities and easy to spot. There are other taxi services such as GrabTaxi and Go-Jek that we haven't tried yet. Grabcar is a Singaporean company with prices on the lower end of Uber. Go-jek is an Indonesian company, we have not tried their app because it is in Indonesian.
Watch out for "local mafia transport"
One caveat, most parts of Bali outside Kuta and Denpasar do not allow these taxi services, because they compete with higher-priced local transport drivers. We didn't realize it until we called for an Uber in Pura Uluwatu (temple). The driver gave us anxiety-inducing instructions like this: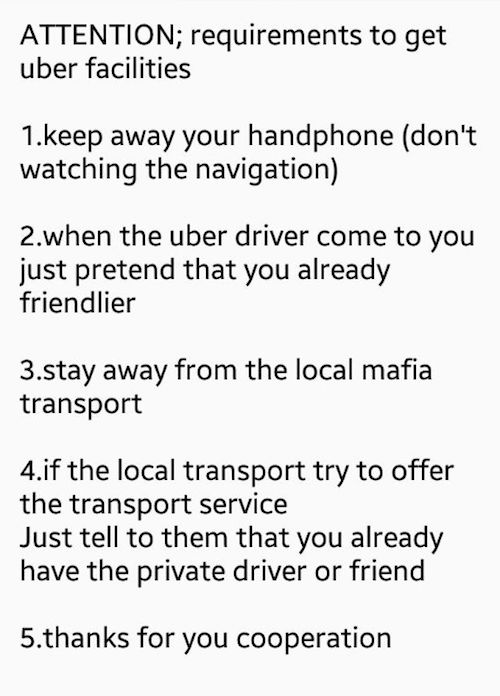 It took us a while to realize what was going on. We later saw the signs around Pura Uluwatu and Pura Tanah Lot that looked a lot like this.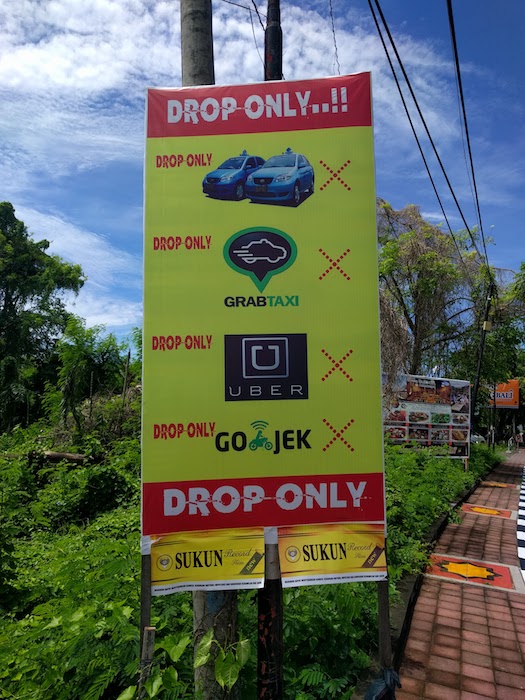 Unfortunately, this anti-marketing campaign only alerted us to their competitors. We wouldn't have known about Go-Jek and GrabTaxi if it weren't for this sign. While I understand they are trying to protect local interests, I'm not sure how long they can hold out against the tide.
We've only scratched the surface in the first week here, so I'm sure we'll have more to say about getting around in Bali.
Save