Good morning from Bali, Indonesia!
We have been planning this trip since we got back from our cruise. For the last eight months, Tig learning about travel hacking; maybe someday he'll chime in with a post with some tips.
It started back in April, with Wildie safe and on the hard. We set our sights on Southeast Asia for our next adventure, this time by plane. Bali has been on our list for a while, for various reasons:
:: My college housemate works for USAID and it's her last year being stationed in Jakarta, Indonesia.
:: The warm tropical island archipelago is a great place spend while we shave off two months of Maine winter
:: Exposure to different religions—Hinduism in Bali and Islam in Jakarta—especially for the kids
: A different culture than the ones we've grown up with (I've been to Hong Kong, China and Taiwan, but we wanted something a little different).
:: Also, exposure to a different language for the kids; in this case, Bahasa Indonesian.
So far, Bali has delivered. The challenge was to do it on a tight budget.
Getting to Bali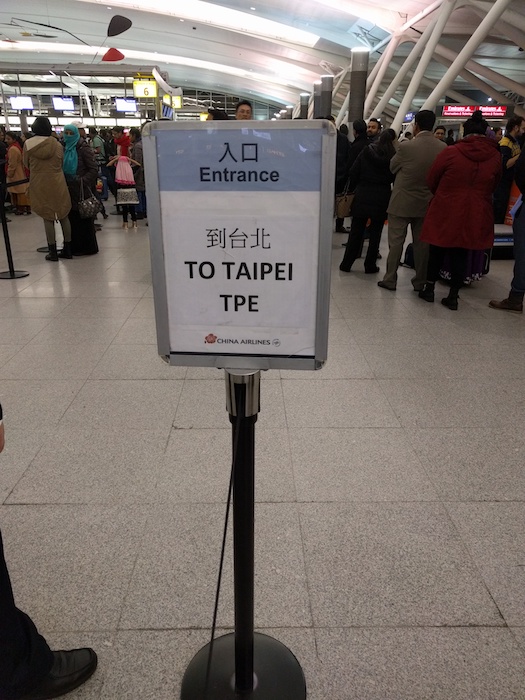 We had a 16 hour non-stop flight from NY to Taipei through China Airlines followed by a three hour layover, then another four-hour flight to Denpasar, Bali. The kids were great sports.
A few things I wanted to share on our long flight with kids:
We sprung for the "family couch" option. (Update: as of June 2018, China Airlines no longer sells the family couch option.) Basically, you buy all three seats in a row, and the foot rests pull up to form  a very small bed. Our flight was at 12:20am so the kids really needed to sleep. We placed them side-by-side with their heads on opposite sides. I must admit, they squabbled a bit before falling asleep, but that was because they were over-tired by then, having stayed up past midnight. Once they fell asleep, everything was gravy. They slept in 3-4 hour chunks, with some movie watching and meals in between. The second time we put them down for a nap, there was squabbling again, but once asleep there was quiet.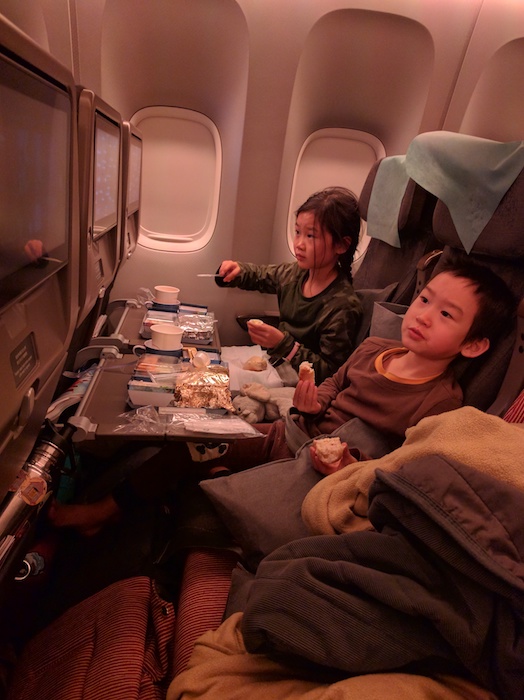 Mealtime and cartoons.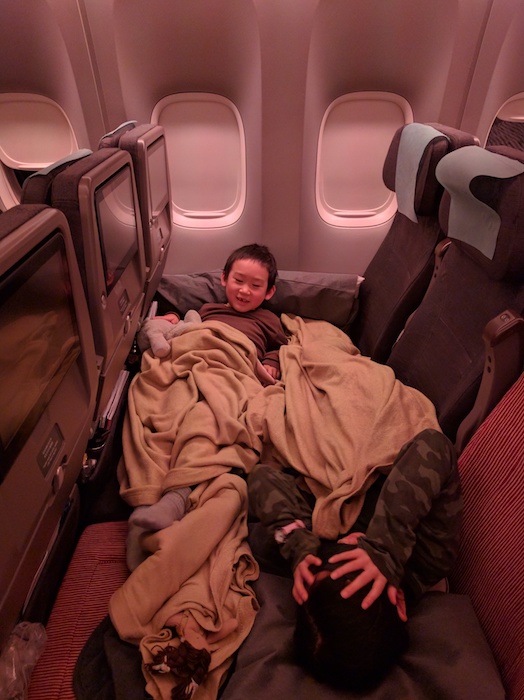 Family couch in action.
The family couch upgrade was definitely a splurge. Basically you're buying another seat, but it was so worth it. The kids are still growing and they really need their rest so that they don't become total cranky pants (that would make the long flight exponentially harder). Only the kids got the upgrade, though. Tig and I sucked it up and got bad sleep with the rest of the passengers…parenting is sacrifice.
We also bought noise cancelling headsets. Each kid got a pair. Bose makes really good ones, but we went a couple notch lower and got the Naztech/NoiseHush headphones. They work much better than the disposable freebies on the plane. The kids cackled over Tom and Jerry cartoons when they weren't sleeping and eating.
We checked in one small duffel bag. Without kids we could manage carry-on only, but we really wanted to bring snorkel suits and gear, gifts for hosts, as well as weapons (dive knife) and liquids (permethrin).
We arranged with our hotel for transport from the airport. That eliminated a lot of hassle dealing with transport vendors. But first, we hit the ATM and got local currency.
Tig booked our first few nights at a hotel near DPS Airport. The Hilton Garden Inn was our landing pad for rest and recuperation. All of us were super jet-lagged and one of the kiddos was starting to get cranky after the second flight.
Settling in Kuta/Tuban
The hotel was really nice. Friendly staff, a gorgeous pool and amazing breakfast spread every morning. Luckily, we paid for it with hotel points. We slowly found our rhythm over the next few days. Breakfast was the biggest meal. After homeschooling, we'd go an explore and have lunch out.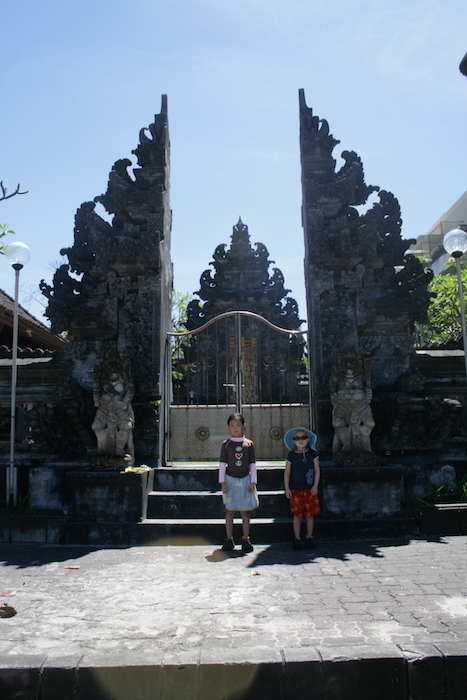 In the afternoon, we came back and swam in the pool. Our kids, who still have the Bahamas cruise fresh in their mind, donned wet suits (for buoyancy) and snorkel masks. O found that with those two items, he could swim well enough to keep up with his sister. They were a funny sight in the pool.
Denpasar
We visited Jalan Sulawesi in Denpasar, where shops sell bolts of cloth and clothing.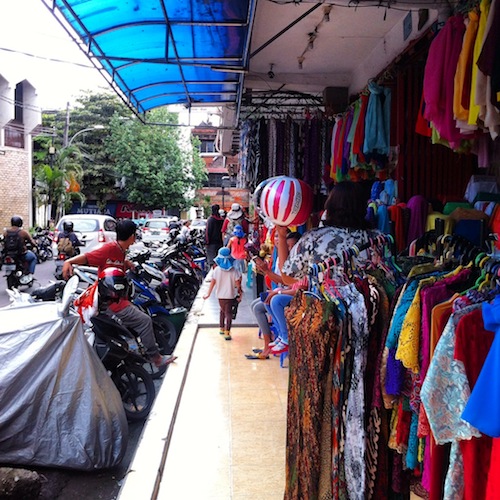 V got a Balinese skirt, top and sash, and O got this cute button down shirt with embroidery and ikat detailing . Bargaining is a part of life here, so we had to work on our rusty skills. For pricing comparison, the skirt, shirt and sash was 200,0000 rupiah (about $15) and O's shirt was 100,000 rupiah (about $7.50).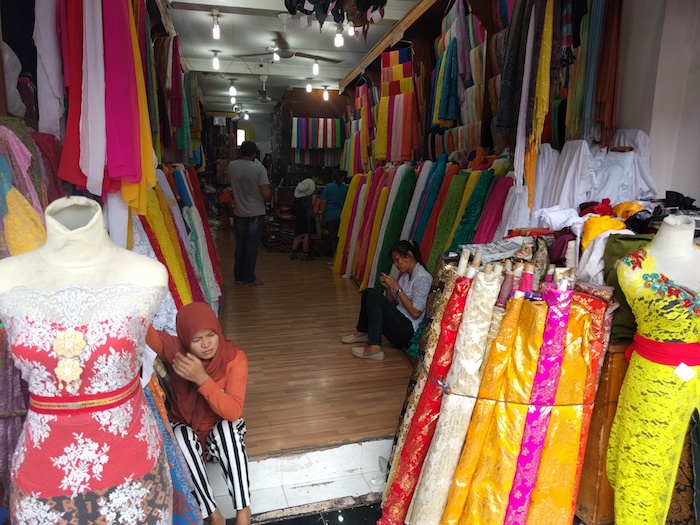 Pura Uluwatu
Pura Uluwatu was the first temple we visited. It rained the whole time. We were told that the monkeys were very aggressive there. Caps, sunglasses, phones need to be secured or a mischievous primate might take off with them.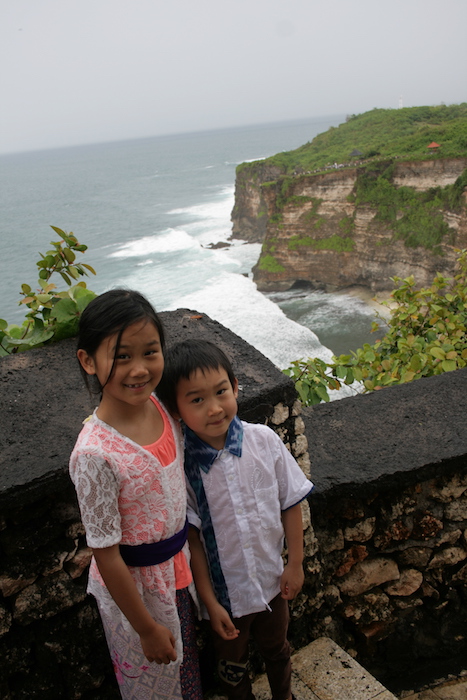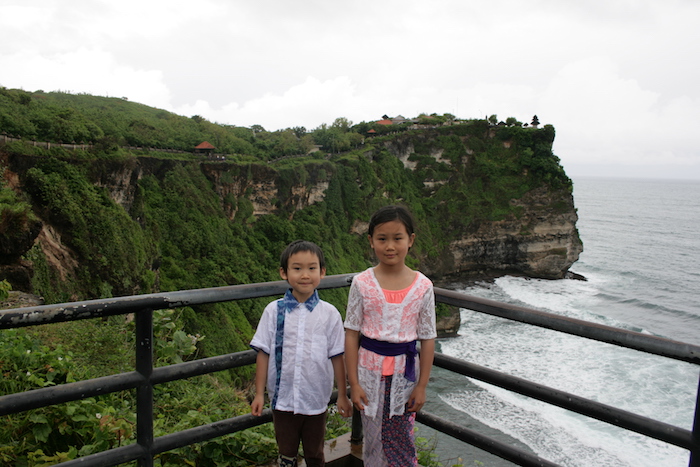 Pura Uluwatu in their new clothes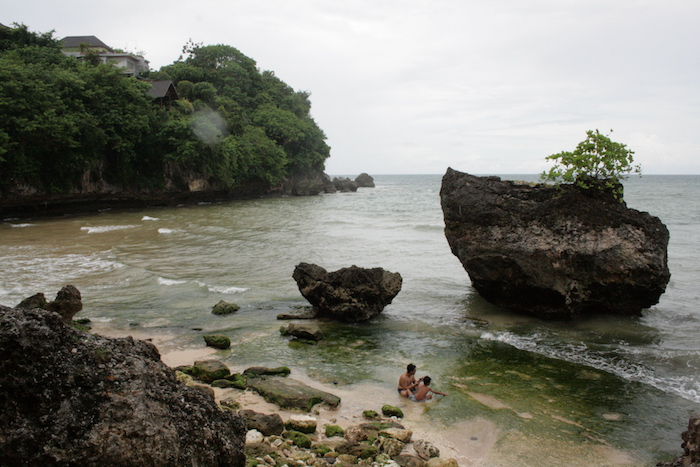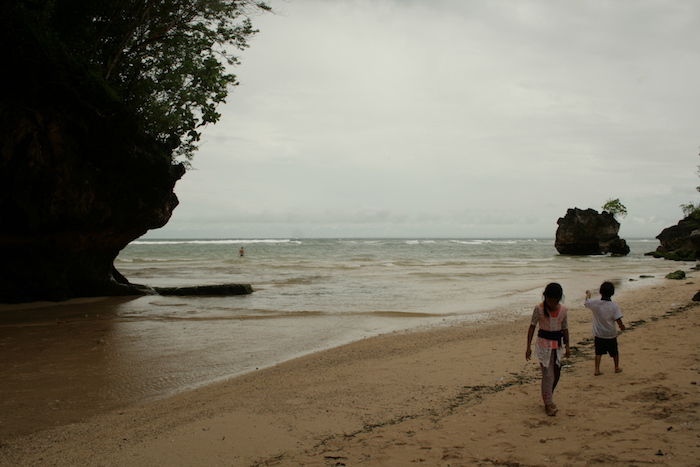 Padang Padang beach.
Bali Belly
Unfortunately, Tig came down with "Bali belly" within the first three days. We had been fairly conservative with food and water, opting for bottled water and cooked or steaming hot foods, but there was one weak moment with pre-fried banana fritters. We all ate it, but only Tig got sick so we're not exactly sure if that was what did him in. It was a rough 24 hours, but he pulled through like a champ.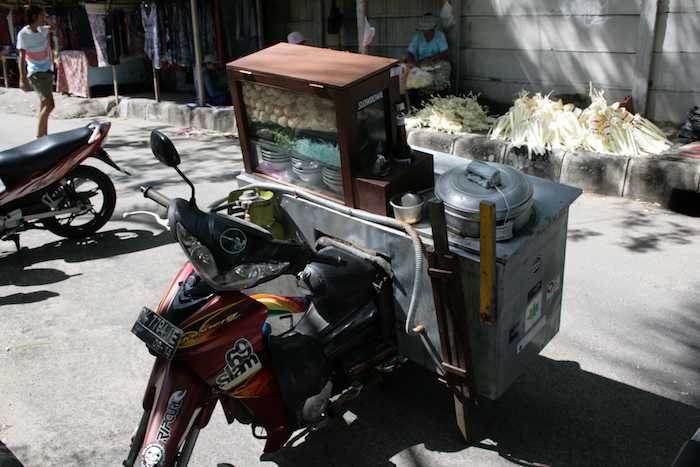 Scooter warung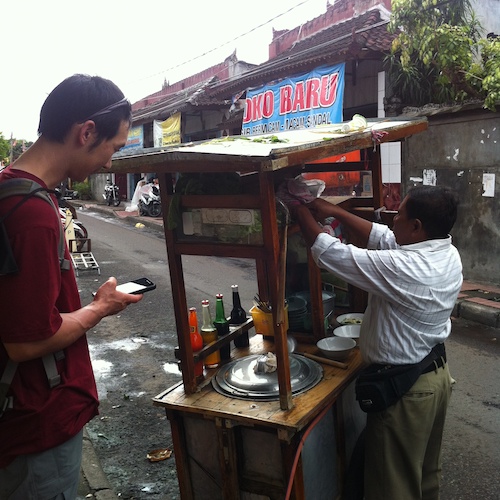 After five nights, the hotel was beginning to feel like the Land of the Lotus Eaters. It was too comfortable, and we wanted to see more of Bali, so we decided to head out for some hair-raising adventures with a rental car.
Save