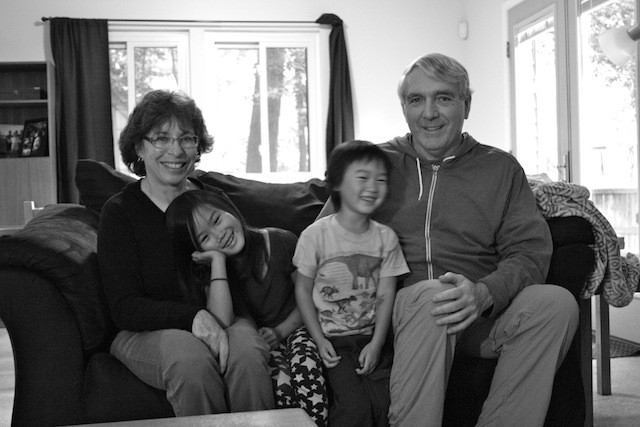 Bill, still looking healthy in October of 2015.
In February of 2016, while we were still in the Bahamas, our friend Bill passed away. My throat still tightens a little as I write this, even though it's been over six months.
We first met Donna and Bill of sv Moonraker in Blackpoint, Exumas on our first cruise. They were such a lovely couple, that I was not surprised when I learned that they were sponsors of Midshipmen from the U.S. Naval Academy for over 10 years. Everything about them was so friendly and welcoming. Later that year, when we were settled in Maine, Moonraker paid us a visit.
While we had swallowed the hook, Bill and Donna went on to cruise again down through the ICW, the Bahamas, Haiti, the Dominican Republic, Puerto Rico and Virgin Islands.
In October of 2014, Bill was diagnosed with Stage IV Melanoma. We wouldn't get to see him until a year later, in Annapolis.
During our visit in October, we spent an evening with our wonderful hosts, and caught up over dinner. After the kids had gone to bed, Bill shared with us the events up until then. I listened intently, sensing that he needed to tell his story, and to have us bear witness to it. We were all hopeful that the treatments would be effective, and that we would see him again on the water.
But that wasn't meant to be. We got the news when we were still in the Bahamas.
He had lost his battle with cancer.
We visited Donna on our way back to Maine this year. Bill's absence echoed in the house. V wept as we looked through pictures, and I fought to hold back tears myself.
We only knew Bill for a brief time, but he left a deep impression. I learned from Bill that life truly is short. There isn't the time in the world to waste it on a cookie-cutter life, or bet on 10 or 20-year plans. I also understood more deeply what it means to tell your story. That evening, listening to Bill, I was reminded me of this quote from Brené Brown:
When we deny our stories, they define us.
When we own our stories, we get to write a brave new ending.
A brave ending does not mean a happy one. This one was borne of grief, and yet full of love and courage.
We miss you, Bill.
Save
Save
Save