This is Part 2 of our engine saga. After limping back to Georgetown, we had three different people come over to look at our engine. At this point, the engine would crank, but it wouldn't fire.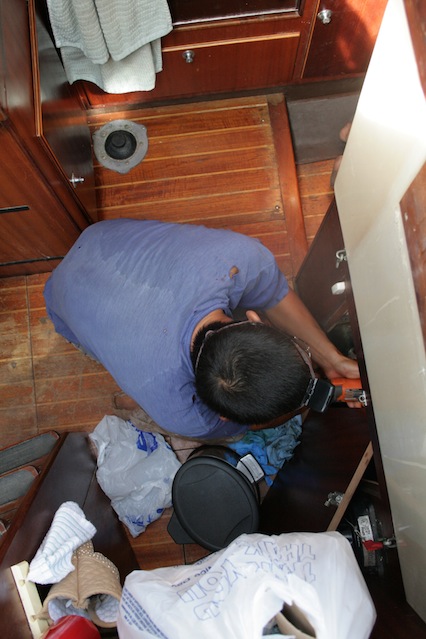 Expert guest #1. 
Trade: cruiser, diesel mechanic, marine electrician, and bachelor musician.
Matt, our first volunteer, spent a good hour with Tig testing the up and down the fuel system. They bled everything, tested compression with WD40. Finally, they narrowed it down to either the lift pump (easier fix), or possibly the fuel injection pump (bad).
Nice guy, good sense of humor. Thanks, Matt!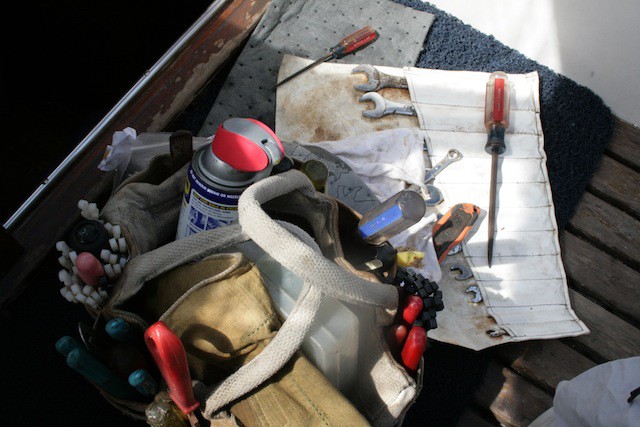 Expert guest #2.
Trade: older salty Frenchman, former captain of a French submarine, very experienced cruiser.
We met Expert Guest #2 via a French Canadian translator at Chat n' Chill beach. He was very nice and both men volunteered to come over to check things out. Tig had rebuilt the lift pump, by now, and was ready for round two.
"You know," the translator joked, "If he fixes your engine, he gets to sleep with your wife."
Ah, French maritime etiquette/humor.
Unfortunately–or fortunately–after an hour, the engine still wouldn't start, thereby relieving me of the question of being pimped out. All kidding aside, they were really sweet guys and we were grateful for their help.
Likely suspect: fuel injection pump.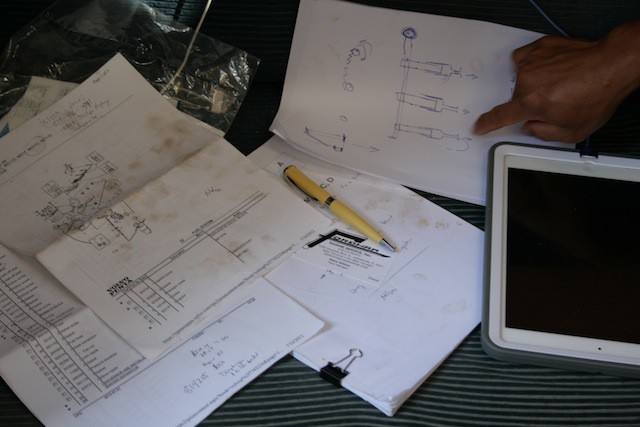 Expert Guest #3.
Trade: Bahamian diesel mechanic.
So I called in a local diesel mechanic in order to get a third and final opinion. After a bit of wrangling, he says, "You have three options."
"Serena," my captain barked, "write this down on the iPad."
I dutifully jotted down the mechanic's dictation:
1. get a new engine.
2. rebuild the engine
3. rebuild the fuel injection pump
Oy.
We planned on pursuing Option #3. But in the meantime, Fairchild was nice enough to give us a tow when we needed to move. Thanks, Jesse!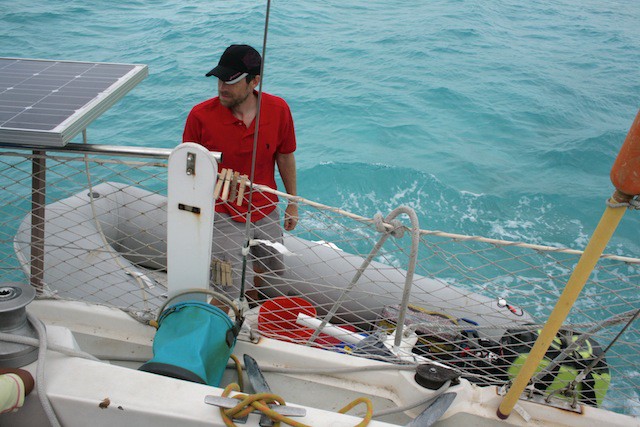 Save