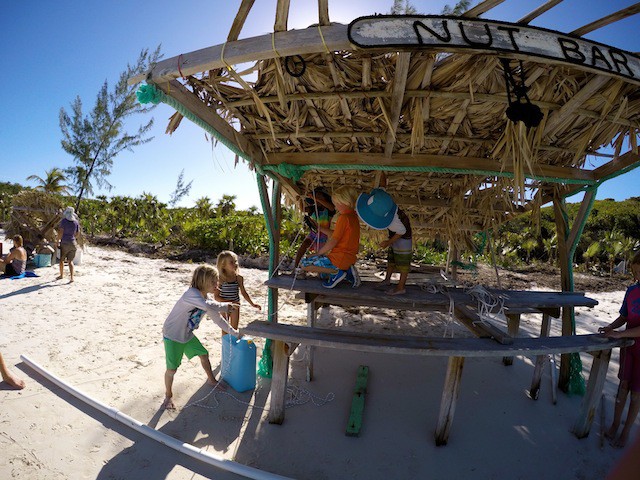 The salty weather word of the day (from Wikipedia):
A derecho (/dəˈreɪtʃoʊ/, from Spanish: derecho [deˈɾetʃo], "straight") is a widespread, long-lived, straight-line wind storm that is associated with a land-based, fast-moving group of severe thunderstorms. Derechos can cause hurricane force winds, tornadoes, heavy rains, and flash floods.
I'm laying down in bed trying to sleep. The left side of the bed rises 6″ and then drops, repeat on the right side of the bed. The process repeats itself every 5 to 15 seconds until after breakfast the next morning. Not very restful, but the kids don't seem to mind. You'd think I picked a bad anchorage. And you'd be right. But half a dozen other boats are anchored with me in our little bay.
We've all hunkered down waiting for the cold front to arrive and the wind to clock around from E to S to W. The geography of the central and southern Bahamas does not fare well with W winds. And a prolonged exposure to strong (20+ knots) of W winds means everyone is looking for a place to hide.
It all started a couple weeks ago, with something called the derecho (see above). Cruisers have been calling it the worst blow they've sat through. A Black Swan. If Nassim Taleb had been there, he would have enjoyed writing up the case study.
The night of the derecho, we were coming in to Georgetown from Lee Stocking Island. I knew that the wind was going to shift to the W-NW during the night, so we tucked in to Goat Cay. We put down the anchor around 3pm. Winds were predicted at ~25 knots. There were about 175+ boats in Georgetown, and most of them want to be on the other side tucked behind Stocking Island, because that is where Chat n' Chill and Volleyball Beach is. It's the water cooler of Georgetown.
A couple of boats came over to Goat Cay later in the afternoon. There were a few boats in Crab Cay, which also had good protection, but the majority of the boats were either at Stocking Island, or the Monument or on the West side near Georgetown itself.
We had just finished dinner when the wind picked up. At first, it was just the sound of whistling over our boat. Then there was a burst and it seemed as though an invisible hand slapped Wildie. Water bottles, and loose items slid across the table and fell onto the floor. I turned on the electronics and popped up to take a look. All three boats in Goat Cay were well anchored and swung together. We turned on the VHF to channel 68 (the cruiser's hailing channel) and heard mayhem. Boats dragging, anchor lines snagging, boats getting beached. Luckily, no one was hurt, though there were a couple of boats with severe damage the cruiser's net was abuzz with requests for lost items and repairs. Kamarad later reported that on Lee Stocking Island two boats broke off, one beached and one got blown to sea but came back. Piper, who was at Staniel Cay during the blow, told us a 75-foot power each dragged and almost hit them.
No one expected the blow to be so strong. But, with the trauma fresh in everyone's mind, the next predicted blow was met with high alert. We were in Long Island with Fairchild a few days before the next blow. We debated whether to ride it out in Long Island, where there is no SW protection, or to head back to Georgetown. We had even checked out a hurricane hole in Stella Maris on the northern part of Long Island. Most of the time, deciding where to anchor isn't so arduous, but this time, it felt like being stuck between a rock and a hard place.
In the end we decided to be conservative. We pulled up anchor and sailed the 20+ nautical miles back to Georgetown to seek shelter from the front. Unfortunately, there are 170+ boats in the harbor with the same idea. We arrived in Georgetown about 36 hours before the predicted front, but already the good spots are full. Crab Cay had 10 boats, one of them Piper. We circled around and said hi; we were glad to see them again. Lisa reported that the talk on the net made this upcoming front sound like the next Armegeddon. Red Shanks, the storm anchorage in Georgetown was pretty full. The west side of Goat Cay, which I've never seen any boats there before, already had five boats. We made six.
Unfortunately, with east winds, we bobbed up and down with the ocean swell all night. The blow was as expected, maybe not as strong from the SW as predicted. I even started to suspect that staying in Long Island may have been a viable option, until I ran into one of the cruisers who was there through the front. Winds up to 50 knots, he reported. Mighty uncomfortable night.
Like I said, a rock and a hard place.
In happier news, back in Georgetown, we found Piper again! We are happiest with other boat families, hanging out at the Nut Bar. Tripp came up with a great activity for the kids.
Joint boatschool day! The challenge was moving heavy objects (a 50lb water jug and a large rock) from one end of the beach to the other and up onto a table. We gave them a pile of assorted beach trash (lumber, sticks, Styrofoam) and some ropes and pulleys, but no instructions. Their teamwork and ingenuity was amazing – you could see the neurons sparking! –Piper & Tink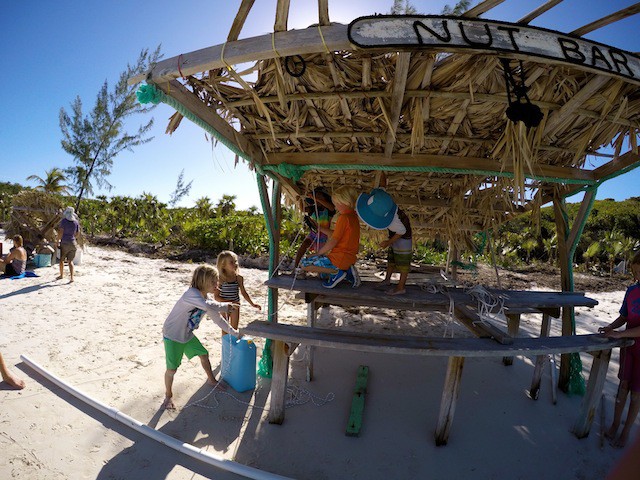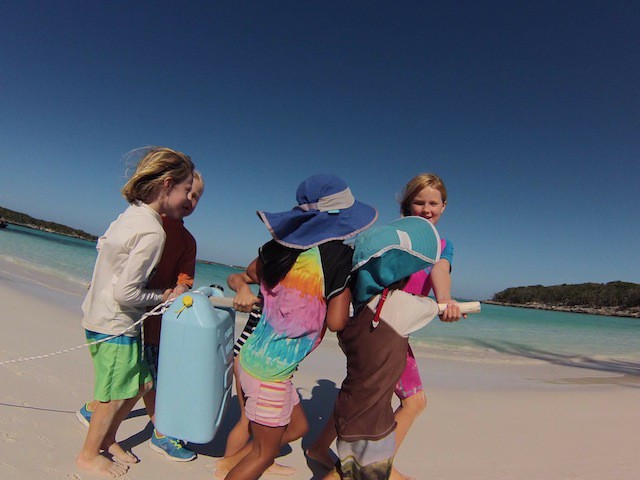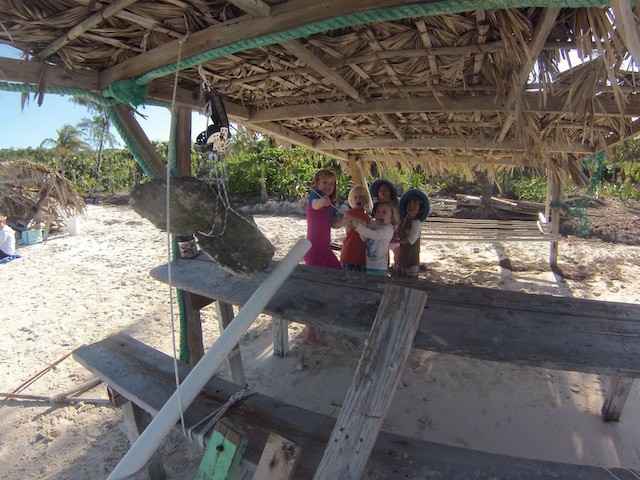 Unfortunately, all good things must come to an end. There's something to be said about the post-party letdown, when cruising boats go their separate ways. We've enjoyed hanging out with Piper and Fairchild so much. With any luck, we just might meet again.
Save
Save
Save