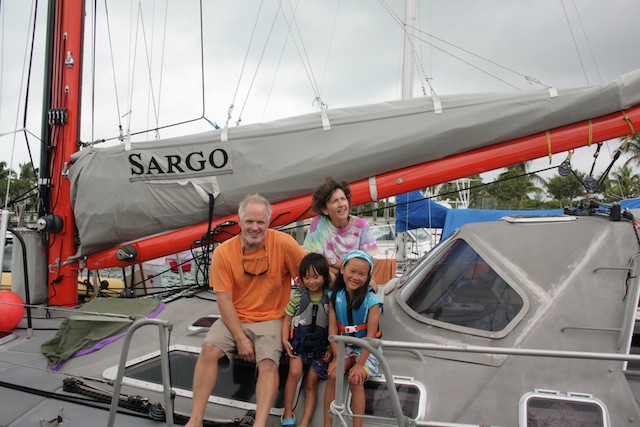 We would have skip the entire island of New Providence if it weren't for 1) the weather front coming, and 2) we had to wait for my dear friend Wendy, who was flying into Nassau right after Christmas.
Tig decided to book us a stay at Palm Cay Marina, which was a welcome stop since the garbage was piling up and our fuel, water and food stores were getting low.
The staff greeted us with smiles when we reached the fuel dock. A worker from the dockside came over and gave the kids cookies. There was a beautiful pool and beaches protected by breakwaters. Marinas are like the Land of the Lotus Eaters. Best to steer clear of them or you'll find yourself dreamy-eyed and empty of wallet.
We left the fuel dock to go to our assigned slip. As we rounded a corner, I saw a flannel-gray sailboat next to our assigned slip. The owners of this beautiful boat, Sargo, smiled came forward to the bow, as all boat owners do, to protect their vessel. Tig turned into the slip across from ours and started to back into our slip. Our neighbors were chatting and helping out a bit with the lines. I noticed the gentleman was on our finger pier, and he was being super friendly.
"I think we know you," he said.
Hmmm, I thought. I don't remember seeing them–and especially that striking boat–at anchorages, they must recognize us because we stick out a little bit.
"I think we had dinner one time," he continued.
Tig thought he said I think we should have dinner sometime. "Yeah sure," he responded, because Tig's a nice guy. We were still figuring out the lines and the pilings, so we were a bit distracted.
"We had dinner with mutual friends, Mark and Marta," he prompted us.
Suddenly, hearing familiar names reeled in our attention. We all started looking at each other quizzically.
"I remember a friend named John," I said.
"Yeah, that's me," he said.
Now I was feeling bit embarrassed. Up till then I hadn't look at him too carefully.  Pieces started falling into place. Yes, he did look awfully familiar now. "Are you the one with the aluminum boat?" I asked.
Affirmative.
"With only soft shackles," I continued, grasping for more details.
"Wow, you remembered that?" he laughed.
"I didn't recognize your boat." In my head I had pictured a shiny aluminum boat. Sargo was a soft matte gray, like the Stoneware baking pans I covet.
"We've never seen his boat," Tig clarified.
It's a beautiful boat, I tell you.
It was starting to come back to me. We met Mark and Marta at Constitution Marina when we were getting ready to cruise the first time. They were also getting their boat, Por Dos, ready for a cruise. Mark and Marta very sweetly invited us to dinner to introduce us to John and Laurie, and to ease my mind about cruising.  So Tig and I arranged a babysitter, which was no small feat, and we all gathered at a bistro in Charlestown. Over dinner Mark, Marta, John and Laurie shared their cruising experiences with us and helped put my mind at ease. I learned that John had bought an aluminum boat and it only had soft shackles. Laurie and John cruised when their kids were younger and were getting ready to cruise again in a few years.
We never saw John's boat, Sargo, but he spotted us coming out of the Cape Cod Canal back in 2013 and sent us an email, "looking good." he said. (It's something sailors say to one another.) We didn't tell him about our engine cutting out in the canal.
Later on during that trip, we met up with Mark and Marta and their boys in Spanish Wells and had dinner with them on Por Dos. They went on to cruise the Caribbean and the Med, through the Panama Canal to the South Pacific and ultimately to Australia.
And here we were, several years later, hanging out with John and Laurie again.
And by the way, we did have dinner together that night.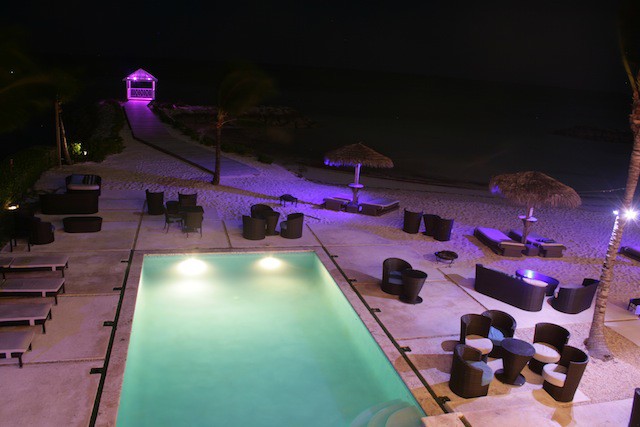 We had a nice stay at the marina.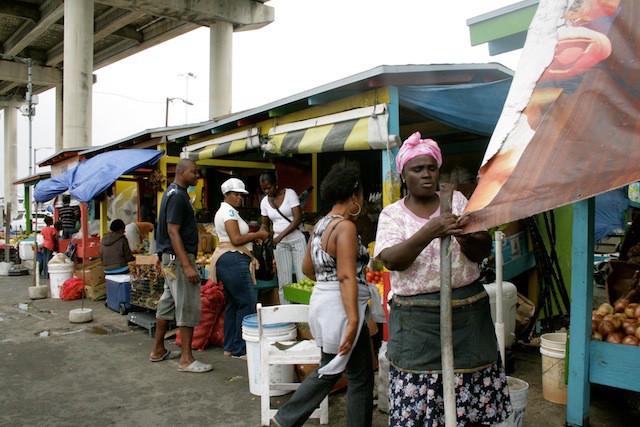 The marina had a courtesy car, which we took advantage of. We visited the local produce market.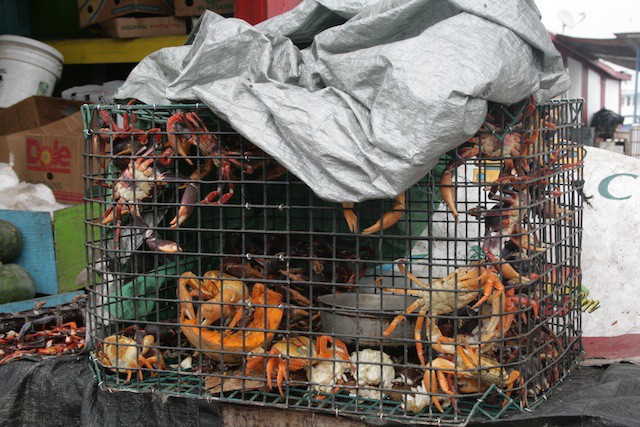 Crabs at the market.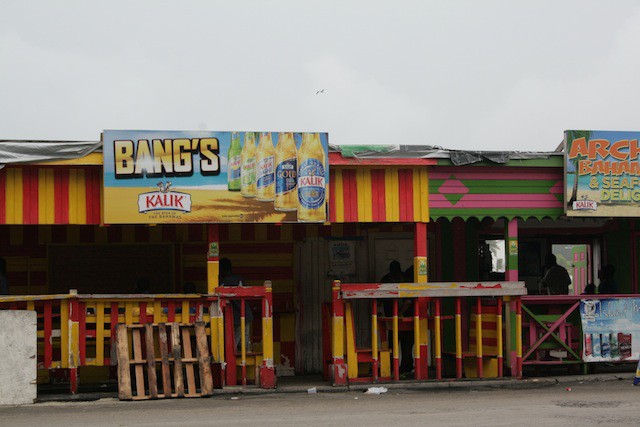 Food shacks before the crowds came.
Save