We've been on the road for a couple of weeks now. The Northeast was full of stops to visit friends and family, but the after Annapolis, we have fewer people to visit. So we've been logging more miles during the day.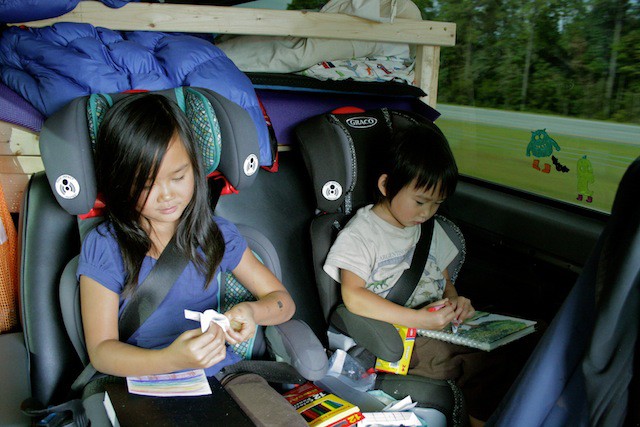 Index cards are great for coloring and making paper airplanes.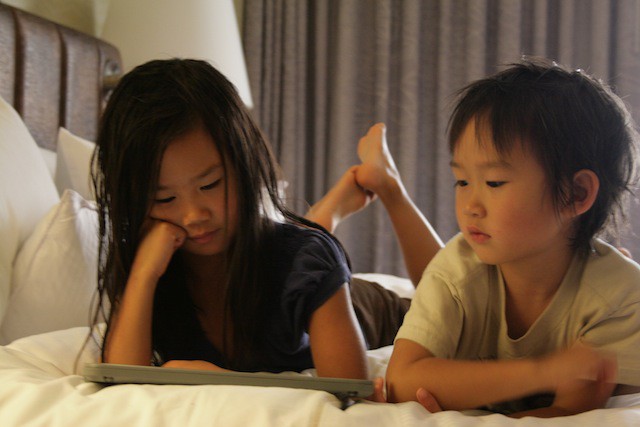 Once in a while, we use the iPad.
To make the best of the long drives, we often listen to audio books and podcasts. Here are some of our favorite resources.
Sparkle Stories – We bought subscriptions to Junkyard Tales, All Together Now, and Martin and Sylvia Saturdays. The gentle stories work well with our sensitive kids. Sparkle Stories also has a free podcast where you can sample the different series. (Note: we have no affiliation or financial interest in Sparkle Stories).
Barefoot Books Podcast has a  big selection of fairy tales, folk tales and songs, though we haven't listed to them on the way down.
Family Adventure Podcast – We met podcast host Erik in North Carolina, and were charmed by him and his wife, Rachel. We talked for hours about cruising and homeschooling over meals and the kids played well together. Family Adventure Podcast is their labor of love. They've interviewed many long-term traveling families from cruisers to RV'ers to backpackers.
Epic Education Podcast – Also related to travel, Epic Education Podcast interviews  families who use global adventuring as their classroom.  We especially like the segments where families give their education tips and resources, as well as travel hacks.
Furled Sail Podcast – We haven't listened to this one for a while, but I had to include it because the now defunct Furled Sail Podcast was one of our favorites when we were new liveaboards. I especially liked Dave and Jaja Martin's interview and the episodes with Luke, where he shares his funny and crazy sailing stories.
Audio Books – We just listened to Swallows and Amazons, Arthur Ransome's winsome book about free range children sailors in England. The kids love the British accents and boating references. They also like Little House in the Big Woods, and Anna Hibiscus.
Save