We've written extensively in the past about our boat-selection process. So now, for my first real post in over two years, I shall explain our van-buying process.
Starting from the beginning…

The camper van has been a bug in our ear for almost as long as we've been together (16 years and counting). In 2004, we rented one in New Zealand and toured around the North & South Islands for three weeks. The size of a camper van is perfect for us (although a tight squeeze with kids), so we've never really considered anything larger than a Class B motor-home.
Why a Sprinter?
Although we (namely Serena) love the style of the ubiquitous VW Westphalia/Vanagon/campervan, we chose the Sprinter mostly because of the head room and the ability to stand up straight (6′ 2″ on high roof models) without any modifications or pop ups. The use of interior space is excellent because of it's boxy shape, although aesthetically not as appealing. And then there is the diesel engine that can reliably run 200,000+ miles with routine maintenance. After dealing with our sailboat diesel engine, I've learned a decent amount about these beasts over the last few years. Plus Sprinters get great fuel economy compared to most RVs, around 20-25 mpg. There's a reason Fedex uses them for the majority of their delivery fleet.
A side note about all Sprinter vans. They are made by Mercedes Benz. All of them. In the US many were sold, rebranded, and distributed by Dodge and Freightliner.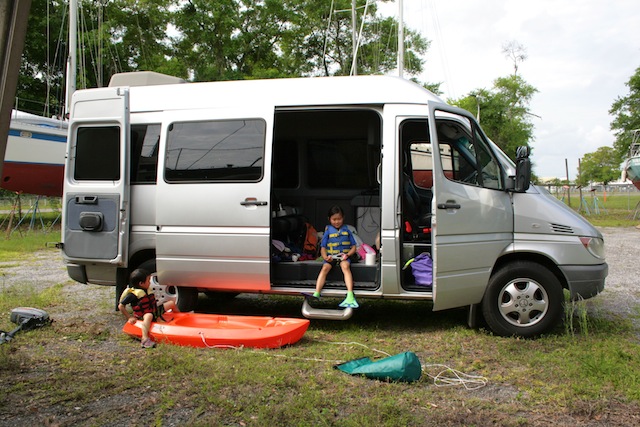 Selection Criteria
Now the nitty-gritty about finding the right van. Here were my preferences:
High roof
Low mileage
Pre 2007 vintage
No or very little rust on body
Interior in good condition
Not white
Within our budget
Like I said earlier, the high roof allows for 6′ 2″ interior. No need to tout my "shortcomings" but I definitely can stand comfortably.
Low mileage in the Sprinter world is usually less than 100,000 miles. The less mileage, the longer the engine will last (hopefully).
In 2007, Mercedes changed the design of the Sprinter, both body and engine. The new body has a more curved and streamlined look and the engine is cleaner. However the downsides are slightly less fuel-efficiency (18-22 mpg) and the need to fill up on diesel exhaust fluid (DEF). I chose the older T1N model, but I preferred a newer one of these. They are also easier on the wallet than the 2007+ models called the NCV.
Since the body of the Sprinter is the main reason we wanted one, it had to be in good condition with no or very little rust. This means a non-white color exterior and a passenger style van. Let me explain. After doing some due diligence researching (hours neglecting family and browsing online) I found out that the factory white paint job is very thin and minimal, leading the body to develop rust faster. Any other color put on by the factory is thicker and lasts longer. We also looked in the south since there is little/no snow so less chance for damaging salts on the road. Most cargo vans have beat up interiors because they are used by hard working contractors and construction workers for carrying equipment and crew. Passenger vans were usually used as airport or hotel shuttle vans and subsequently get a lot less abuse on them.
Another big factor is length of the van. The T1N style van had 3 different wheel base lengths, 118″, 140″, 158″. The 118″ was eliminated because we are a family of 4. Longer means more interior space. A 140″ wheel base van is easier to drive, better turning radius, and fits into normal parking space (albeit ALL of it). Also a little cheaper. And hopefully it would force us outdoors more instead of being crammed inside. In the end, I would have gone with either the 140″ or 158″, but a suitable 140″ wheel base showed up first.
Obviously many of these criteria affect the overall price of the van. I originally budgeted $15k, but you know how that goes…
Shopping Resources
Thank you internet.
In the early stages of browsing, I stalked Craigslist and made a small spreadsheet of possible vans with specs like year, mileage, wheel base, price, etc. I quickly learned what the price range for used Sprinters was going to be like. Over time, I started stalking autotrader.com since I could easily expand my geographic location. When I was getting serious about the search and had gotten the OK from the boss (thank you honey), I started using Searchtempest (global Craigslist) and getting automated alerts from Autotrader when a van fit my criteria. My search focused on 2004-2006 Sprinters with less than 100,000 miles and southern and southeastern US (Virginia to Texas).
In the end, I located a van from a used-car dealer in Dallas, Texas. I negotiated $3000 off the asking price. Then had them take it to a mechanic I found on benzshops.com (a directory of independent Mercedes mechanics) for inspection. They noticed a few items that I used to lower the price by another $1000. Mechanics changed my filters and fluids and the van was good to go.
Our van specs: 2006 Dodge Sprinter, 140″ wheel base, passenger van with rear AC unit.
Some thoughts on our new van
Our Sprinter included upgrades like a 32″ TV, a stereo with DVD player, amplifier and speaker system, mini-fridge, pop-up table, tinted windows, and back up camera. One of row of seats was taken out to make room for the fridge, table, and TV, so it only had two rows which is more than enough for us (7 seats total). Although it was a Dodge, it was re-badged with the Mercedes emblem on the grill. I was told this van was used as a hotel transport vehicle with guests being able to watch TV / movies while grabbing a cold beverage from the fridge.
I will leave you with some pictures of the van before I got my hands into it.