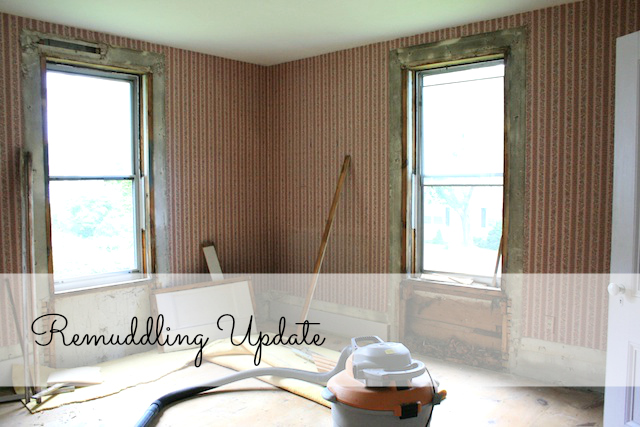 It's been a while since I wrote about the purple palace other than a few teasers and a chimney update. I've been putting off this post because it seemed I would need to go way back and explain so much to convey the enormous project, but here goes my first attempt.
Our slow start was the result of a long process of figuring out our vision for the house. After many months of discussions, Tig and I can finally summarize our "plan" for the house in a few paragraphs:
Reduce heated footprint size. We wanted to pull the kitchen from the addition into the main footprint of the house, which is about 750 square feet. As a young family that practically lives in our kitchen, it made no sense for us to heat and inhabit a small addition when it could be part of the main house. We also decided to live on the first floor for the next five years and continue to share a cozy bedroom.
Insulate aggressively. Our 1/4 acre parcel does not include a woodlot. After factoring in the relatively low incomes in Maine and long, cold winters, we decided to take the house down to its sheath and build in an 8-inch cavity for insulation. We also decided to replace the old windows with double-paned new windows.
Open floorplan. When we first bought our home, we were amazed at all the little chopped up rooms with doorways leading this way and that. I knew that I couldn't just pretty up a choppy floorplan, so I spent hours figuring out the flow of spaces. It meant tearing down lots of walls and moving the kitchen and bathroom into the main footprint of the house. With a thick insulated walls, I figured we could heat first floor somewhat affordably, even with an open floor plan.
UPDATE 3/3/2017–A more detailed post about our remuddling plans here.
We began with a work party in November to tear out a Masonite ceiling in the dining room. It quickly unraveled and became a bigger mess than we thought. We found a shoe and a skull and tons of poop. Apparently, some poor rodent (rat or squirrel?) died in the ceiling.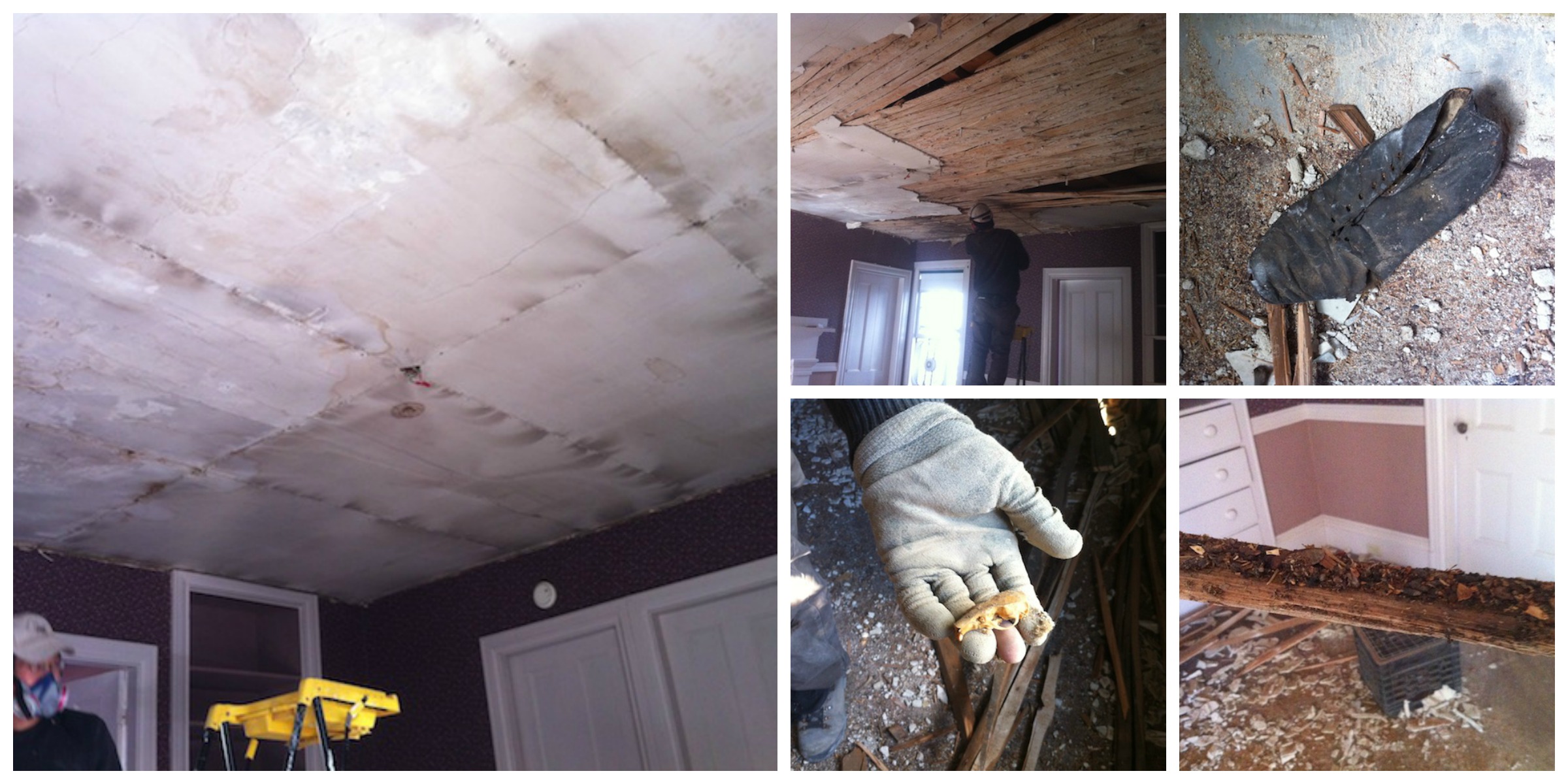 Tig spent most of the winter of 2013 tearing out acres of lavender carpets and interior walls. We think the previous owner must have single-handedly kept the carpet and wallpaper industry alive in the past few decades.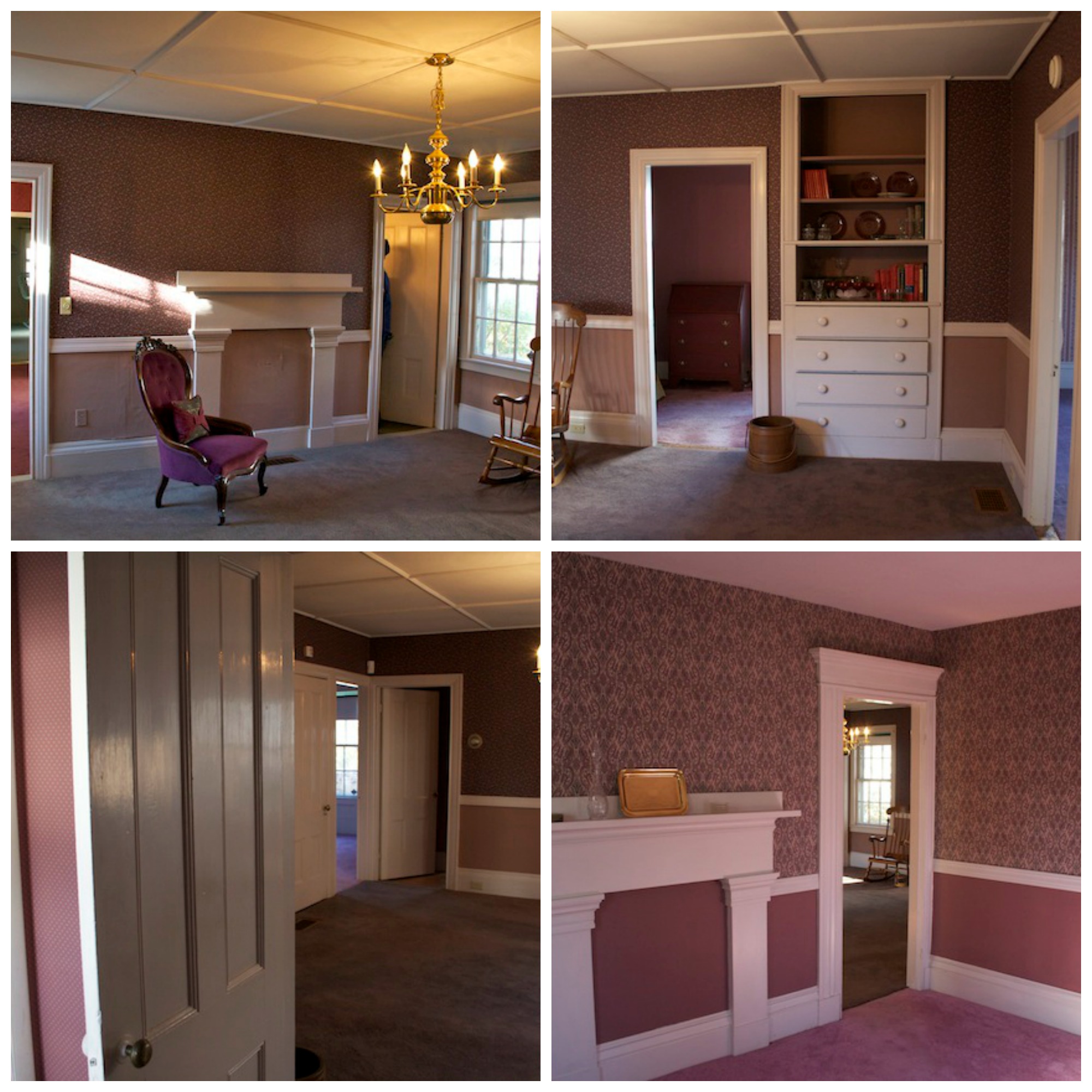 Original Purple Palace.

Tearing down the bathroom wall.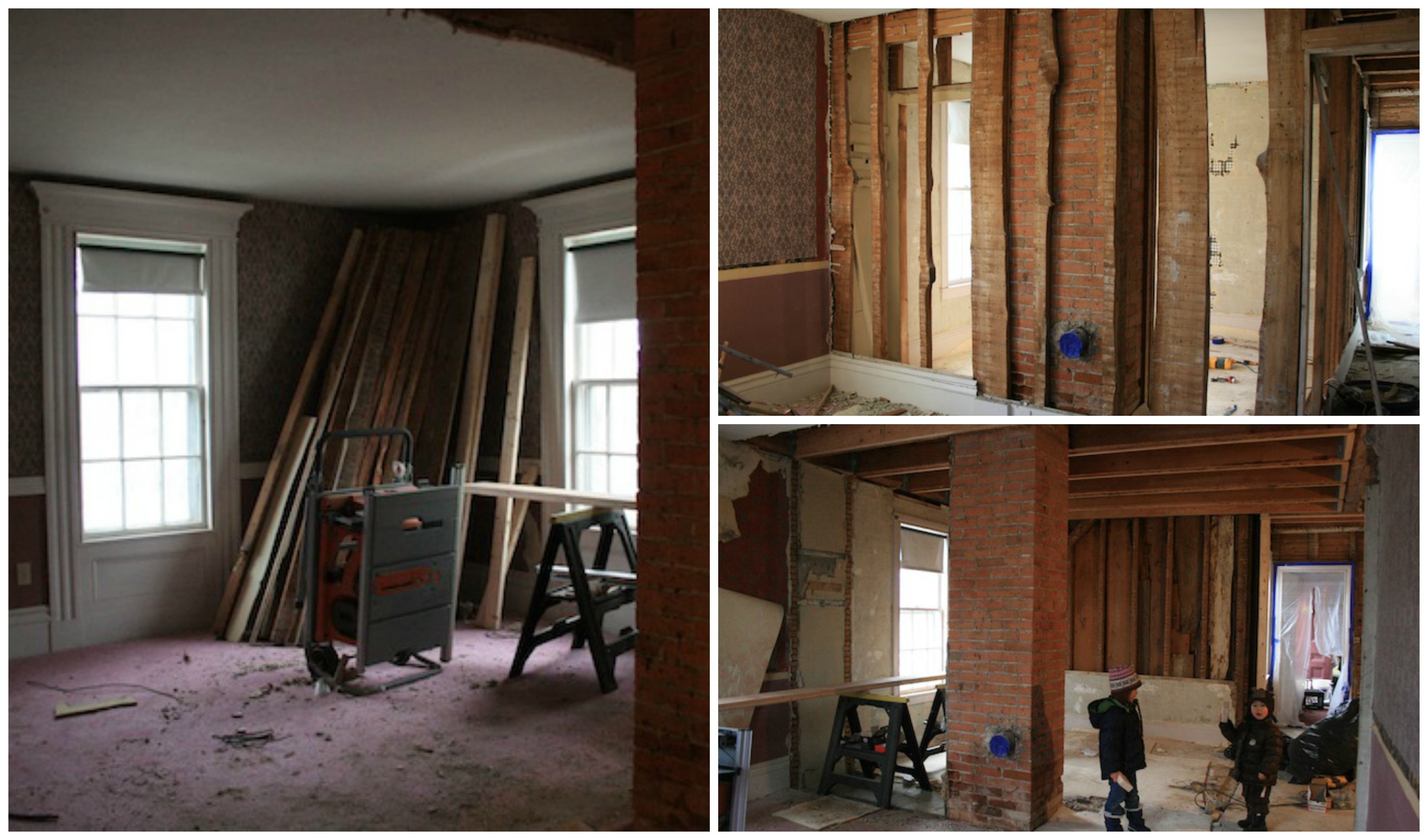 Tearing down the walls between living room and future breakfast nook.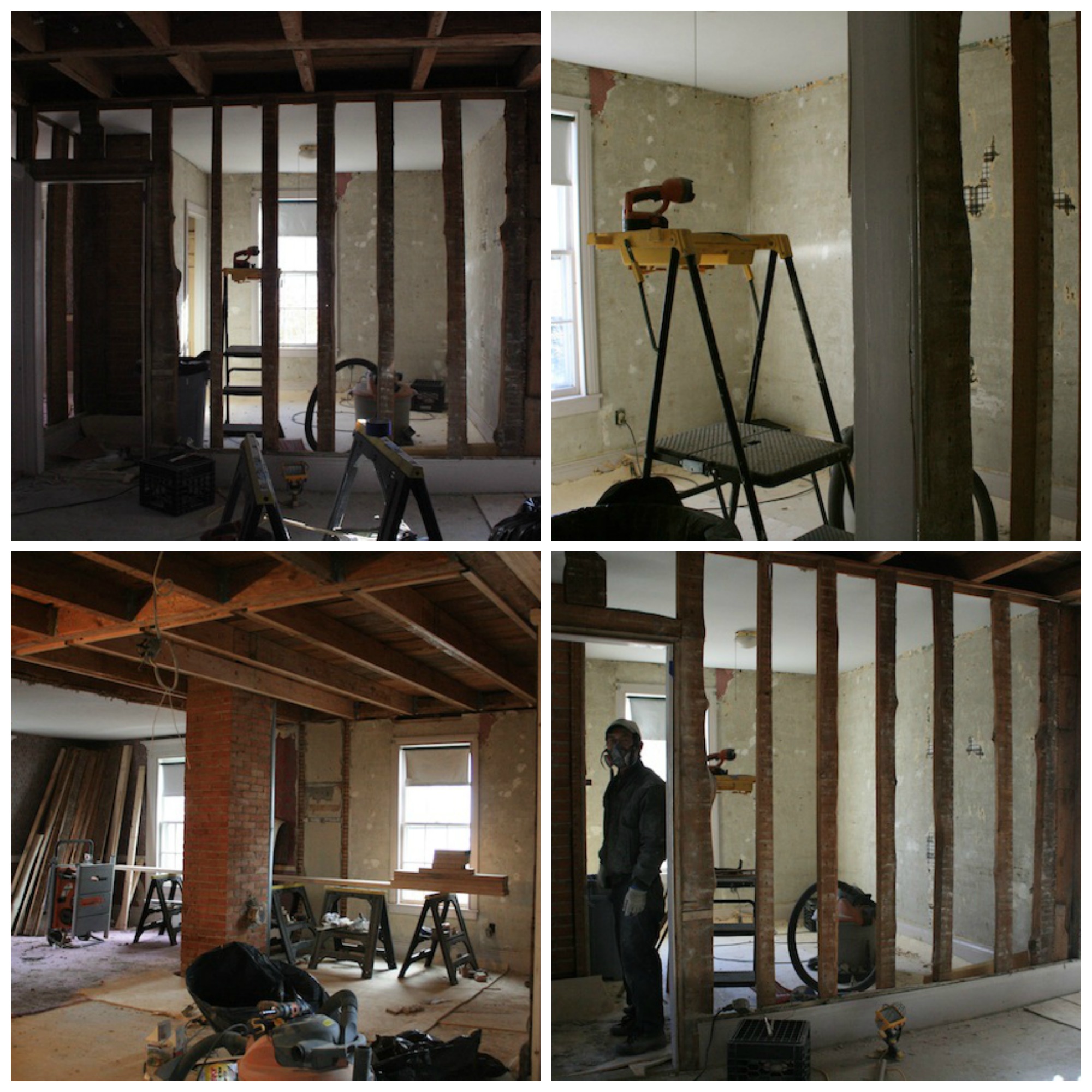 View into the breakfast nook.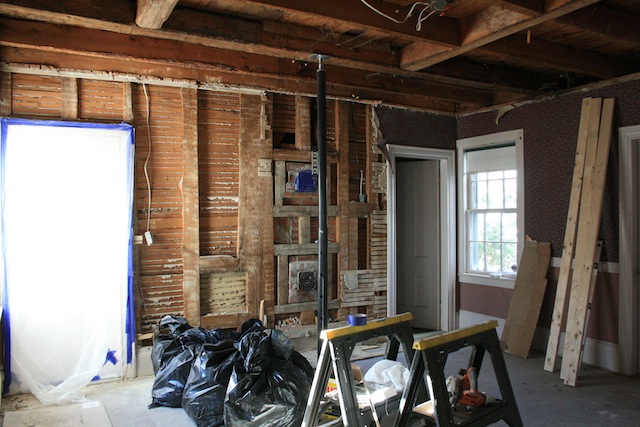 The future kitchen. Note the jack holding up the sagging beam.
After we discovered a sagging beam, Tig consulted a structural engineer and reinforced the entire ceiling with laminated veneer lumber (LVLs) and angle brackets. He did all of this while freezing his but off in zero-degree weather because we de-comissioned the house (we didn't want to pay to heat the house in addition to the apartment we were living in back then).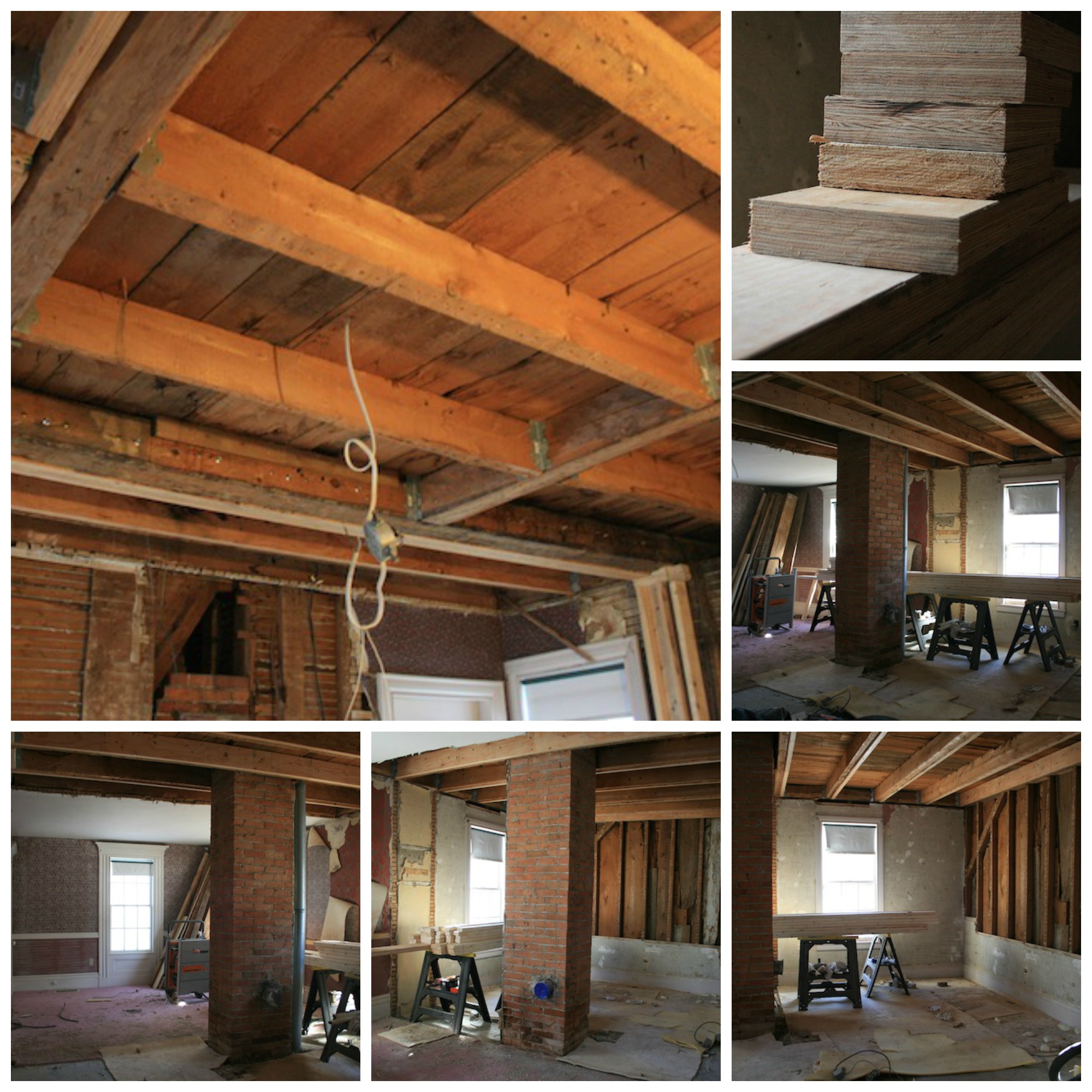 By spring, we started to panic about moving in. I hired a huge dumpster and we started moving trash out. We were able to move into the addition by June. The next big push is to get the house insulated by the time winter comes. Stay tuned for more updates.