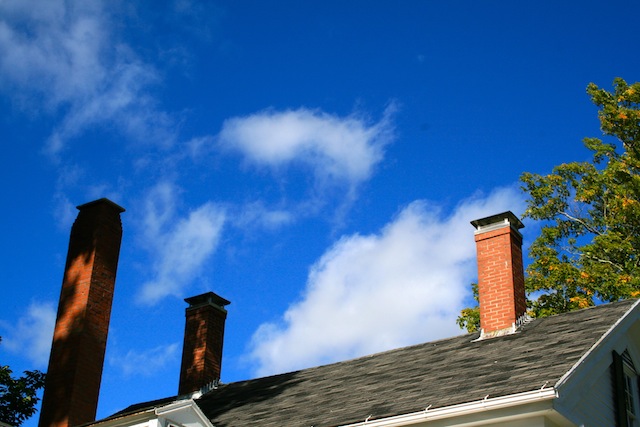 Here is something I can write about our home renovations: stainless steel chimney caps. I think they are rather pretty, don't you?
During the summer, I noticed a rather loud twittering coming from our living room chimney at dusk. Later, we spotted chimney swifts flying in and out. Aside from the nesting birds, our chimneys were unlined and perforated with so many thimbles they were more like a house flu(t)es. Dante, our mason guy, helped us with our long to-do list:
:: removing the chimney swift nests
:: cleaning out eight feet of ashes (there was a dead squirrel in there…he says we may have some of the dirtiest chimneys he's ever seen)
:: installing insulated stainless steel liners
:: capping two of our chimneys with stainless steel cap and one with bluestone
:: patching up the thimbles
Let's just say we were glad to hire that job out.
Our mason guy called us one day to report that there were open thimbles that simply led to the back of our wallpaper. No coverings, he said incredulously. It's a wonder the previous owner didn't asphyxiate or burn the house down with these chimneys. But it's all fixed (for now). Plus Tig and I are pleased with the shiny caps.