In case you haven't noticed, we're not white.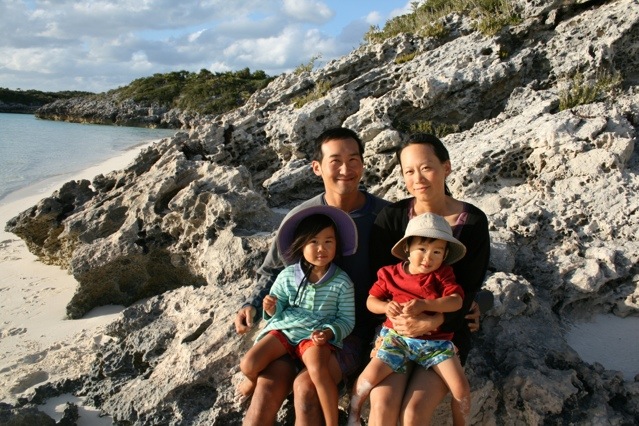 And what is the significance of that, you say?
Well…it's because 99% of the cruisers we meet on the eastern seaboard *appear* to be white. (Do I know that for sure? No. Why? Because feels kind of rude to ask unless you know someone pretty well.)
And because we had one commenter (who was Asian American) remark, "It's such an un-Asian American thing to do," I thought a post about our experience might be worthwhile.
Our very limited experience
We cruised from Boston down to Florida, across to the Bahamas. We tooled around the Bahamas (not all the islands, but quite a few) before jumping back to Florida and up to Jacksonville. We did this in 11 months. So world cruisers we are not. Long-term cruisers, we are not. In the grand scheme of things, we've seen only a tiny sliver of the cruising world.
Of all the people we met, two were Asian-American sailors who were not cruising at the moment, except locally.
In the Bahamas, we met a group of four Asian-Canadian couples who chartered a monohull from Nassau. My understanding is that they had a hired captain aboard for a week or two.
We've met many couples and families from the U.S. who appeared Caucasian. Many Europeans, a South African family (they appeared Caucasian). We haven't met an African American or Latin American couple or family so far. There was a couple in Georgetown where the woman was from Colombia but our paths didn't cross.
I've talked about it with a few friends, one of them is a sailing writer. "No one talks about that in the sailing world, especially not the publications. Bad for business." I could go on pontificating about the lack of perceived diversity and what it could mean, but in the interest of staying on task, I'll focus on our own experience.
The cruisers
All the cruisers we met have been open, receptive and friendly. They treated us no different, in my mind, than any other cruiser. In fact, many were just as helpful if not more so because we have young children.
People also tend to remember us because we stand out. There have been many times where people came up to us and said, "Wildest Dream! We met you in —-"
When people ask where are you from, they usually mean our home port (though it may be a veiled way of inquiring about our ethnicity. That I will never know.) We say Boston, and that usually settles the question. No cruisers have followed up with, "No, where are you really from." Yes, that still happens on land, though much less frequently now. And if you don't know what I'm talking about, watch this video.
We get extra credit for having young kids.
We're friendly, but not super social, so we may have missed the chance to meet a more people. Maybe we're on the wrong coast…haven't ventured far enough. If we are not in on the parties, it's probably because neither of us enjoy drinking much and go to bed early. So if we've missed you out there, sorry. We were sleeping.
The Bahamas
Our experience in the Bahamas was pretty low key. Almost all Bahamian adults didn't seem to care or were not curious. One man wanted to practice his Mandarin. And we obliged. In contrast to our land travels to places like France, New Zealand, Peru, Brazil and Mexico, we encountered a bit more curiosity about our ethnicity.
A few Bahamian children are curious about where we are from, ethnically. Most didn't care.
Some can't believe we're from the U.S. "You don't look like an American," one said. I try not to get drawn into those types of conversations.
So that's the quick summary of our experience. If you are an Asian / Asian American cruising family, we'd love to hear from you. (If you're Asian, we would have a hard time communicating in your written language unless it was English–sorry). If you're an Asian-American family considering cruising for a year, we'd be happy to talk to you. The water is beautiful.
PS-As I write this, it occurred to me that I would also be interested in meeting Asian-American families who are out-of-the-box in other ways. If you are one such family that is unschooling, homeschooling, road-schooling, vagabonding, homebirthing, attachment parenting, or just doing something different enough to make a Tiger Mother screech, we'd love get to know you.