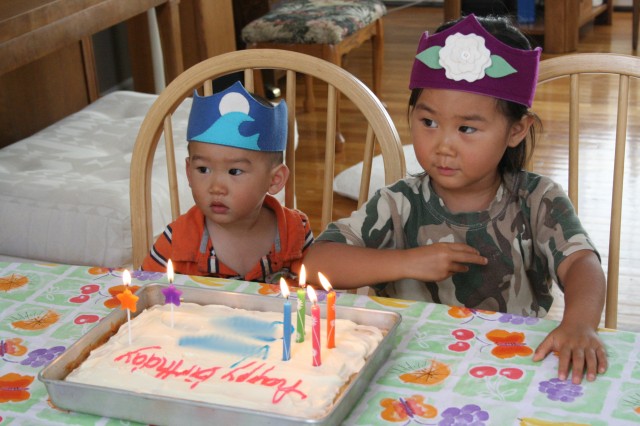 The birthday boy and girl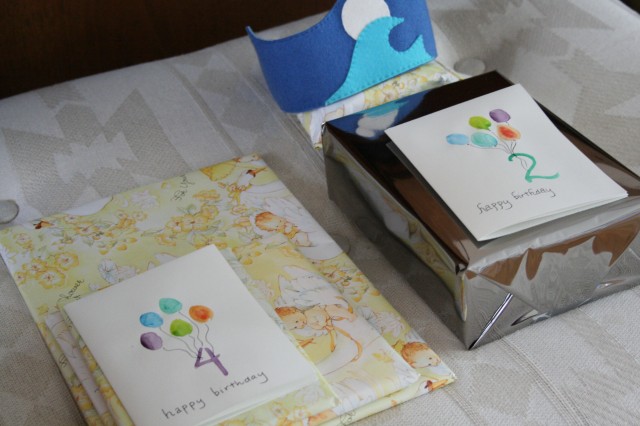 Presents and homemade cards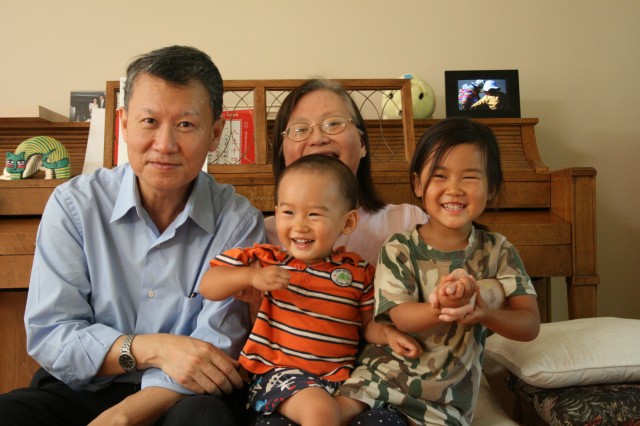 With Gong Gong and Po Po
Someone once said about parenthood: the days are long and the years are short. Yes, it's true, my babies are growing so fast.
The grandparents got together several weeks earlier when we were up in Rockland County. I hung up our family fabric celebration banner (from The Creative Family), and made a simple banana bread sheet cake with cream cheese frosting. O got his felt birthday crown, which I finished just in time. He immediately shouted "moon" when he saw it, for the little guy loves the moon.
V got a few books: The Root Children, The Wind Children, and Pumpkin Moonshine. O got three toy cars, including a digger–diggers are one of his favorite things in the world, besides the moon. Our family also got a new pair of binoculars. Simple and sweet.
For their actual birthdays, we recited a poem on the eve of their birthdays. The poem was from A Child's Seasonal Treasury, but I changed the first two lines:
When the evening blessing has been said
When it's time for me to go to bed
And mama/daddy turn out the light
I will still be — years old tonight
But from the very break of day
Before the children rise and play
Before the darkness turns to gold
Tomorrow I'll be — years old
— kisses when I wake
— candles on my cake
On the birthday morning, we had a pancake breakfast with candles on them. V looked forward to the poem and pancake breakfast so much, I wished it would be so easy to please her in the coming years! I've written down the recipes in case the kiddos want them someday.
Happy birthday, my little ones! Next up: Child's play, the guns, knives and vodka edition!
Shoshana's Banana Bread
This recipe is from my college roommate, Shoshana. I've kept it all these years and tweaked it a bit.
Makes one loaf
2 1/4 cups flour
1/2 to 3/4 cups sugar
1 tsp baking powder
1/2 cup soured milk (substitute a bit of sour cream)
1/2 cup canola oil
2 eggs, beaten
2-3 ripe bananas mashed with a fork
Preheat oven to 350
Mix dry ingredients together.
In a separate bowl, mix the wet ingredients together.
Combine all together and pour into a greased loaf pan or any other baking pan
Bake 350 until done (toothpick test)
Cream cheese frosting
This recipe is from Allrecipes.com, but I've lowered the sugar content. I prefer this to the traditional icing.
1 (8 ounce) package cream cheese, softened
1/4 cup butter, softened
3/4 cups sifted confectioners' sugar
1 teaspoon vanilla extract
In a medium bowl, cream together the cream cheese and butter until creamy. Mix in the vanilla, then gradually stir in the confectioners' sugar. Store in the refrigerator after use.
The Eric Carle Pancake Recipe
Tig made this based on Eric Carle's children's book, Pancakes Pancakes. He added baking powder and a touch of sugar to this super simple recipe.
Serves 2 people
1 cup flour
1 cup milk
1 egg
1 or 2 pinch(es) baking powder
1 tsp sugar
Mix well (V makes sure we don't have any lumps). Melt butter in a pan, pour batter and make your pancakes. The trick is to make it in a cast iron pan. Turns out so much yummier.