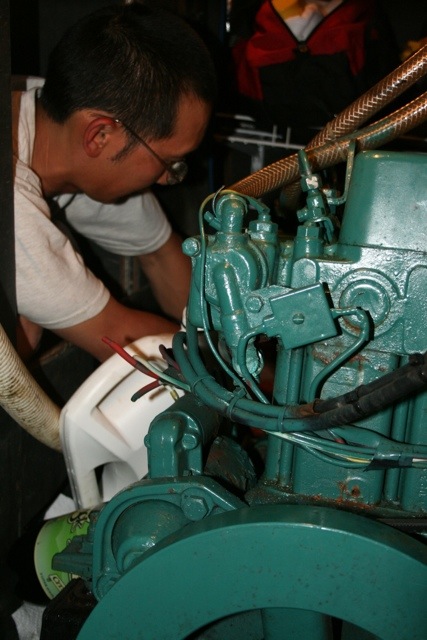 What can I say about our engine? I don't like her and she does not like me. She is loud, obnoxious, stinky and consumes lots of petrochemicals and other various resources. Every time I try to carefully work on her, she gives me bumps, cuts, bruises and a sore back…and I'm a dirty mess afterwards. Our dance is a always full of drama and hurt feelings, usually mine.
But high maintenance as she is, she is a necessary evil. She can get us where we need to go, usually in a straight line and much faster than sailing–a good safety feature. And she can charge all our batteries.
Unfortunately, she has not been reliable this year (last year she performed admirably). Here's the list so far:
– Didn't start on attempted first sail of the season (my fault – installed fuel filter incorrectly)
– Puttered and almost died in channel on way to haul out facility (harbinger of first month of cruising).
– Overheated and would not start again halfway through first passage to Provincetown (luckily there was some wind to make us sail at 3 knots). Water pump impeller broke and clogged cooling system. And then the heat exacerbated the corroded gasket letting air into fuel line.
– Died on almost every passage after that (Cape Cod Canal, Onset, Newport), usually multiple times and during the worst moments like in a channel or while anchoring–did I mention that this didn't make my wife happy? I finally fixed the air leak problem in Newport.
She was working great for the past month, so much that I got a little complacent. I even changed her oil in Cape May. I guess she felt like she needed my attention again.
So on the spur of the moment, we decided to Leave Havre de Grace, MD over a week ago. I had looked at the weather forecast for the next few days. Lots of rain and possible thunderstorms. I knew the anchorage at Havre de Grace was wide open and provided little protection. So I let Serena and the kids know we need to get out of town quick. Needless to say, Serena is the kind of girl that likes a bit more notice than that, and although she thought it prudent to leave, she was not pleased.
If there is enough wind to sail, I like to raise anchor without the engine and sail off. There was 7-10 knots from the east, which would make a nice beam reach south. However, Havre de Grace has a 7 mile long channel until it reaches the deeper waters of the Chesapeake. I thought it would be best if we started the engine and motor sailed through the channel and then we could possibly turn off the engine in the bay.
We motorsailed and 4 miles down, the channel turns east directly into the wind. No problem, I thought, we have the engine running. Then we lost all speed. We pushed the throttle, which revved the engine, but still we were slowing down. A million possibilities ran through my mind (propellor fallen off, prop fouled up in crab pot/lines, shaft disconnected from transmission, etc). I checked off the stern of the boat: no lines to be seen, and there did not seem to be enough cooling exhaust exiting . No time to really examine. So we killed the engine, strapped the kids in and tacked multiple times to stay in the channel. On top of that, it started to rain. Great!
After tacking 5 times (not too bad), the channel turns again and we didn't have to tack any more. Serena took the kids down below to stay dry and I sailed the rest of the way to Still Pond, a much more protected anchorage where we dropped the hook far behind lots of weekend power boaters.
I suspected something had fouled the prop, but Serena poked her head in the engine room while I was sailing. The shaft was turning while under sail (which is normal for our boat since we don't have an expensive folding propellor). Maybe a water pump impeller broke.
The next morning, I first checked and cleaned the water strainer (before it gets to the pump), and there was some sea grass/seaweed/crud that I had to clean out. I then checked the impeller. It actually looked good. Oh well. I change it to a new one anyway (since it needs a new paper gasket–really? a PAPER gasket–whenever you open the pump). So what now?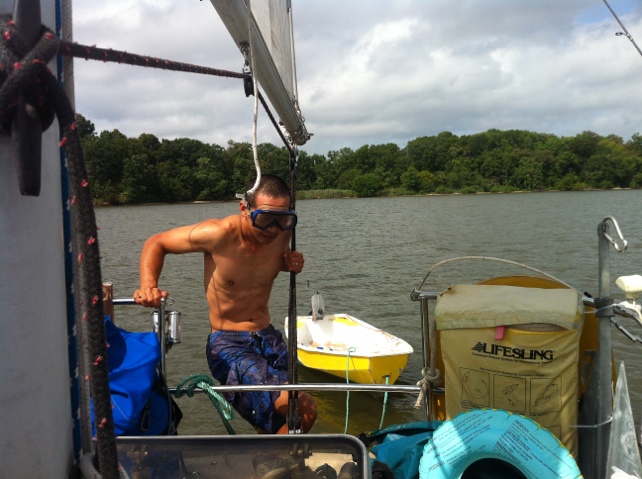 About to dive and check on the prop
I put on my swim trunks and grabbed my snorkel mask. The water was quite nice, but murky (all that soft Chesapeake mud). It took several dives to remove all the sea grass and sea weed that was wrapped around the prop. I also noticed a few barnacles growing on the prop (no good) and the shaft zinc needs replacing soon. Prop is freed, now the cooling exhaust.
Sure enough, more sea grass in the water intake through hull. I pulled out whatever I could by hand and then grabbed some plastic pipe/drain cleaner that was buried in the cockpit locker for extra cleaning. Finally a clear water intake.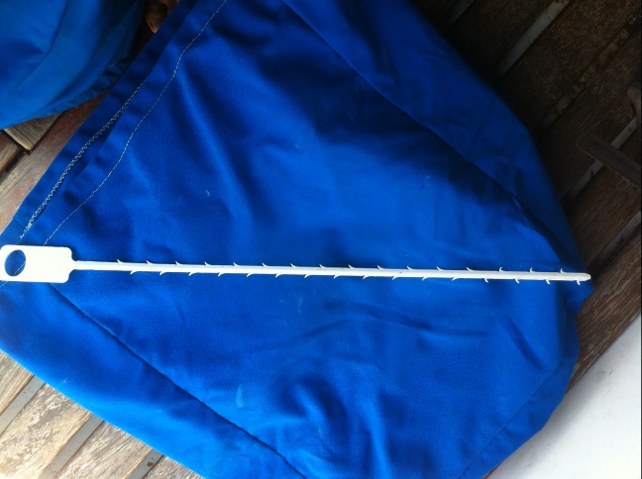 This $3 plastic tool from Home Depot came in handy to clear the water intake
The engine started up without protest. Maybe she isn't so bad after all. We moved in closer for better weather protection and set the anchor. All the local boaters left for the weekend as we hunkered down for more rain.