As we were leaving Cape May we ran aground while trying to get to a marina fuel dock. (Note to self: start asking about draft/depth before entering every fuel dock/pump-out station). Then we scrapped that idea and left as soon as we freed ourselves, which only took 10 minutes (thanks to a rising tide and motoring through soft mud), and went through the Cape May Canal. We motored up Delaware Bay and stopped off at Cohansey Cove, located at the mouth of the Cohansey River. A more protected anchorage (but lots of bugs) is up the river in one of the wide bends, but with very little wind, we figured we'd beat the bugs and stay at the cove.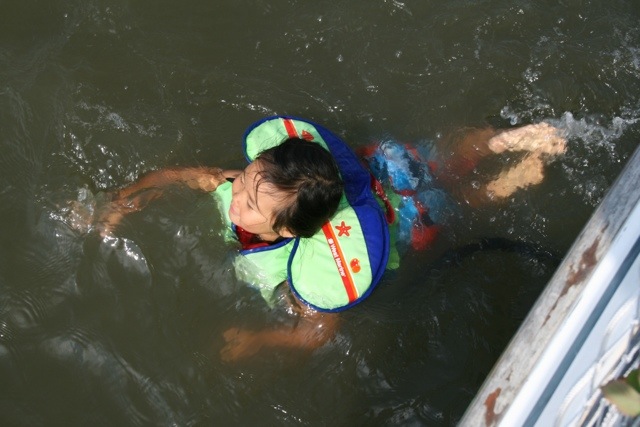 There V and daddy took a swim.
Sure enough, the winds picked up later, and after a bouncy night–nothing compared to our first anchorage in Provincetown–we left on a flat calm morning for the Chesapeake & Delaware (C&D) canal.
In Chesapeake City we had our first free dock! We must be getting further south. Marinas are half the price per foot, but we still prefer to anchor. Stepping off the boat and onto a dock (without schlepping the kids and stuff into the dinghy) was a luxury I haven't experienced in a while.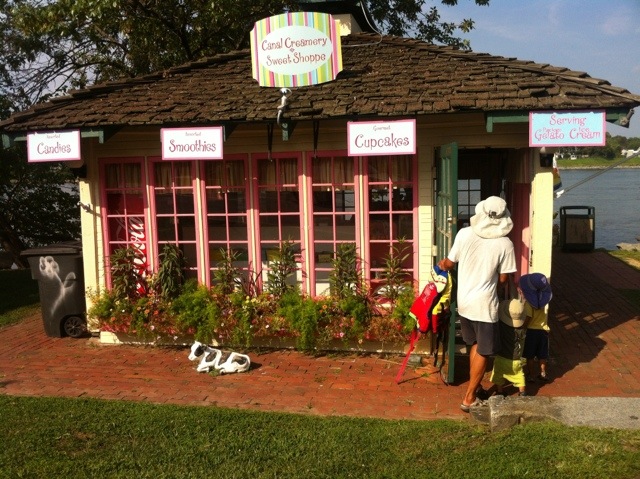 We celebrated with some ice cream, of course. We spent the night and left the next morning with the current out of the C&D canal.