The open sea to the east, the garden state to the west, and few good inlets for sailboats with any draft. I feared New Jersey would be the hardest passage to date.
The plan: sail/motor 24+ hours from Sandy Hook to Cape May.
The forecast: NOAA forecast was for showers (accurate) and possible thunderstorm (thankfully wrong) in the morning. North to north east winds 5-10 knots seas 2-3 feet.
The secret weapon: a neighbor and friend from Boston. We picked Dan up from the Staten island ferry terminal late Friday night.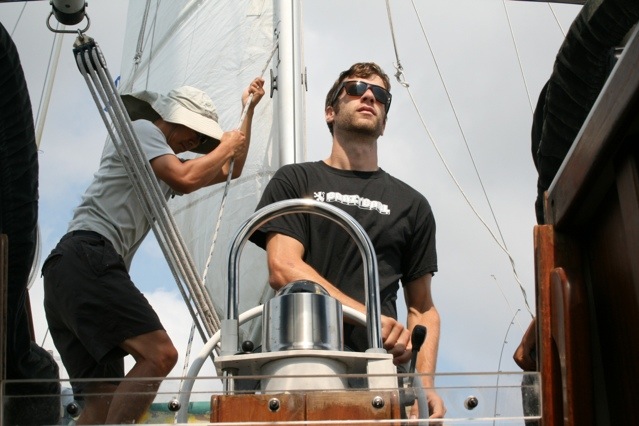 Saturday morning we had a nice leisurely breakfast of pancakes as we were waiting out the rain and readied the boat. When we left the sky had cleared and there was 5-10 knots of wind blowing from the southwest. We sailed out of Staten Island and past Sandy Hook, NJ. The forecasted winds out of the N/NE never materialized. In fact the winds died to a paltry 0-3 knots…not enough for any speed so the engine was turned on after lunch.
We motor sailed through the evening and into night. Some highlights:
:: little O vomiting 2 times. We think it's mostly because of the engine combined with the ocean swells (maybe diesel exhaust or excessive noise), he has gotten through rough weather just sailing before.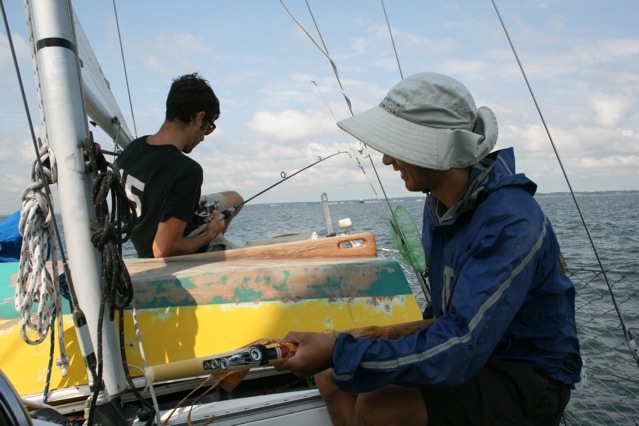 :: setting up to catch some fish–Tig check's out a telescoping Japanese fishing rod (a gift from Tig's dad)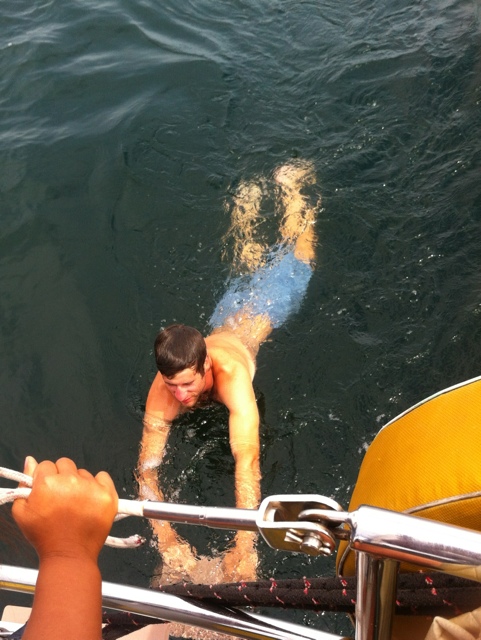 :: Dan "ladder swimming" (while Tig breaks out the Lifesling just in case)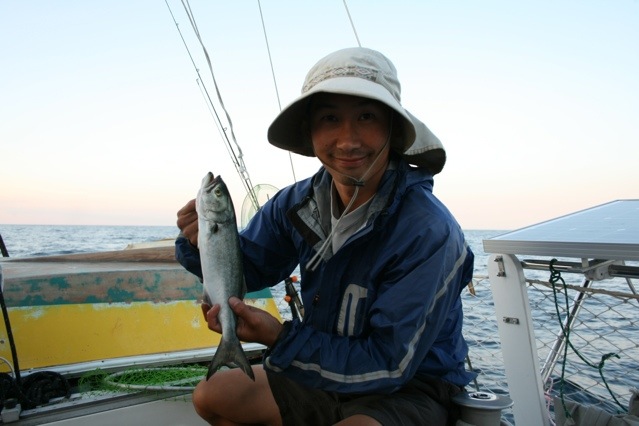 :: Catching small bluefish.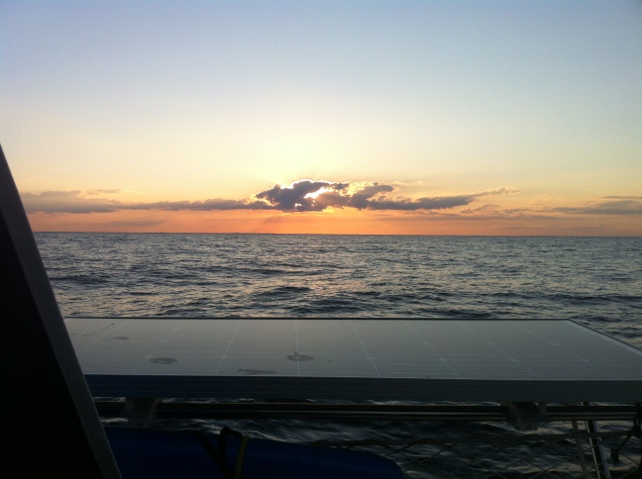 :: Sunset over the Garden State.
Serena went to bed with the kids–the little guy doesn't do without his mama–and it was Dan & I on a rotating 3 hour watch schedule. He had the 9pm-midnight shift. I woke and did my turn. Stars filled the clear night sky. At 1am I felt the wind pick up. I raised the jib (the main was already up for motorsailing). We gained some speed, but I left the engine running in case it was just temporary. 30 minutes later I turned the engine off. Finally peace and quiet. All you could hear was the water rushing by at 4 knots. And no boats in sight. I could see the lights of Atlantic City in the distance. I lay in the cockpit for 10 minutes at a time in a state of zen, just watching shooting stars and listening to the sound of the water. So tranquil and relaxing.
By the time the kids were up, we were past Atlantic City with Cape May in the distance. The winds were slowly losing steam and so were we, only doing 2-3 knots. 10 miles from Cape May, we turned the engine on so we could get Dan on schedule to his bus back home. 125 nautical miles. 29 hours.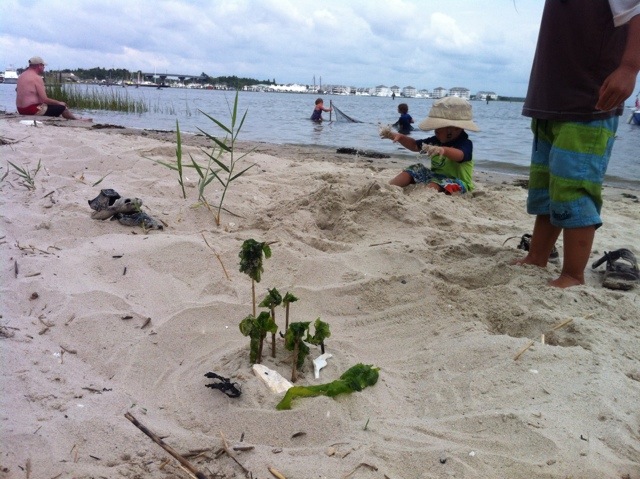 The kiddos enjoyed land again at Cape May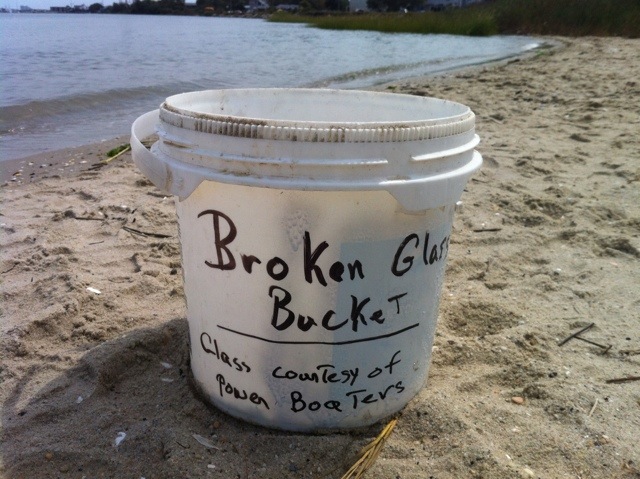 We spent one morning picking up broken sea glass…V wanted to make it a barefoot beach (bucket left there by locals)