There's a saying that goes something like this:
There are 3 types of sailors: Those who have run aground, those who will run aground, and liars.
We did it. Or more accurately, I, Tig (acting alone), ran our boat aground.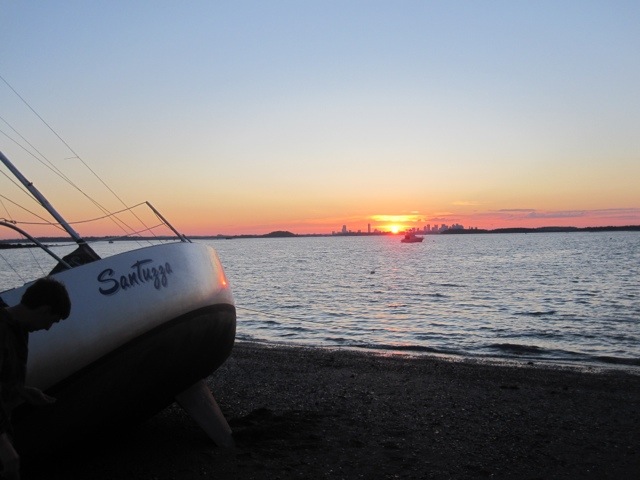 A sunset and a beached boat (don't worry, that one is not ours) on our first night leaving Boston Harbor (picture courtesy of our friend Jared)
I had dropped Serena & the kids off at the Port Washington town dock so they could have some land time in town, while I pumped out and washed down our boat. The sign at the town dock states a 15 minute time limit. I was already there an hour and a half, filling up on water, washing our cockpit, pumping out our holding tank, etc. Needless to say, I was in a rush to get out and did not look at the charts (although I had looked at them earlier in the day). And I was without my trusty navigator (Serena). Yes, I was feeling a little cocky at this point. I had deftly maneuvered and docked the boat single handed. (I've even been practicing anchoring and leaving an anchorage by myself and without the use of the engine). So I guess it was coming.
Not far from the town dock, I felt a slight bump and then the boat seemed to stop moving. I check to see if my dinghy painter line fouled the prop. Nope. I had run aground in what the charts say are 3-4 foot waters. Our boat draws 5.5 feet. I knew the tide was going down (ebb tide) and it would be another 5-6 hours before the water would be high enough for us to get free. I quickly call TowBoatUS. It would take them 45 minutes to get here. The water would be another foot lower at that point. I call Serena to drown my sorrows. She knows immediately that something is wrong before I even say a word, she "thought it was something really bad." But after telling her, the worst thing she thinks is we'll have to wait for the tide (and everyone will laugh at us). After I hang up with Serena, I call the town harbormaster. The harbor patrol comes by within 2 minutes (yes, I am that close to the town dock). He grabs our main halyard (the line that is connected to the top of our mast) and drags it sideways. Our boat starts to heel. A lot. More than 30 degrees and then the boat seems to be free. We get dragged into the channel and I was free to go from there. Nice folks at Port Washington. I think they only laughed at me once.