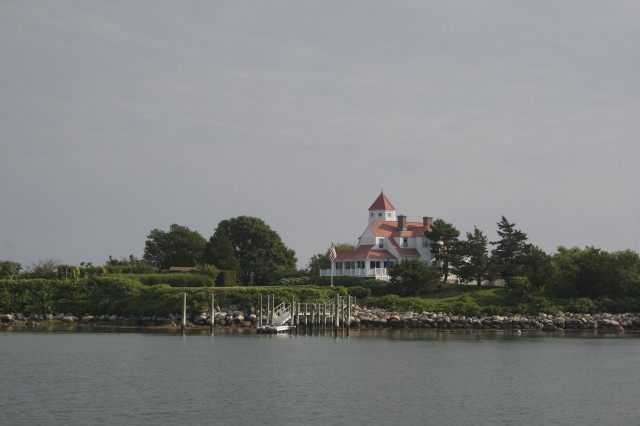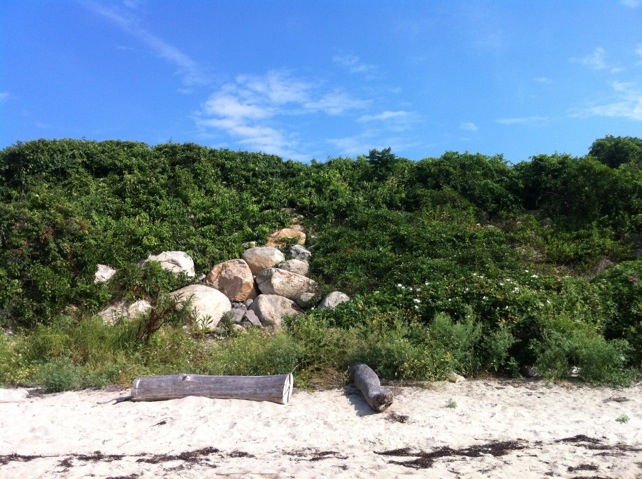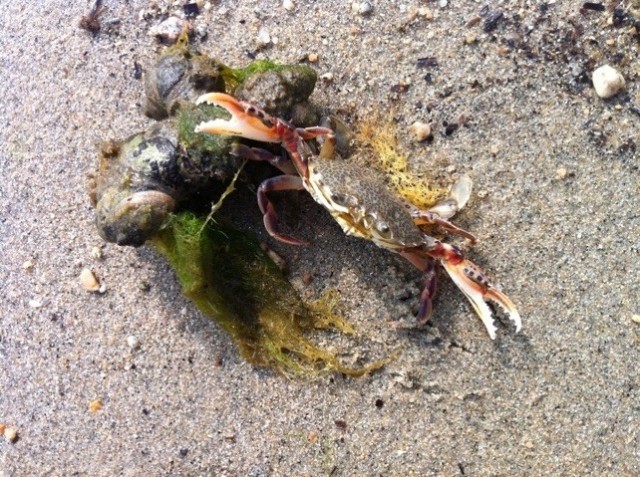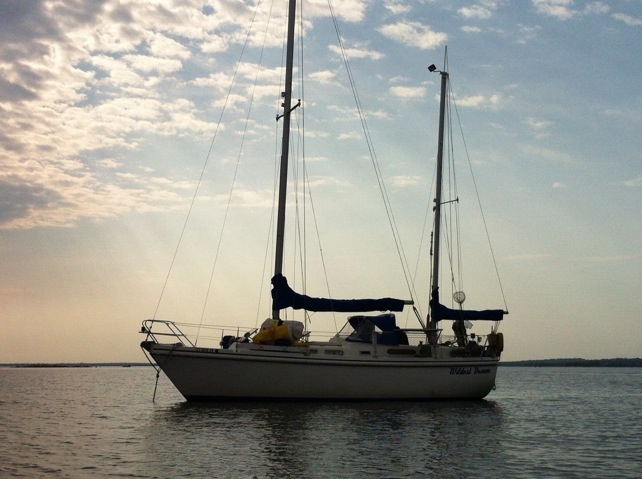 Act I
From Newport we motored to Point Judith for a couple hours to test out our engine. We stayed overnight and headed out the next day for Fishers Island.
Fishers Island was a soothing balm in our cruise. We finally felt the engine could be trusted again. The weight lifted from our shoulders. We could enjoy the surroundings of the quiet anchorage without worrying so much. Stately homes sat overlooking the water. Wild roses fringed the small private beach. As if to emphasize that this was a *nice* place, gold flecked sand shimmered in the water. Men were playing genteel rounds of golf on the rolling hills. We had a quiet evening, and then left the anchorage early the next mooring.
Act II
The sail from Fishers Island to New Haven was long, 11 hours total in rain and increasing seas. We were rocking at 8+ knots with the current, shot past our first 2 anchorage spots (decided they were not safe to enter in those conditions), so New Haven it was.
The rain was coming down, but the weather report clearly said no chance of thunderstorms. At first it was exciting, but after sustained speed, we started to worry. The kids were below, taking a nap. The dinghy was swinging violently back and forth and beginning to fill with water. What had originally been reported as 1 to 2 ft seas morphed into 3 to 5 foot seas. Then, both of us watched with jaws dropped as the dinghy (being towed behind us) filled with sea water and then turned over.
Tig's handmade dinghy became a sea anchor, slowing us down immediately (from 6+ knots to 1+). We kicked ourselves for not stowing it on our deck. Now we could possibly lose it. We took down the sails and turned on the engine. But even at full throttle, we were only making a knot or two. After an hour going nowhere outside the entrance of New Haven Harbor, we swallowed our pride and got some assistance. Towboat US helped to right our dinghy and bring it inside the breakwater. We took it from there. We had limped along with our engine troubles–even in crowded anchorages, in channels–without playing our free unlimited towing card. But the thought of losing the handmade dinghy was too much.
Someone once said that sailing is mostly common sense and some esoteric knowledge. I would qualify that "land" common sense is a bit different than "sea" common sense. Seems like we are getting schooled all the time in what that means.
Act III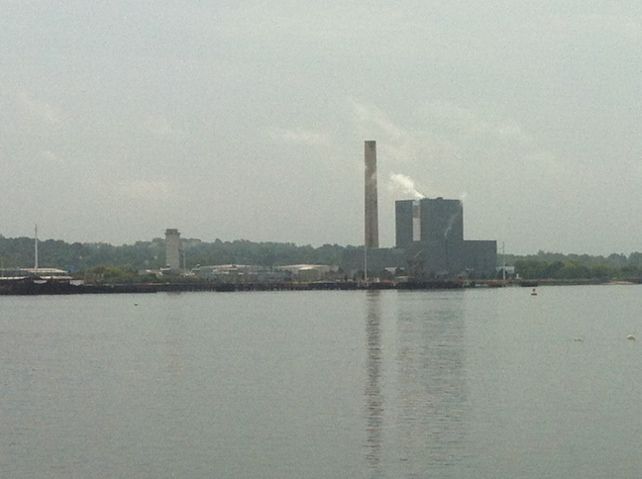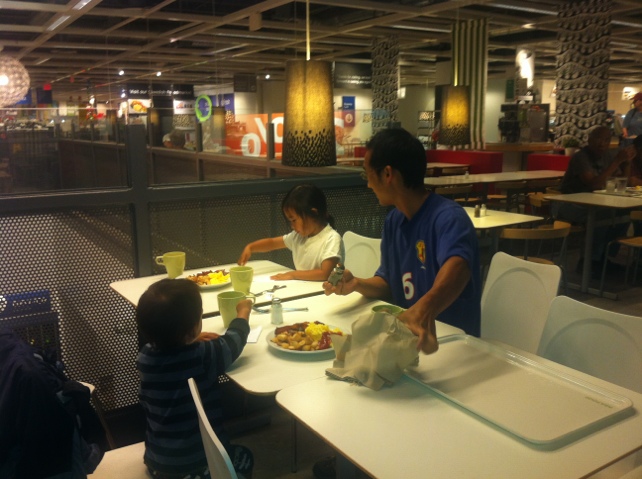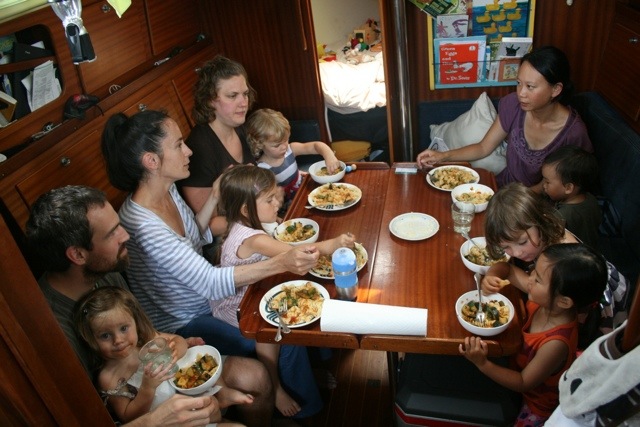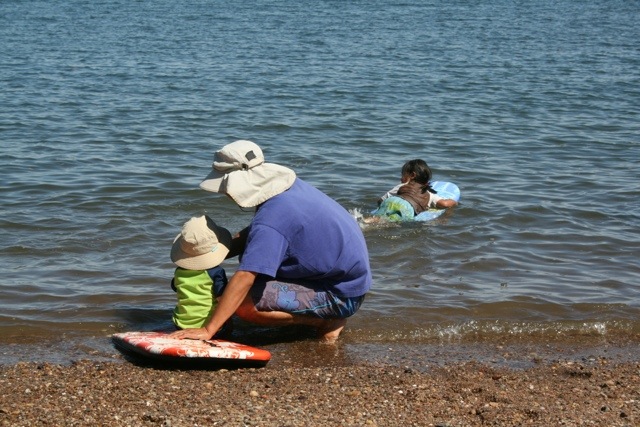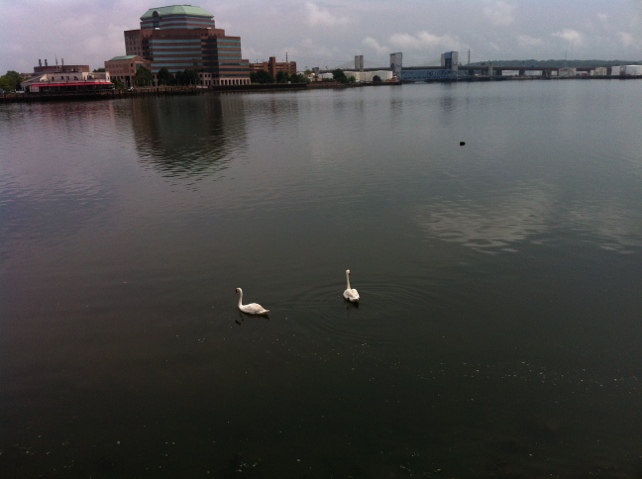 So what brings us to cruise the exotic port of New Haven? A free breakfast at IKEA of course. Just kidding. We actually were planning on skipping the CT shore altogether and do Long Island instead. BUT, I had posted in a couple of Waldorf Homeschooling forums to find playmates for V. Three wonderful and warm-hearted mamas answered from CT. So we had to go!
We met up with one homeschooling mom of four kids ranging from 9 to almost 4 years old. We spent a beautiful day in their little cottage and on the beach. V tried out a boogie board and O mooched a slice of watermelon.
A couple days later, we met up with two families at IKEA (right by the dinghy dock) and hosted them for a playdate and lunch. I was so glad to have other mamas to talk to about things like rhythm and form drawing and resources.
New Haven inner harbor was desolate. Three lonely mooring balls swung in front of an industrial landscape and highway. Like the two white swans amidst the urban landscape, these families were the bright spots of our stop.