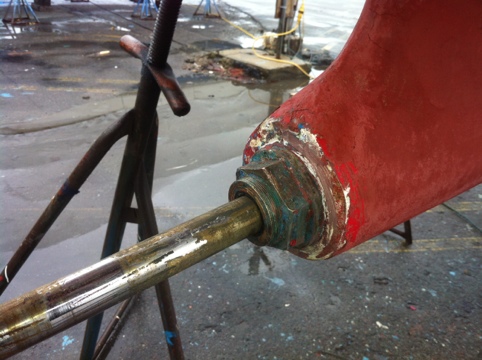 Stuck in so many ways.
Serena is stuck in suburbia with the kids at my parents house.
The boat is stuck on land in the middle of a fenced off yard.
I am stuck unable to sand and paint the hull because of the wet weather.
The old cutlass bearing is still on. We (with the help of 2 mechanics) tried pulling the shaft out, but the skeg & rudder are in the way. The keel tube is too deep to try & put a pipe on the inside and bang it out. So the plan is to lift the engine to slide the shaft in to get at the cutlass bearing. The only problem (ha, if there was only one problem I'd be glad) is the coupling is stuck onto the shaft.
We removed the coupling from the transmission. We tried penetrating oil, heat, wheel puller, etc. In that process, we broke the coupling. (Actually it's a flexible coupling like a drivesaver where there is a plastic part that will take some shock to lessen damage to the transmission of need be.) Anyway, since it's currently broken, a sawzall and grinder with a cutoff wheel is what's next for the coupling.
Ugh.