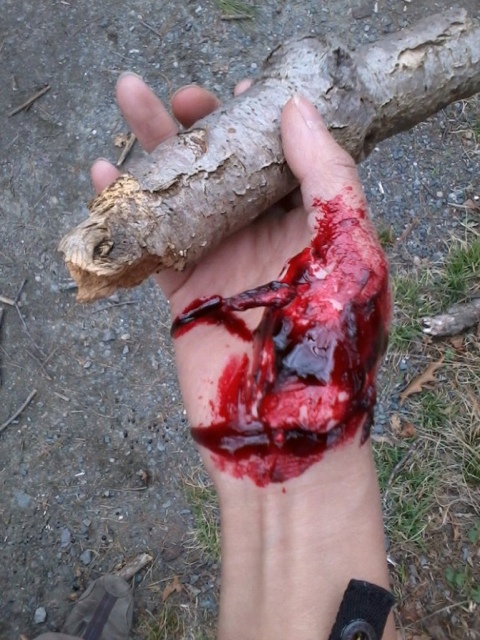 Fake injury: for my Wilderness First Aid training, I pretended to be an incompetent wood carver who sets off a chain of events involving avulsion, digital amputation and an impaled hand.
In his previous work life, Tig was trained in Basic First Aid and CPR, Hazmat First Responder, and Confined Space Rescue. Feeling that I needed to get some first aid training myself, I researched a few options. Our friend Jessica, a former Coast Guard search and rescuer suggested I look into the SOLO Wilderness First Aid class.
WFA (pronounced "woofah") is a two-day course instructed by a SOLO Wilderness Instructor and provides basic level first aid training for short outdoor trips. The course I attended was hosted by Elizabeth Stone House (more information below).
Our instructor, Gerry, is one of those people who live nine lives. In addition to being a SOLO instructor, he is a member of the local high angle search and rescue team that services Acadia National Park and a trip leader, climbing instructor and LNT instructor for an outdoor environmental camp for foster kids. In addition, he teaches wilderness skills from his home in New England, and is working on SOLO training and curriculums in offerings in Nepal. Phew! I get exhausted just thinking about it!
The WFA course is focused on "wilderness" or "extended care," which is defined as anytime a person (who requires medical care) is more than one hour from definitive/hospital ER care. The class covers:
Response and assessment
Orthopedics: Trauma-Musculoskeletal injuries
Environmental emergencies and survival issues
Soft tissue injuries
Medical emergencies
SOAP Notes: patient medical documents
Delivery method was a combination of lecture, in-classroom practice, and a few outdoor role playing exercises (see picture above). At the end of class, we were certified in "Basic Life Support." My understanding is that there will be a "Wilderness First Aid Afloat" type class this summer in Maine. That would have been ideal, but I felt like I learned a lot of skills and knowledge that could be transferred to a marine setting. There was a ton of information and the class was fast-paced.
On the safety equipment front, Tig put in a big order through the Defender sale. We are getting new horns and flares, a medical kit (Adventure Medical's Marine 1000), a ditch bag, a new VHF with AIS built in, and lots of other stuff. Note the sucking sound from our wallets.
——-
The Elizabeth Stone House helps individuals and families rebuild their lives after experiencing homelessness, domestic violence, mental illness, substance abuse and other forms of trauma.  Wilderness Heals is an all-female, three-day pledge hike to raise funds for the Elizabeth Stone House. The Elizabeth Stone House hosted the SOLO Wilderness First Aid class that I attended. Paying class participants enables ESH volunteers to get training to lead the WildernessHeals hikes.