Happy April Fools.
We officially get kicked out of the marina at the end of the month, so I guess the joke is on us. Ha.
Will we be ready in a month? Where will we go? We have our thoughts, but nothing is written in stone.
Here are some of the projects we're still working on that we'd like wrapped up before we cut the docklines
Sail covers – This is Serena's project. But I'll have to get the sails on for her so she can get the correct dimensions to finish cutting and sewing it together.
Autopilot – It took a few weeks to finally borrow the right tool to take off the steering wheel, a 6″ bearing puller. I've installed about 1/2 of the wiring run and already mounted most of the hardware (compass, computer, control head, wheel drive). So I just need to hook up power, wheel drive to computer, mount and wire base station for remote, and then I'll be done. I think…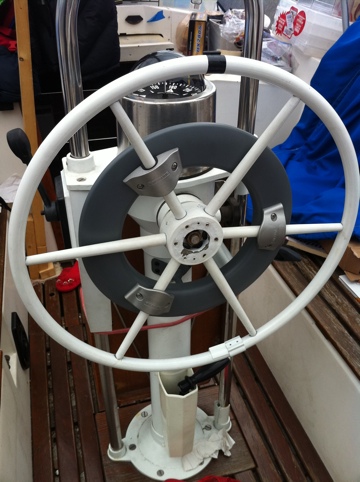 Solar panels – I've ordered all the parts I think I need. The biggest issue is mounting them. I decided to extend the pushpit (stern rail) with stainless steel tubing to the next forward stanchion. Charge controller is mounted and needs to be wired.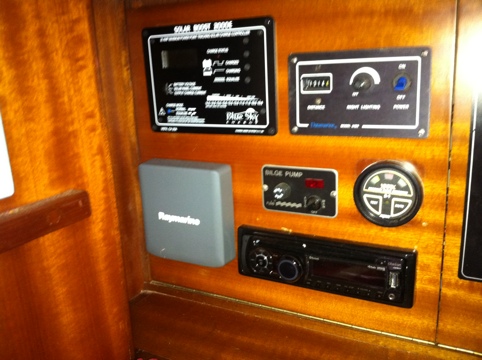 Dinghy – no recent pics. But it's almost good enough to be painted. And since my building partner & mentor now has full time employment, work has been progressing slower.
Plus the myriad of smaller projects like rigging inspection & possible headstay replacement, boat lettering, boat cards, anchor chain addition, holding tank re-plumbing, rebuild water heater locker, galley locker door replacement, shelf for hanging locker, steering protection in storage area, lifeline & gate replacement, etc.
And then there's a haulout needed to replace the cutlass bearing & bottom repainting for next month.
It's gonna be nonstop busy for quite some time.