I've had been dreading the sail inspections this past winter. And for good reason… our stack packs were falling apart. Sure enough, once we took a good look, it was obvious that they needed to be replaced. It looked like a cat had been using them as scratching posts. We debated (around and around, as we often do) what to replace them with given our time and budget constraints. In the end, we decided to make simple new sail covers from a Sailrite kit for several reasons:
:: I don't have the skills to rebuild the Stackpack, and not enough time with two kids underfoot and a dinghy building project underway
:: As much as we loved the convenience of the Stackpacks, the cost of replacing them was too high for our scrappy budget
:: I wanted something that would be easy to repair while underway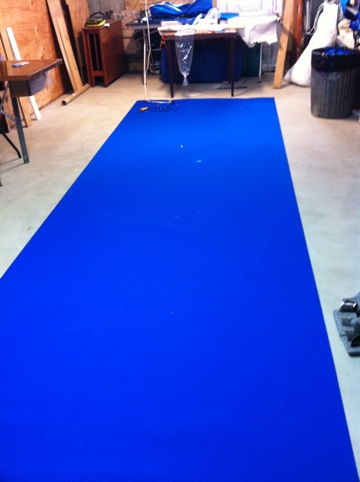 We've been incredibly blessed to have the help of Dick, original crew member of the boat delivery trip back in May of last year. Dick has taken me under his wing and offered his basement work space to start the sail covers. Here is the roll of Sunbrella cloth. You can't see in the picture, but there are pattern lines on the fabric.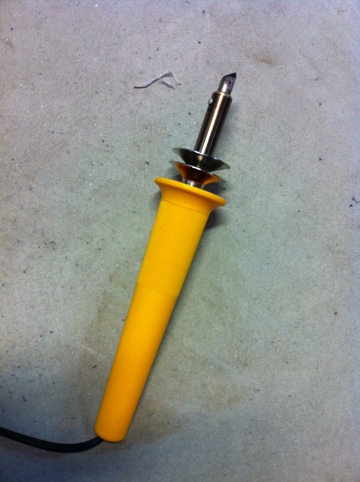 The burning tool Dick lent me to cut the pieces out. This costs about $20 at a hardware store or a Radio Shack, instead of a much more expensive hot knife.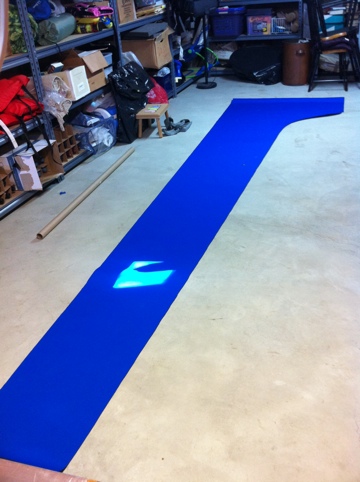 The two pieces of the mainsail cover cut out, one on top of the other. The mizzen sail cover has already been cut and the top seam sewn before.

Dick helped to get the seam started. With all the fabric bunched around, he said it was like "sewing in a bucket."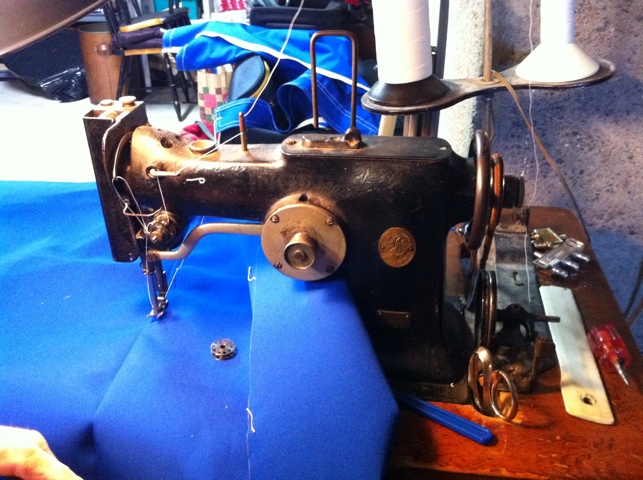 This is his old Singer, that he bought ~40 years ago. He has used it to make his new sails, and more recently, a sail cover (from the same kit). It reminds me of the sewing machine my grandmother has.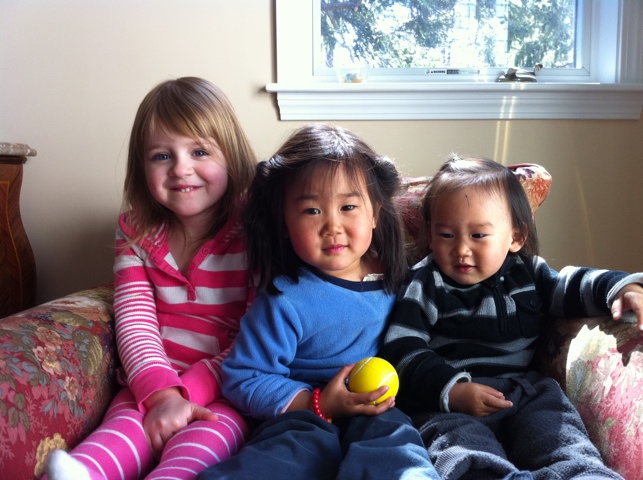 Where were the kids, you may wonder? They were having a great time playing with Dick's granddaughter J. V enjoys these sewing days, and often asks when we are going back.
Only one seam was sewn into place (the top curved seam) for both sail covers. The next step is to fit the covers on our booms before doing any further sewing. That won't happen until the shrinkwrap comes off, though. In other exciting news, I just purchased a Necchi 6018 off eBay recently. More on that, when it arrives.