Two neighbors. Two boats. Two dinghies. One dream.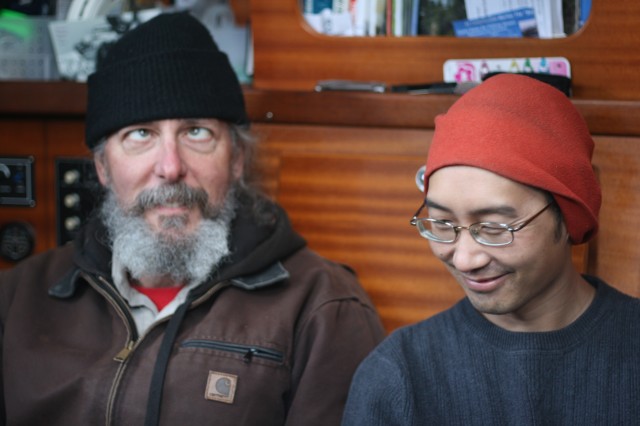 This is Tim. Some people know that Tim and his first mate, Lauren, were our neighbors back when we were all landlubbers. They were the mysterious couple with a dream, one was going to boatbuilding school, the other was learning shiatsu. Over the years, we got to know them better. We watched them sell their house, their belongings, and buy a Tayana 37.
Fast forward to the present. We both have sailboats, live at the same marina, and are getting our boats ready for cruising. Tim and Tig hang out…a lot. In our basement. Well, they're not just drinking beers in the man cave, they are building two nesting dinghies.
Pop Quiz: Where does one fit a hard dinghy for four on a 32 foot center cockpit ketch?
Give up? We did too.
Wildest Dream came with an inflatable Avon dinghy. We made a good faith effort to enjoy it during our first sailing season, but we didn't particularly like it. Although we liked the stability of an inflatable, it was heavy to lift (especially for the hundred pound first mate), hard to inflate on our tiny deck, and hard to row. We like the simplicity of a hard bottomed dinghy–I heart the Fatty Knees. Even better would be a nesting dinghy, so that I could handle each half without hurling profanities.
So when Tim shared with us the plans he purchased for a nesting dinghy, we made a proposal: we offered our basement as a workshop in exchange for the opportunity to build our own dinghy along with him.
The best part about this arrangement: Tig has the expert guidance of someone who went to boat building school and actually knows how to build boats.
Progress report by tig: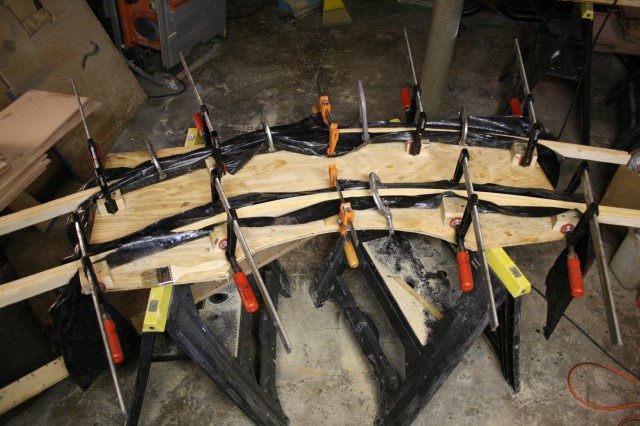 2″x4″ stock lumber (I think spruce) was cut into strips and then laminated with epoxy and curved along a mold to form a nice curve. A total of 5 strips made it about 2″x2″.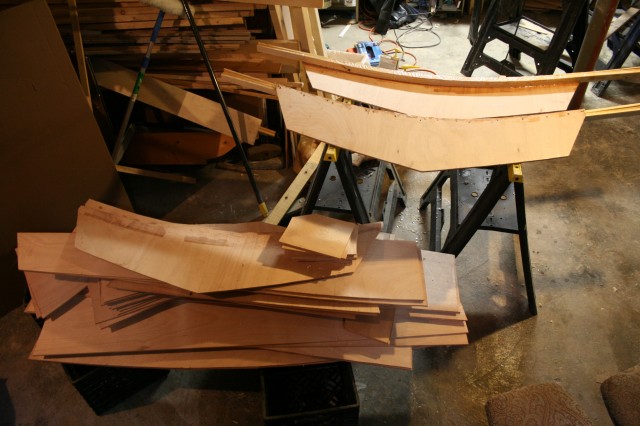 Laminated strips attached to the mating bulkhead, or the interior wall of the nesting dinghy. All the other pieces of the dinghy have already been cut and seen at the bottom.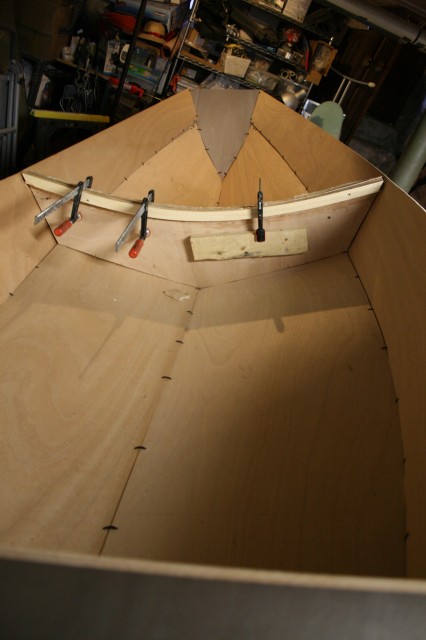 All the pieces have been "stitched" together using nylon cable ties (black). Mating builkhead with laminated strips in the middle. For those who don't know much about boat building (including me), this is the "stitch and glue" method. We're using cable ties as stitches and 2 part epoxy as glue.