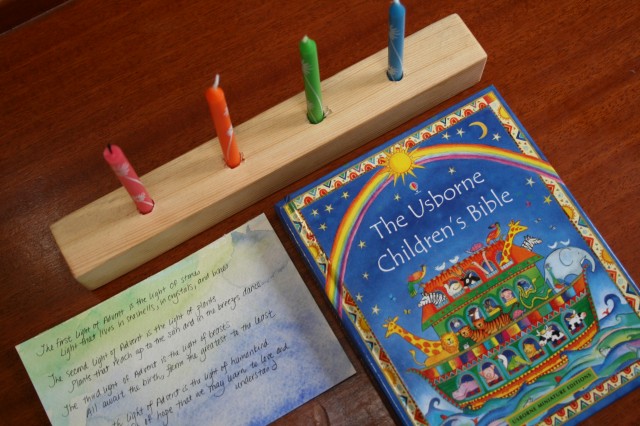 I've been thinking about the busyness of the holiday season, and about paring back to the essentials. On one hand, Tig and I are lucky in that we can build our traditions from scratch. We do not have any "religious baggage" to deal with, we don't send out cards, can't go to many parties, and we are pretty spare in our gift giving. On the other hand, we cannot fall back on the comforts of nourishing traditions.
We are still feeling our way through each year, but this I know: holiday celebrations need to be simple but meaningful, and portable. Here are a couple of things we are trying this season.
Advent
One tradition we started last year was loosely based on the Advent wreath. This year, Tig made a minimalist wooden candle holder, and we used the birthday candles we had on hand instead of buying special candles. I have a card with (supposedly) Steiner's Advent verses written on it. We light one candle starting on Sunday for week one, two candles on week two, and so on. As we light the candle(s) each night, I recite the corresponding verse from the card. Then we read a page or two from our USBorne Children's bible (a thrifted find for a dollar) about the birth of Jesus before blowing out the candles and eating dinner. We repeat the same few pages every night for a week.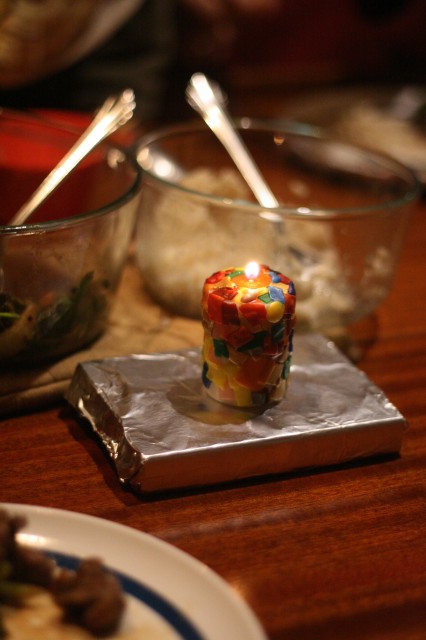 This year, V decorated a beeswax candle at a Waldorf School Holiday Craft fair.  It was so beautiful, I wanted to make it part of our celebration. We lit it the first night she brought it home, then put it away for Christmas Eve when we will light all four candles plus her special one. For the twelve days of Christmas, I plan on lighting her candle and teaching her one verse from the song "The Twelve Days of Christmas."
Although we as a family don't practice a particular faith, we decided that if we were to celebrate Christmas at all, it would be better to honor the story behind it rather than worship at the altar of materialism.
Our other focus is on celebrating with our extended family, to enjoy the warmth and love from grandparents, aunts and uncles. I often wonder how we will surround them with this protective "village" when we go cruising? I'll be watching Forgeover, Del Viento andWondertime closely as they navigate their first cruising holiday.
St. Nick's Day on a sailboat
A Christmas tree is not easy to obtain in the Caribbean, but we can celebrate St. Nick's Day wherever we are. St. Nicholas is the more austere, European version of Santa Claus. It is a popular celebration in many Waldorf homes, and I've gotten inspiration through other blogs (see here andhere).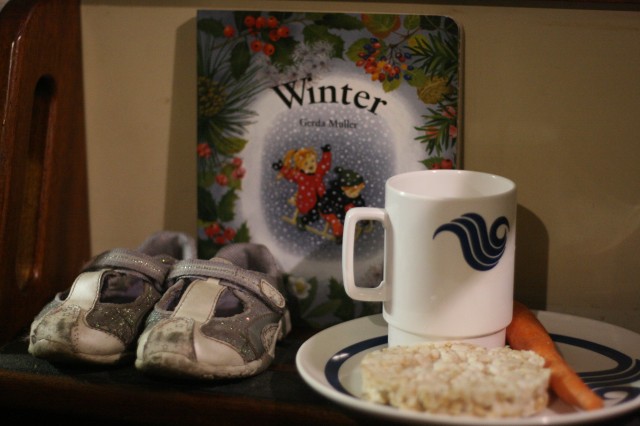 On St. Nick's Eve we set up V's shoes on the companionway ladder. We added a cup of milk and a rice cake for St. Nick–we haven't introduced cookies yet, maybe next year–and a carrot for his horse. V was excited by the idea that St. Nick had a horse and insisted on getting a carrot out herself.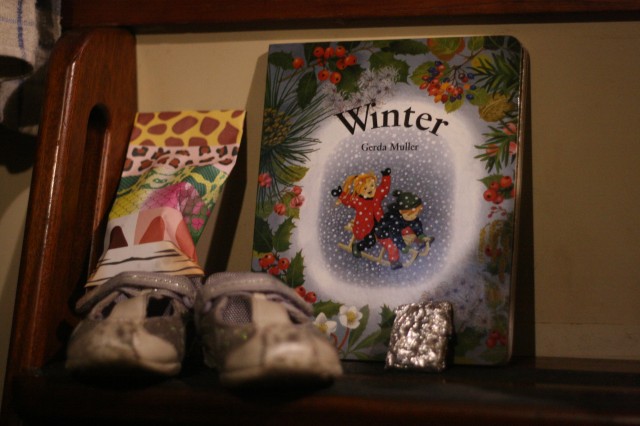 As soon as she fell asleep, we sprang into action and wrapped up her knitted animals in one package, and some dried fruits and nuts in another. I also included a small bar of chocolate wrapped in foil as a special treat.
The next morning, I could hear her voice as she came our of her cabin, "Look, St. Nick left some presents!" Then she looked more closely and said excitedly, "The horsie ate the carrot! I didn't hear it last night." Her exclamations were so sweet and cute, it made me grin. I decided that St. Nick's Day was a success and added that to the sv Wildest Dream roster of holiday traditions.
Simple, meaningful and portable. How do you focus on the essentials as you go about your celebrations this holiday season?