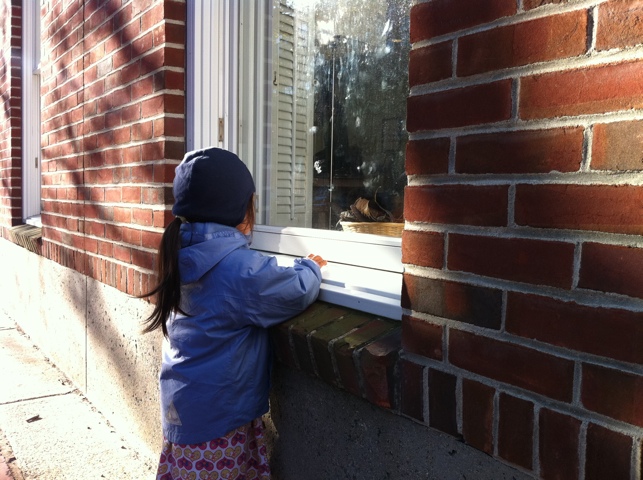 V has been peering into the windows of a local nursery school every time we pass by. When I asked her if she wanted to go to preschool, she answers "No. I want to do preschool at home. I just want to check it out." So in addition to the things we are working on right now, we are attending a few Open Houses to get a sense of the different educational approaches and to get ideas. I wanted to share a bit about our process and where we *think* we are headed.
Surveying the landscape
There are so many educational philosophies out there, I could easily become overwhelmed by the sheer amount of information. One of the most helpful things I found was GlobalMama's series, Hunting for a Preschool. She researched and distilled some key points of each of four major educational philosophies and shows a sample "day in the life of" a preschooler in that particular environment. She covers: Montessori, Waldorf, Reggio-inspired, and Charlotte Mason homeschooling. Each post lists resources at the bottom for parents to research further. From these writeups, I was able to intuit which approaches might work well for our family. We considered unschooling but both of us felt the need for more structure.
The next step was to attend a few open houses. Last year, we went to two Boston Public Schools to see their kindergarten classes. One was a conventional large city school and the other was a smaller, more intimate school. This year, we wanted to explore the private preschools in the area.
Kicking the tires
We visited several open houses recently: a Waldorf School in late October, a Reggio-inspired school in November, and a Montessori school in December. Here are a few things that we focused on in our tours:
The "soul quality" of the environment. Which environment felt nourishing and aligned with the feeling that I was trying to create in my own home?
How the space was organized. For example, the Reggio-inspired coop preschool had some great ideas for organizing materials. Arts and crafts supplies were neatly arranged on shelves and toys were organized in natural fiber baskets labeled with pictures of it contents. It was a wonderfully inspiring space.
How materials-intensive the classrooms were. Because we have extreme space limitations, we are looking for an educational approach that does not rely on a lot of stuff. For example, the Montessori approach seems to require a lot of materials (such as the pink tower, math rods, sandpaper letters and math beads) to teach specific concepts.
How the teachers "held the space." Who would I like to emulate? What type of teachers would my children respond well to? Each school had their own distinct flavor of teachers. For example, the Waldorf school teachers often had an air of tranquility and composure about them that I knew from my readings, was the result of a lot of inner work.
The educational curriculum and philosophy. This is hard to grasp in a short visit, but I had done some readings on Montessori approach, as well as some of Rudolf Steiner's lectures, so I had a very basic understanding of their approach. I have much less understanding of the Reggio philosophy. All of the philosophies are play-based learning, which fits in with our own views.
Narrowing it down
At the moment, I'm leaning towards a Waldorf/Charlotte Mason combination for our home/preschool environment. I have to do some more homework on Charlotte Mason, but we both like the fact that CM advises that young children spend hours and hours outdoors and in nature–something I think the other schools don't provide enough of at this age.
One last note, this is an evolving process. Nothing is definitive; we may change our approach, or even decide to enroll our children in conventional school someday. But we will always try to make thoughtful decisions about their schooling, and with great care.