It's done. Snug as a bug. Even the door is on. You can see me working on it in the pic.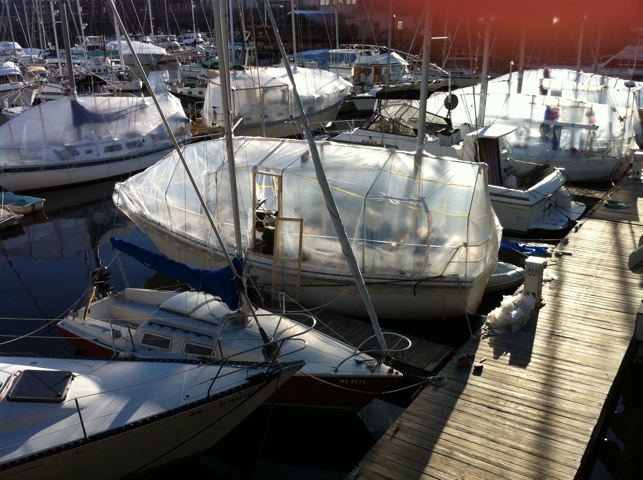 A huge burden has been lifted. It's still early in the winter season, but we're the last small-child boat to be wrapped. And as of the end of October the "electricity meter" has been turned on and it feels like we've been running the electric heater constantly. With the sun, the deck of the boat gets nice and toasty. I don't really enjoy the sun setting so early, especially with the recent time change, but at least I got an extra hour of work done. It would have been nice to sleep in, but the kids don't seem to care about daylight savings.
Last week I finished shrinking with the heat gun. There's definitely a bit of a learning curve. My first few attempts are pretty wrinkly, but still tight enough. Working with the gun and the plastic can be pretty tricky. When heating the plastic, it first expands and gets wrinkly and then less than a second later it shrinks. And if you leave the heat on too long (about a second) a hole forms and then you have to take out the repair tape (talking from experience). I got a tip from a fellow boater to shrink at night. That way you can see the flame when you work.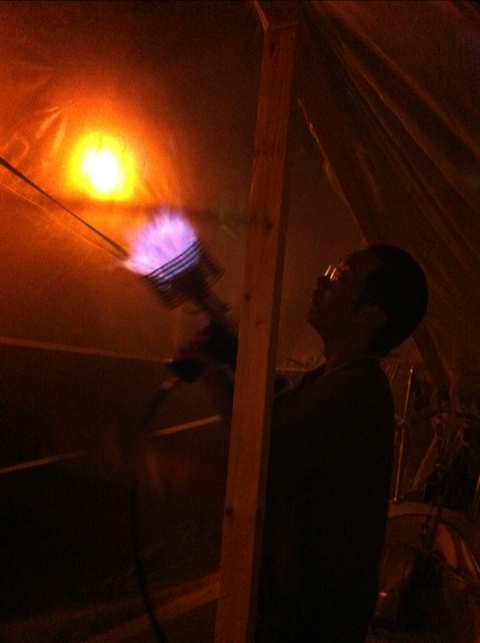 Since it seems like I've been working on the frame and the wrap for the past month, many people have commented on my work. I know they're all being nice when they say it looks good. It's not my proudest achievement but hopefully it's functional.
Now I just have to help all the others who have helped me.