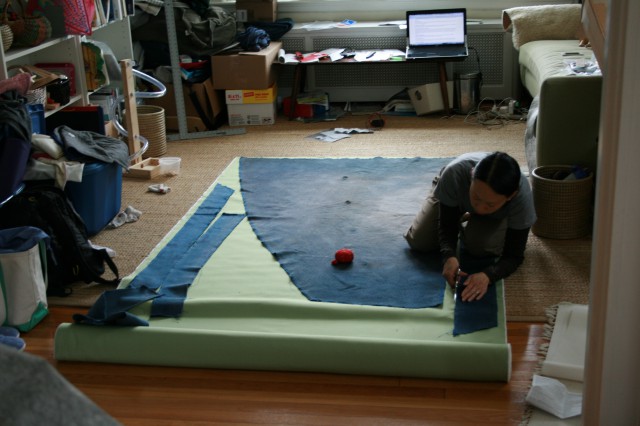 The berth cushions stank of diesel and mildew…
Tig took them home and piled them up into the corner of the living room while we strategized. Soon the air was thick with a damp, moldy smell. Out they went onto the back porch. At the New England Boat show, a mattress maker estimated $2000 for a custom-made queen V-berth mattress–our entire furnishing budget for the boat! We decided to figure it out on our own.
It was a wash
First I stripped the blue corduroy upholstery off and washed them. Several buttons were rotted through. One crumbled in my hand, leaving brown metal rust crumbs. The zipper was also rusted and many of the metal teeth broke off. Since the upholstery was going to be covered by sheets, pillows and blankets, I wanted to salvage them instead of recovering. But after washing them with vinegar, non-chlorine bleach and detergent several times, it still smelled.
Next, I looked at the foam itself. It was mottled and discolored, with the same mildew/diesel smell. I couldn't bear to think of my kids sleeping on it. Just as I was contemplating repurposing the two IKEA twin mattresses in our guest room, Kelli from Shantih wrote into the local Liveaboard Forum in response to my inquiry:
IKEA sells foam mattresses. We bought a twin for the 1/4 berth, 2 twins for the Vberth. I cut them down and into proper shapes with an electric turkey knife (cuts through foam beautifully!) Both beds for under $600, fresh new foam.
Our friend Chris, who lives on a 39′ Jeanneau wrote in about his experience re-upholstering his cushions:
I made the covers myself. I took apart the old covers and used them as patterns for the new fabric. Not a small project but one that is not terribly hard if you are detail oriented and have minimal sewing skills.
Using the existing foam cushion as a template, I cut a new foam mattress. We also took apart the faded corduroy covers to use as a pattern.
Making the covers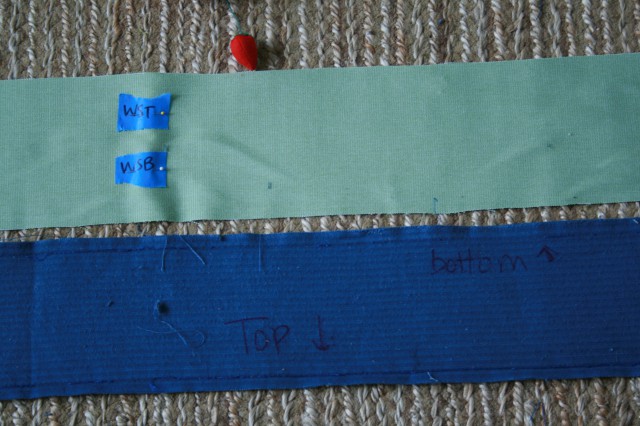 I labeled the pieces to keep things straight. The fabric above is the Sunbrella Canvas line in Pistachio. Notice how I labeled the above piece wrong? It came back to bite me later.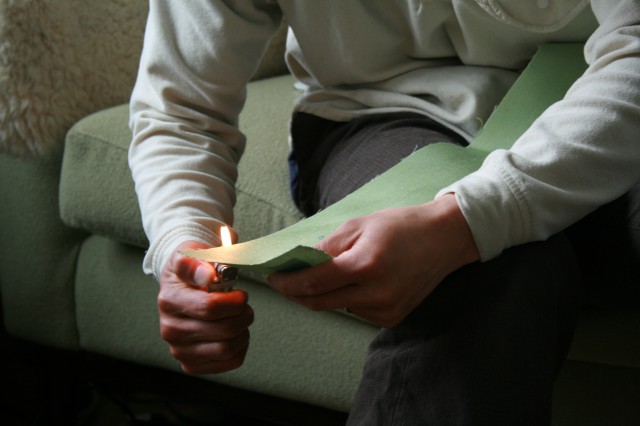 Tig helped me burn the edges of the Sunbrella fabric while I cut the pieces–we don't have a hot knife.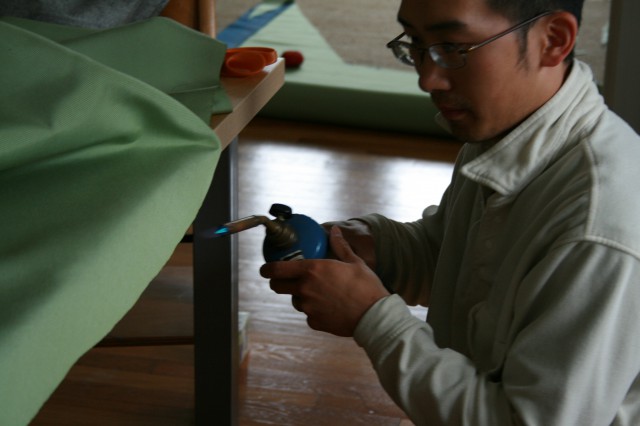 He found using a lighter so frustrating that he pulled out the big gun, a blue flamed propane torch, which gave a more precise burn.
I forgot to mention, I took the week off of work (Tuesday through Monday) to help out with boat projects and to work on the upholstery. During the day, I take care of lil' man O and help Tig. At night, he helps me out with the sewing and deals with the kids who seem intent on night-waking. It's going to be a long, hard week, but hopefully it will push us forward and closer to living aboard.