Let the endless throwing of money into the fiberglass-lined hole in the ocean begin!
After closing on our boat a couple weeks ago, we are already knee deep in boat projects. Here's what's on our plate currently:
Move boat to Boston.
Replace batteries.
Replace cushions and upholstery in sleeping berths.
Clean out lockers.
Inventory all boat items, spares, tools, etc.
Put up lifeline safety netting
Rig something to strap child carseats into cockpit
Fix propane system and get hot water heater working
Install 12 volt cigarette lighter receptacle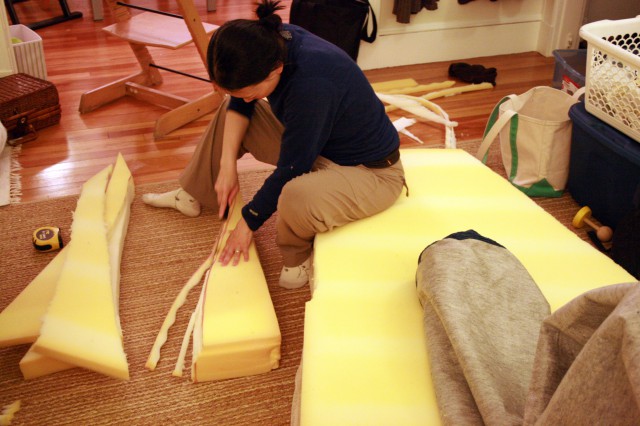 Here's Serena already hard at work on the berth cushions and upholstery after the kids have gone to sleep. We're deconstructing the old cushion and using the fabric as a pattern. For the new cushions, we're recycling an existing Ikea mattress foam (cutting it to size) and salvaging the zipper.
As she finished ripping out the zipper, she said "The zipper's end is wet. Why's that?" And after looking down at her feet, she realized the end was dipped in a potty of pee. "Aargh!"
Welcome to our life.