Tim said to Tig the other day, "Serena really stirred the pot with her post on the Boston liveaboard forum."
I sat up straighter. What could I have possibly said to stir the pot, I wondered? All I did was introduce myself and said that we were looking for a sailboat. We went on-line and checked the thread. Turns out people went off on a tangent debating shrinkwrapping. Phew! On another note, I did get some private email messages welcoming us.
One of them was Chris, who lives on a Jeanneau 39 DS invited us over for breakfast, and that's where we went this Saturday with kids in tow.
I didn't bring our camera, but his boat pretty much looked like this!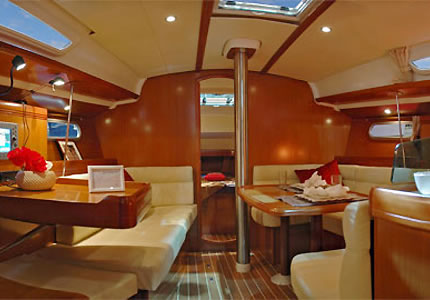 Seriously. It was beautiful, built in 2007, but still had a new boat smell.
"Isn't this a nice boat?" I asked V.

"Yeah."

"Well, ours isn't going to be this nice," I said, trying to set expectations early on.
Chris is a minimalist. He hardly had anything out on the deck or inside. He doesn't even have a storage unit. During the summer, he likes to be able to leave the dock in 15 minutes. Despite the beautifully kept interior, the boat was very kid friendly. Chris has a five year old son, and was so understanding of our toddler and baby.
We spent the morning getting up to speed on each other and got some good tips on living aboard
Figure out the heating situation if we're spending the winter in New England. Chris has an Espar hot air system.
Fleece sheets don't get clammy
IKEA mattress slats underneath the berth mattress helps with condensation
He tries to keep the electrical system on DC as much as possible to keep things simple
No boat projects during the all too brief summers here; summer is all about sailing. During the winter, he works on boat projects
He has an old metal singer sewing machine that he uses to make various projects around the boat, including some bags to hold lines in the cockpit
Other items we admired were the rope LED lights in the main salon and a Magma grill on deck.
Thanks for having us over, Chris! We look forward to sailing with you this summer (fingers crossed)!