On Saturday, Tig was making a leisurely breakfast of blueberry pancakes and a green smoothie. The Scanmar 35 owner had pulled out of the scheduled visit on Friday, so we had a whole day ahead of us. While I was eating my usual over easy eggs, our broker called. A Wauquiez Hood 38 was available for a showing. Our lazy Saturday morning became a scramble as we packed the kids into the car.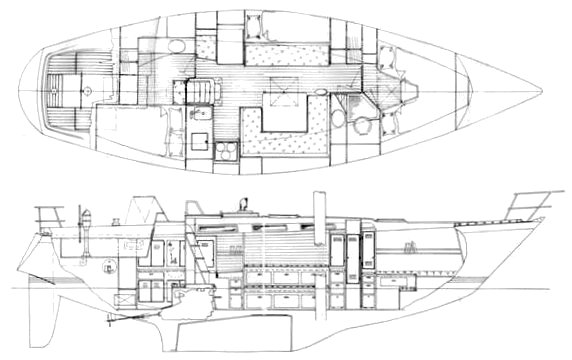 The broker was shoveling snow off the boat when we arrived. A young man in a car next to us greeted us before driving off; I later learned he was the owner of the boat.
There was a lot to like about this boat: a roomy main cabin, aft cabin, v-berth, new Hood sails, draft not too deep, longer keel. But there were a few issues:
One, this boat was the M1 version; it has a submarine hatch with its own dodger instead of the more common companionway from the cockpit. You have to climb over the cockpit dodger to get to the hatch. Two, the teak decks–they are in good shape…until the day they are not. Some people love it, but I am not a romantic about wood. With two young kids, I don't want to have to worry about teak decks. Lastly, a galley that is too small. The Pretorien had a bigger galley.
So the hangup is really the submarine hatch. I talked to a few people and posted on a forum.
Here are some questions for us to consider:
Do we like it? I'm personally neutral, but that may be because I don't understand the ramifications of having it.
Are we comfortable with it? Are we agile enough to maneuver? I consider myself pretty agile, as is Tig. We are not very big people and can get in and out of spaces pretty easily. One person warned me, "I've watched kids climb in-and-out of a companionway while the boat is underway and how many times they've fallen as they go out or in. Falling down into the cockpit is nothing. Falling off the top of that cabin and overboard is." Hmmm.
Is there anything about it that will hinder us or be unsafe? One experienced sailor said to consider whether a particular feature would give me incentive to either be sloppy or not do the right thing. The inconvenience may cause me to stay below deck more. Climbing over the cockpit dodger when underway seems unsafe to me, but that can be removed.
Do we plan on blue-water crossings? Long offshore passages? Anytime soon? Definitely not in the next few years; possibly 5-7 years.
Am we okay with getting in-and-out in what will be rough conditions? This one I don't have an answer to because we haven't been in really rough conditions, companionway or submarine hatch.
Another approach is to consider the design objectives of the boat. One wise person said:
It isn't just the hatch. The hatch is what you notice. All designers are striving for a particular [Statement of Requirements] that they have in mind for a group of people when designing a production boat.
He went on to posit that the boat was likely optimized more for higher latitude cruising (rather than the tropics) i.e. the Labrador coast and Greenland where there are plenty of shallows and bad weather.
This boat carries a lot of sail and has a high ballast ratio. My suspicions are that this boat is designed to heave too rather than sail in conditions above about 35 knots of wind. That being said you put up a storm sail or no sail at all, lash the tiller and seal yourself in below. The boat has a very high volume in the deckhouse structures that will insure near positive stability when inverted. This boat could literally roll over in heave too mode and roll up without getting water inside. She can also take a huge wave pooping astern without much damage or downflooding.
With respect to working on deck with such an arrangement:
…pictures and words don't necessarily translate into unsafe or unworkable arrangements. Again, what did Ted Hood intend with this design?
Lots to think about but it is likely that this boat may not be the one…