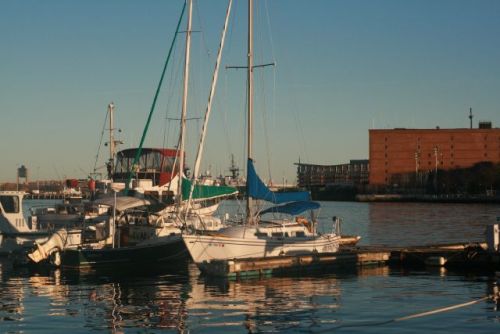 This weekend we visited two more sailboats thanks to Lauren's efforts (she has been the biggest cheerleader of our crazy plan). First, we looked at a 42′ Catalina. The owners, who were not there when we  dropped by, were moving to land to start a family. Hhhmmm, a boat for apartment swap for a year? The Catalina had spacious accommodations: three cabins, two heads, a port salon and starboard galley. Beamy, newer and in good move-in condition, but out of our price range.
We also toured Doug and Evelyn's 50′ Gulfstar ketch. They were getting it ready this winter in preparation to launch for Greece next year. (Oh, the beautiful Greek islands, I would love to visit you someday!) It was beautiful and seaworthy, with a huge engine room accessible from two sides. There was even a washer/dryer combo on board. Four solar panels have been installed with two banks of batteries. They use one bank while the other is charging. As with most liveaboards, Doug and Evelyn did most of the work themselves.
Evelyn showed me her 1970s sewing machine stowed under the salon settee. She made all the cushions and cushion covers in the salon, the magnetic porthole covers. "If you mention the word sailboat to any fabric place they'll say 'oh, we don't do marine fabrics' or they'll point you to two fabrics, one with anchors and the other with palm trees." She repaired a sail that would have cost thousands to replace and made the bimini over the cockpit, saving another several thousand dollars. The book she  recommended was Canvas Work and Sail Repair by Don Casey.
Some other notes: the mast was painted with airplane paint, which was expensive but much easier to apply than the boat paint. She also gave us a tip to look at stores that sell to RVs.
"You read a lot, ask questions, and just try things out," she said. Thank you, Evelyn and Doug for letting us crash your place!
Then John, Kelli and their four-year old son Seth showed up. We had arranged to meet and went back to Lauren's boat to have a chat over lunch. They live on a 36′ Morgan, which they purchased a year ago. Prior to that, they were living on a powerboat and have been living aboard since Seth was one. Neither had much sailing experience before, which was encouraging to us as we have very little ourselves.
Their boat has a quarter berth for the little one, but someday they'll have to trade up to give him a little more privacy. We're thinking that if we want an inexpensive starter boat, one with two quarter berths and a master cabin will be suffice. We talked about meeting other children, the parks nearby, education (homeschooling is an option), where to get affordable supplies (not West Marine).
Thanks, Jon, Kelli, and Seth for sharing your insights. We hope to get a tour of your boat someday and catch up some more.
In other news, s/v Rubicon is going to dock in a few days. A family of four on a 33′ Ebbtide, including a two-year old and four-year old. We're dying to meet them someday!