In general, I don't like to tell people that I studied interior and textile design in college, because it gives the wrong impression that I'm qualified to advise on their renovations project, or even worse, wall colors. Because usually, I go with plain, boring white.
Our first remuddling project, a duplex, was pretty much all white (Devine Whip and Devine Vanilla, to be precise) with the exception of the guest room/office, and the bathroom. And this house seems to be trending in the same direction.
Tig, who knows me all too well, jokes that my decision process usually goes like this:
Get a bunch of paint chips from the store
Debate about said paint chips for hours
Paint a few swatches on the wall
Decide to use Sherwin Williams Pure White instead
Yup. I'm guilty.
I can't help it. I love a clean, fresh canvas to work with. And color seems to give me anxiety.
Our current paint palette
Right now, our living room and dining room is painted with Sherwin Williams Pure White, though I'd like to change that to a creamier white in the future.
The bathroom is also Pure White with a few accent walls in Sherwin Williams Nurture Green. Finding an accent color was easy because I matched the paint to the green glass tiles.
For the kitchen walls under the dropped ceiling, I used a Sherwin Williams paint that was color-matched to Colorhouse's Beeswax .01. (I tend to use SW because they have the Harmony No-VOC paint line and they are less than 5 minutes away from our house. The store also keeps all my paint information in their system, and I often get 30-40% off coupons, so the whole setup is very convenient.) The selection process was intuitive and easy. I just saw the color and loved it. So far, I have been very happy with it.
The mudroom paint dilemna
As with the rest of the house, most of the mudroom walls are SW Pure White. However, I wanted a few accent walls in the area right before we enter the house, where we take off our coats and boots. In my initial concept drawings I played with mudroom cubbies painted a soft blue. I also had one version in plain pine boards. The design itself is a variation of an Anna White plan.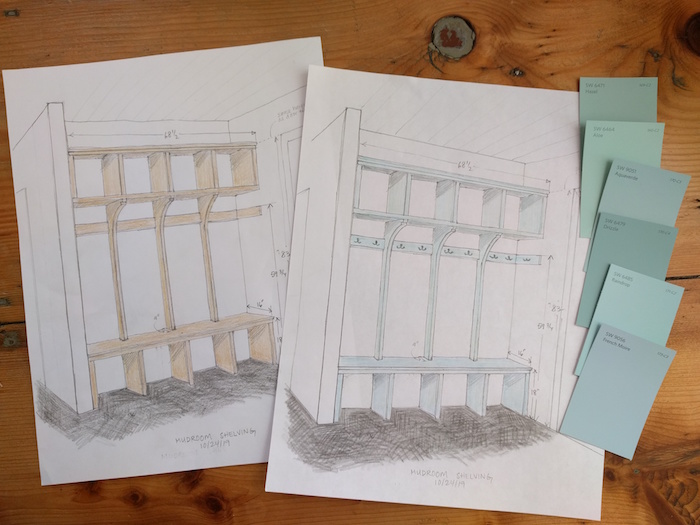 Then I poked around the interwebs for some paint advice and fell into some deep rabbit holes. (This might be painful; you've been warned.)
My notes from Farrow and Ball's website:
North-facing rooms: strong dramatic colors, lighter colors, avoid green or grayish undertone, use yellow-based colors
South-facing rooms: pale, soft blues, fresh white woodwork for a crisp look
West-facing rooms: white walls, neutrals (cool light in the morning, dramatic light in the afternoon)
East-facing rooms: greens or blues like pale duck eggs
Then, looking to one of my favorite inspirations for home decorating who happens to be brilliant with colors, I found different advice. My notes gleaned from her paint discussions:
Dark rooms are going to be dark, go with rich, jewel-box colors. White in a dark room reads dingy and gray. Add more lighting, most people don't use enough lighting in their homes.
Eastern and southern rooms can take colors that west and north rooms don't love.
North-facing rooms: (moody and dark lighting) dark blues, charcoals, and blacks.
South-facing room: warm, natural clay, fire colors.
From there I went down a rabbit hole of feng shui (風水) and bagua (八卦) colors…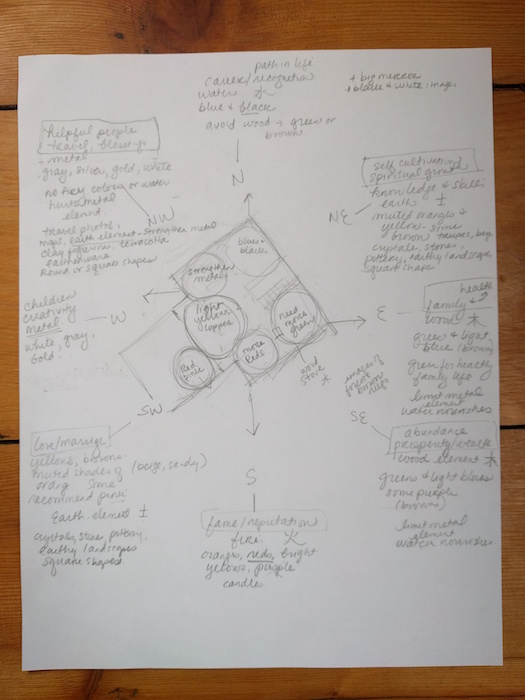 The mudroom faces South-Southwest (fire and earth element). I confess I've never put much stock in what seemed to be a woo-woo field of study in the past, but this space seemed to call for a warmer color.
Which is all to say that I pivoted from my original idea of blue cubbies.
I decided to go with a reddish-pink terra cotta color in accordance with my "research," a color that I've never used before. And instead of painting the wood, I decided to paint the three walls in this area leading right up to the door.
The lineup
My candidates for this pinkish terra cotta were Colorhouse Clay .07, and an assortment of Sherwin Williams paint chips in Reddish, Coral Clay, Rita's Rouge, Coral Rose, Memorable Rose, and Henna Shade.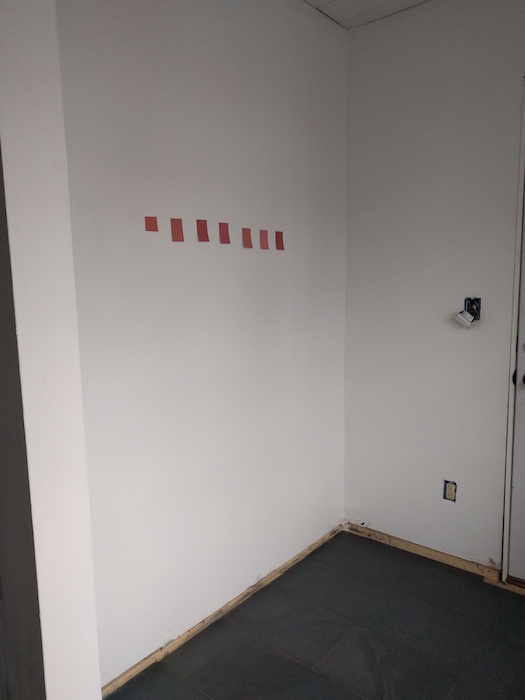 Tig was shaking his head when he saw the paint chips go up. He probably thought I'd cave and keep it white. And he was probably right.
Knowing that picking colors was a dizzying proposition for me, I needed a system. So I set up a worksheet on Google Drive.

Across the top were the color candidates, and on the left hand side column were different times of the day and lighting situations. From there it was easy to make notes and eliminate some of the colors.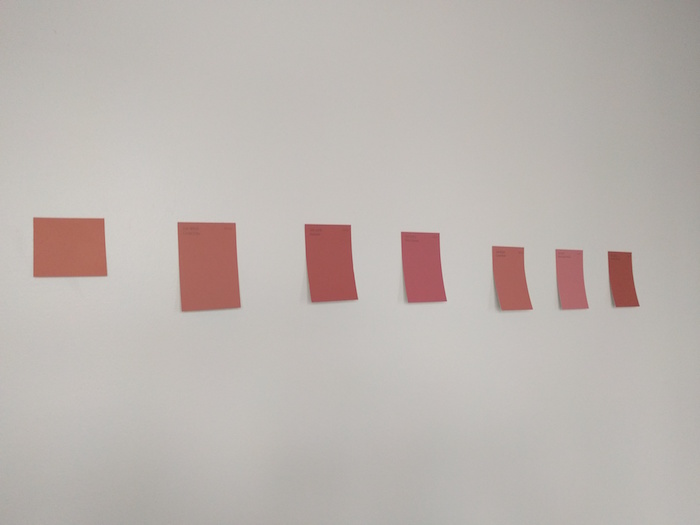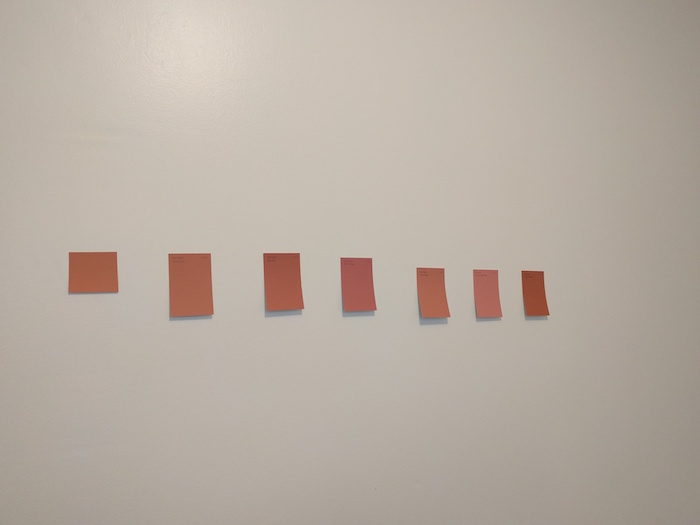 SW Rita's Rouge and SW Memorable Rose were immediately out of the running for being too pink. CH Clay .07 was too orangey, and SW Reddish and SW Henna Shade were a touch darker than I would like. My intuition also gravitated SW Coral Clay, so that emerged the winner.
Paint anxiety is a real thing
Then I went ahead, got the paint and started painting. Did I paint large sample swatches like everyone advises? No. I just went ahead and did it–I don't recommend this approach, btw. As soon as the paint brush hit the wall I started panicking; an honest to goodness first-world-problems anxiety moment. But I kept going and completed my two coats.
It took a few days to get used to it. And once Tig put pine trim around the doors, I really liked it.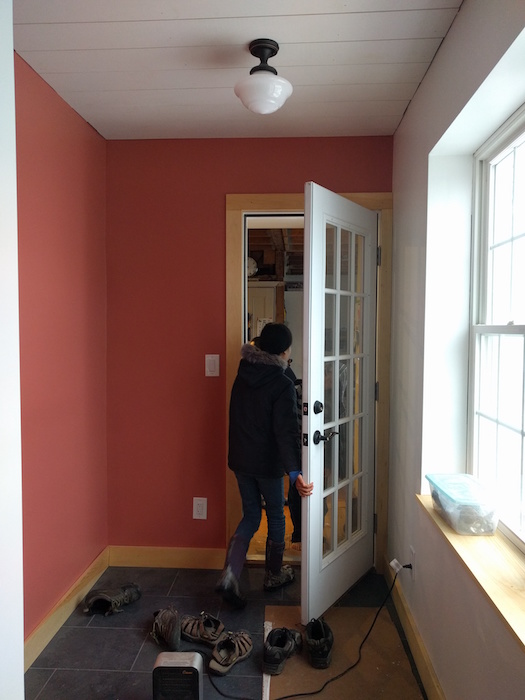 It's a warm and inviting color that's not too orangey, not too pink and not too brown. It changes color throughout the day and also between days, depending on the weather. Best of all, it makes the alcove a distinct space from the rest of the mudroom, and welcomes us home.
Now, where are my cubbies?