A comment came up on a Facebook Group that I follow. A member wrote:
"I had no idea what an effort it would take for me to support my child's learning. A lot more than I thought it would. But I absolutely loved it and learned a lot about myself in the process."
I posted a question:
"For unschooling parents with children still in the house, would you mind sharing the different ways you supported your child(ren)'s learning today? Not a typical day. Just today."
There were many and varied responses, and it was interesting for me to read. I'm not tied to any labels right now, but if I had to describe our way of learning right now, maybe it would be project based homeschooling or life-learning. At any rate, I thought it would be nice to record one day for posterity. Someday we might want a trip down memory lane.
Morning.
Breakfast. I made oatmeal, but V and O wanted granola, so I prepared each a small bowl. After that they had some oatmeal.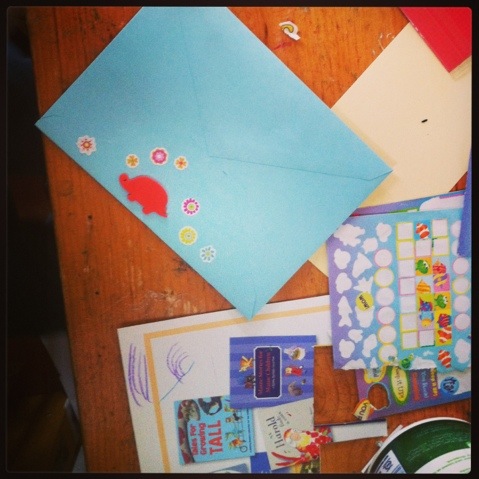 V wanted to make cards for our friends on Boston, so we spend the morning making cards, decorating them, and writing in them. V wanted to write in a few of the cards, and asked me to spell out some words for her. Then I addressed the envelopes and she put the stamps on them. We put them aside for a trip to the post office later in the afternoon.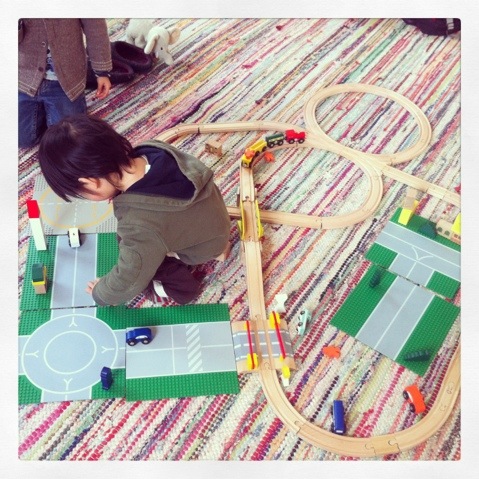 O wanted to play with his new train set, so I helped him build a train track. V and O played for the rest of the morning.
Both kids wanted to have some of their lollipops today, which they purchased with their own money at the New England Aquarium (they thought it was funny that the lollipops were lobster-shaped). They spent the rest of the morning playing and eating their lollipops. (This is not typical, we are not radical unschoolers, but I do believe in being flexible and intentional with our choices.)
I heated up some breakfast sausages for snack. They ate and then played some more. I noticed a Kid's Discovery magazine lying on the floor. It was about the Ice Age and had the words "La Brea Tar Pit" on the cover. It reminded me that I needed to look up the La Brea Tar Pit museum for our California trip. V wanted to look at their website with me so I made a note to do that in the afternoon.
Noonish.
I made some peanut butter and jam on wheat crackers for lunch. After we ate, I did the dishes while the kids played some more. Then we went outside. V played a game where she picked up "shadow snow" and threw it around.
First stop, the post office to mail out the cards.
Next stop, the bank. I paid the rent early, since we were out and about. Tig called and reminded me to use cash to give V and O a bit more exposure to tangible money. The bank teller gave O two stickers to share with V. They immediately start arguing over one sticker. I tried to help them come to a resolution. V agreed to my proposal that the next time, she would have the first pick of stickers. I took some money out of the ATM machine. V and I talked about how we put money in the bank, and I took it out. I counted out the money and showed her the bills.
We went to the Co-op to buy food from my grocery list. V and O help me remember the numbers for the bulk items. I paid with cash while V watched. On the way out of the Coop, we ran into my friend Sasha, who was stopping in to get some snacks before her daughter's violin lesson.
On the way home, we talked about V's friend's violin lesson. We discussed how some kids (like daddy) didn't have a choice about taking violin lessons, other kids (like her friends) wanted to take lessons. We talked about my own childhood and how I was not interested in musical instruments when I was young, and how I feel now. I told her that she could choose to learn or not to learn an instrument; and she could choose when she wanted to learn and what type of instrument. V said she would like to play violin sometimes, and wanted to play with daddy tonight. I said I would text Tig to let him know.
The conversation moved to dinosaur music, and O wanted to hear the CD. We also talk about when is the Lunar New Year (Friday), which is the same day as "Video Day" and how many more days until Video Day.
When we got home, I put on the dinosaur songs and put away the food. V immediately got out the quarter-sized violin and messed around on it. I manage to break a string on the half-sized violin. I looked up a YouTube video where a Suzuki teacher shows a couple of games for the bow hold. We drew dots on V's finger and she went to look for a smiley face sticker to put on her thumbnail. She practiced the bow hold. Then she decided to put the violin away and wait for Tig to come home. I remembered that a peg was broken on one of the violins and posted on the local homeschooling group for recommendations for violin shops.
I made monkey platters for the kids: oranges, tomatoes and a banana for V (O hates both), carrots and hummus, and a couple of Pocky Sticks. I also started some rice for dinner, O helps me with that. O insisted on tea, so I made a pot of tea.
We sat down with the iPad and looked at the La Brea Tar Pits museum. We looked at all the exhibits on-line, and V was super-excited about the "fishbowl." She wanted to see working paleontologists in real life. We watched the "Excavating 101" video, which prompted more questions: what is a pelvis? what does "grid" mean? We discussed whether it was worth it to spend money on the life-sized saber tooth puppet show and whether O would be scared of it. V said she thought that it would be better to skip it in case O got scared. We also watched a 4 minute National Geographic video on the tar pits.
Then we looked at the San Diego Zoo website and the California Science Center website. The kids voted for the San Diego Zoo. I made a note to myself to look up "Rick and Friends" and any zoo podcasts for kids.
After tea time, I put on the "Blaze Kids" podcast about horses for V–it's for kids who are "crazy about horses." She colors and does art projects while she listens, then moves on to Lego. O mostly hangs out with me, potties multiple times because he drank three cups of chamomile tea, and asks me to do this or that while I'm making dinner. I take a break and read the Lego Ideas book to him (O wants me to read the word bubbles coming out the Lego people) until Tig comes home.
Then I finish rolling the sushi while Tig hung out with the kids.
Evening.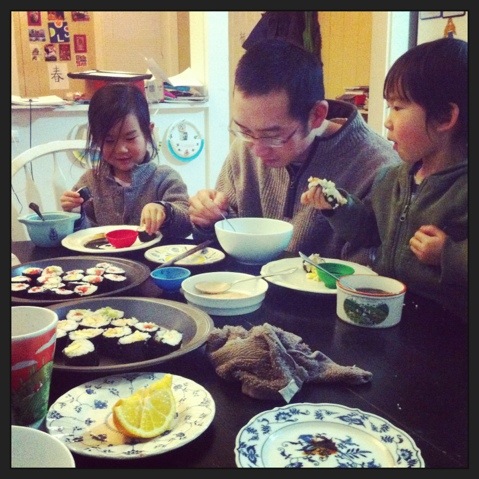 We eat dinner together as a family. After dinner, Tig plays Legos with kids while I did the dishes and took out the trash. O really wanted to make a Lego ice cream truck so V and Tig helped him. I reveled in the 10 minute walk alone and took lots of deep breaths.
I came back. They cleaned up and Tig spent a little bit of time with V on her bow hold. O flitted from half-sized violin to the recorder to the harmonica. Tig looked at the violins and said they only needed new strings and a new peg. V told me that she really wanted to see the violinlab.com video on the bowhold the next day, and I said we would.
The kids got ready for bed.
For bedtime, O asked to read a book, while V opted to do her 1001 Things to Spot in Fairyland book.
After they went to bed, I looked up violin shops in California so we can get parts (it's easier when Tig's around since he knows the instrument better). I also look on YouTube for "The Young Person's Guide To the Orchestra" and pin something promising. I stumble across Bleeckie the puppet's video on her backstage tour of The Young Person's Guide… and pin that too.
So that's our day. Other days are mostly playdates and errands. Neither is more important, in my book. When I'm on my game I'm journalling, noting areas of interest that warrant further exploration. On days that I'm just surviving, getting food on the table and negotiating strong emotions among all of us is all I can manage. It's no different than any loving and parent who supports their children's learning, whether they go to school or not. But I wanted to honor the effort that I put into their play and their learning.
And kuddos to all the parents out there who work hard to support their child(ren)'s learning, wherever you are. I salute you.